Amritsar is an amalgam of historically significant monuments, colourful bazaars, and rich cultural heritage. Everything in Amritsar is a perfect blend of the past and the present. The city, well known for the profound golden temple, is a treat for travellers. However, summers might leave you looking for places a bit more soothing and cooler than Amritsar.
So when you get tired of the constant heat and air-conditioned hotel rooms, the cool ranges of a hill station can be your perfect escape. Amritsar is a place that neighbours some of the most beautiful hill stations in India. And to make your job a bit easier, here's our list of 13 best hill stations near Amritsar to visit as an escape from the scorching heat of the summer sun.
13 Best Weekend Gateways near Amritsar to visit:
1. Dalhousie
Dalhousie, the serene hamlet far from the monotony of bustling cities, is a place deep-seated in the picturesque hills of Himachal. A paradise for all nature enthusiasts. Dalhousie is a trip that you cherish for as long as you live. But, Breathtaking landscapes, pine forests, pristine rivers, and floret meadows are not all that this place
has to offer. With its Scottish vibe and Victorian architecture, this place will surely make you go in a trance. Dalhousie is an unscathed piece of treasure for all the travelers out there and is considered one of India's best hill stations.
This place is still a living reminiscent of the bygone era, a fact that's quite evident by looking at the colonial-era mansions and victorian style churches that this place has certainly no dearth of. The best bit about Dalhousie is that though it is securely tucked away in the lap of the Himalayas, still, it is easily accessible from Amritsar, the nearest city. Dalhousie is a place that should be on your holiday-destination list.
Travelling Distance from Amritsar: 198 km via NH 54 and Chamba – Pathankot Road
2. Dharamshala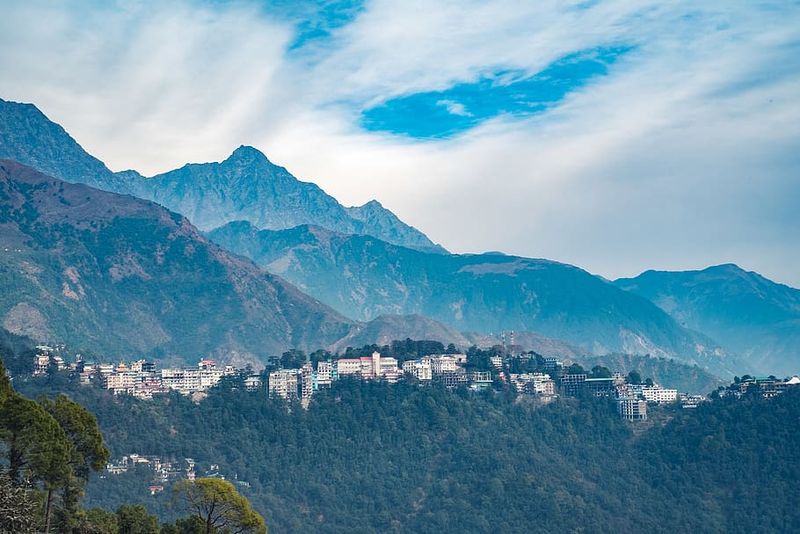 Are you looking for a place to heal your mind, body, and soul? If yes, then this picturesque natural beauty might be the right place for you. Located on the edge of the Himalayas, this hillside town is surrounded by cedar forests. It is divided into two halves. While the Kotwali Bazar and the surrounding markets make up the lower region, the thick forests make up the upper region, known as the McLeodganj. Home to the Dalai Lama and the Tibetan government-in-exile, this place is known for its captivating natural beauty.
Are you drawn to Buddhism? Well, even if you're not, do not miss the opportunity to take a look around their world-famous monasteries. Found in and around the town, these provide a better glimpse into the Tibetan culture and Buddhism. And during your stay here at one of the Popular Hill Stations Near Amritsar , make sure to try their Momos and Thukpa that are bound to satisfy your palate.
Traveling Distance from Amritsar: 201 km via NH 54 and NH 154
3. Khajjiar

Known as the "mini Switzerland of India", Khajjiar is one of the most famous of all the Indian hill stations. The magnificent woods, breath-taking lakes, blooming meadows, snow-covered mountain tops, scattered cottages, and pleasant weather give this town an appearance similar to the countryside of Switzerland. Well, that sounds a lot fascinating!
Located in the Chamba district of Himachal Pradesh, this town is a dream place for people to visit during winters. Imagine a dense forest of deodar and a sparkling lake straight out of movies. Sounds magical, right? There's a lot about this place that will leave you spellbound. So on your next trip do consider this place as it is one of the best hill stations near Amritsar to visit.
Travelling Distance from Amritsar: 211 km via NH 54
4. Srinagar
The summer capital of Jammu and Kashmir, Srinagar is nothing short of a paradise and definitely lives up to the reputation of 'heaven on Earth'. The sceneries look like they've come alive, straight out of a painter's imagination.
And the cool and pleasant year-long temperature with snowfall occurring during the months of November and December has made it a must-see hill station among travelling-lovers.
The main attractions are constituted by the shikaras used for shoeing the floating vegetable market. The elegant and gorgeous Mughal age gardens like Shalimar Bagh, Nishat Bagh, and the Chashm-e-shahi garden, are constantly visited by tourists from around India and the world. Srinagar is a destination that everyone needs to visit at least once in their lifetime.
Travelling Distance from Amritsar :418.6 km via NH 44
5. Shimla
The capital city of Himachal Pradesh Shimla is nicknamed as the "Queen of Hill Stations". This famous city was the summer capital of British India. It is situated at a height of 2200m.
Its mall road, the ridge, and the train are a few of the most talked-about attractions among families and honeymoon couples alike. Spanned between Kullu and Mandi from the north, Kinnaur from the east, Solan and Sirmur from the south-east; it is a sight to behold.
The magical woods, lush green mountain ranges, and the refreshing cold atmosphere of Shimla are powerful enough to rejuvenate your soul. Doesn't matter whether you are an adventurer, a photographer or a nature lover; you can enjoy its picturesque views, British era architecture, and a spectrum of exciting adventure exercises will appeal to anyone.
And snow-lovers don't need to worry as well. It is a perfect destination for anyone wanting to witness snowfall. Thus it is highly recommended among the best hill stations near Amritsar to visit during hot summers.
Travelling Distance from Amritsar: 300 kilometres
6. Chail
The former summer capital of the Patiala Kings, Chail is a peaceful hill station nestled in the Shivalik region of Himachal Pradesh.
It is blessed with lush green gardens, virgin montane forest, stunning mountains, and exquisite natural beauty. Also, tourists from all over the world come to the world's highest cricket ground located in Chail.
Are you looking for a peaceful summer getaway from the hectic life of the city? With pleasant weather all around the year, Chail attracts a lot of tourists and locals. Further, it also provides a scenic and elegant view of the enclosing countryside.
This picturesque hill station happens to be one of the best hill stations near Amritsar to visit for awesome trekking and camping experience. So if you're looking for a peaceful hill station with unspoiled serene beauty, then Chail is the one for you.
Travelling Distance from Amritsar: 328 km via Grand Trunk Road
7. Kullu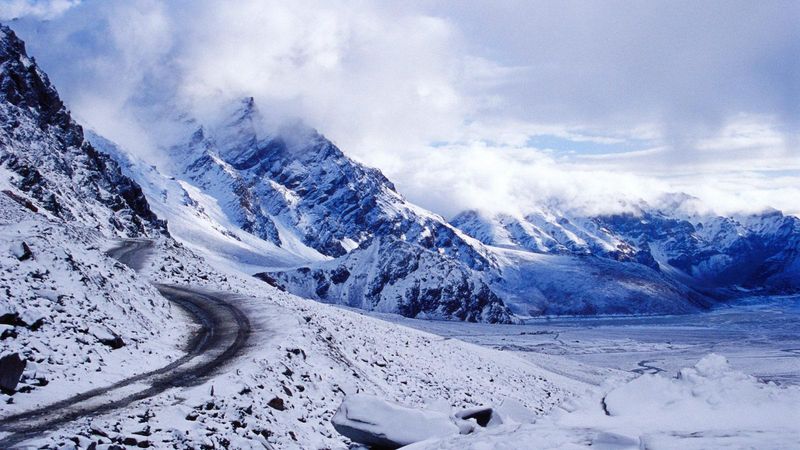 Are you looking for a peaceful vacation away from the scorching heat of summer? If so, then Kullu is the right place for you! Located on the banks of river Beas, Kullu is a resort destination in Himachal Pradesh. With various pilgrimage sites scattered in and around the town, Kullu has earned the name "Valley of the Gods."
Most tourists prefer to visit this place during summers to escape the heat of the plains and breath in the untainted air of Kullu. However, if you want to see the snowfall, December and January are the best months to visit.
If you're someone who enjoys adventurous activities, then Kullu is the dream place for you. Visit Kullu and indulge in rafting, trekking, camping, and many other activities. So why are you still waiting? Pack your bags today and be a witness to the magical beauty of this another spectacular hill station in Himachal.
Travelling Distance from Amritsar: 355 km via NH 3
8. Kasol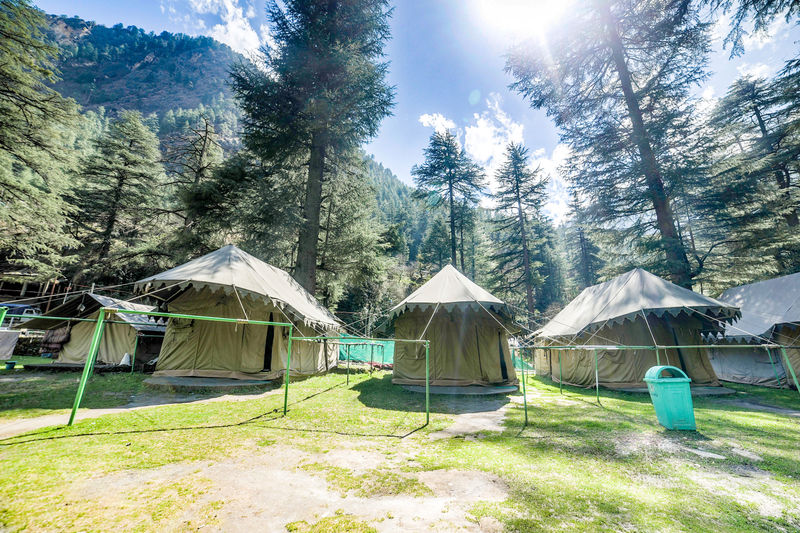 Kasol is a small yet breathtakingly beautiful riparian village in Himachal. With the river Parvati flanking its margins, this scenic little village is still far away from the clutches of urbanization.
The picturesque location and the peaceful vibe of this place, the grandeur of the mountains, and evergreen forests are what make this place one of the famous hill stations near Amritsar and a hotspot for trekkers and campers.
Gradually gaining fame as the Amsterdam of India, and rightly so, this place has a lot to offer to nature lovers.
The village is located between Bhuntar and Manikaran, both being quaint and attractive small towns.
To the outsiders and to the people who've never stepped out of the humdrum of the cities, Kasol might seem to be just another village in the mountains, but it is one of the best hill stations near Amritsar to visit if you want to sit back and relax amongst the panoramic view of hills and relish the pure natural beauty of the forests.
Travelling Distance from Amritsar: 379 kilometres
9. Chamba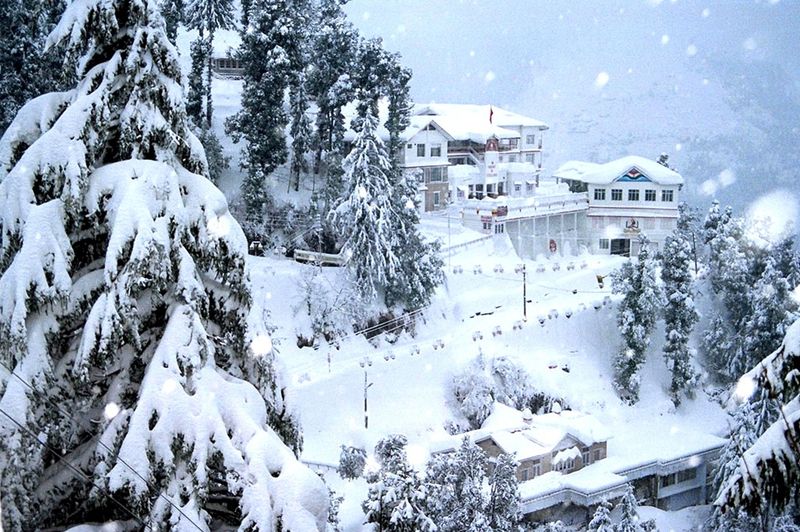 A place with minimum human intervention and harmonious temperatures, Chamba is yet another beautiful hill station in Himachal Pradesh that you can visit all year round. Located at a height of 996 meters from sea level, it is covered by Jammu and Kashmir, mantra, and Lahaul.
The Ravi cutting across the town makes its beautiful scenery all the more pleasing. Its pure and ancient temples, the edifices, and the old caves are carriers of India's rich cultural history. Pir panjal, Dhauladhar ranges, and Zanskar are some of the leading and picturesque destinations this town is famous for.
It also makes for an amazing location for trekking in the great Himalayan ranges. Not to forget its popular miniature Pahari paintings and traditional handicrafts, which add to its beauty and traits. Add to all these amazing traits, the stunning and tranquil setting, make Chamba a beautiful holiday destination.
Travelling Distance from Amritsar: 198 km via NH 54 and Chamba – Pathankot Road
10. Palampur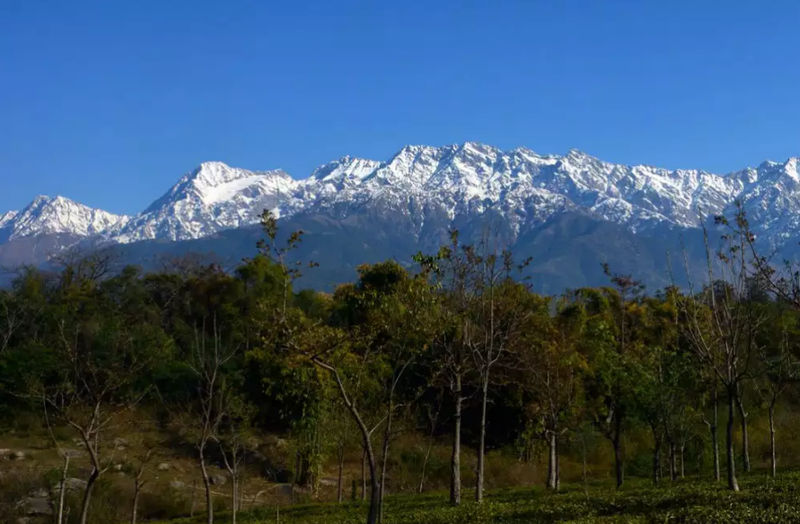 With beautiful tea gardens and thick pine woods, Palampur is a popular getaway near Amritsar. Located in the Kangra district of Himachal Pradesh, this place is a hidden gem of a hilly destination that provides the best tracks for people who love trekking. A blanket of exquisite greenery and beautiful landscapes covers this city and provides a mesmerizing experience.
Are you looking for a place to indulge in adventurous activities? If so, then Palampur is the dream place for you. You can create lifetime memories and enjoy rafting, skydiving, paragliding and many more at one of the wonderful hill stations near Amritsar.
From terraced tea gardens, sparkling waterfalls, and beautiful streams to dense pine forests- the magical village has it all. And once you get there, you will find it hard to leave the place.
Travelling Distance from Amritsar: 228 km via NH 54 and NH 154
11. Bakloh
Seated at a height of 4584 feet from sea level, Bakloh is a peaceful and soothing hill station-cum-cantonment town in the state of Himachal Pradesh.
If you are on the lookout for a break from the busy and bustling city atmosphere, then this quaint hill station is one of the best hill stations near Amritsar to visit for a magical trip to enjoy.
Bakloh is a place blessed with beautiful and pleasant weather all year long. A place where time seems to have ceased existing.
Its pristine vistas, cute old markets, and wonderful trekking options make it a treat for travelling enthusiasts. Its several temples just add to the unique vibe of this town.
It is a perfect site to revitalize yourself once you are tired of the buzzing city life. This picturesque hill station is sure to make your holiday a memory you'll cherish for a long time.
Travelling Distance from Amritsar: 177 km via NH 54 and Chamba – Pathankot Road
12. Thaneek pura
Thaneek Pura is counted as one of the best hill stations near Amritsar to visit. Just like any other hill station it is equally mesmerizing with its pristine scenery and magical hills.
And if you are someone whose heart flutters just at the thought of camping in a forest or trekking and those long nature-filled walks, then Thaneek pura might be just what you need.
Its precious temples and vibrant bazaars just add to the list of traits that make it the perfect holiday destination. One that is worth both your time and money.
The village is famous for its 3-day annual fair, organized on the following day of Krishna Janamashtmi, coinciding with the Guga Navami celebrations.
And not to forget the ancient deep well, which forms one of the major glamours of this small village of Thaneek pura.
Travelling Distance from Amritsar: 152 km via NH 3
13. Kasauli
Located in the Solan district Kasauli is a small but stunning hill town in Himachal falling on the way way from Chandigarh to Shimla and ranks first among the best hill stations near Amritsar to visit.
Though it a tiny town nestled in the lower Himalayan ranges it boastfully houses lush Apple orchards and reflects the beautiful British Architecture. The main tourist attractions of this hilly destination are Christ Church, Monkey Point ,The Mall and Gilbert trail.
Don't forget to visit ages old Kasauli Brewery which happens to be the oldest whiskey-making distilleries in the world. If you are after appealing landscapes then do reflect upon Kasauli a beauty of a hill station as your next holiday stoppage.
Travelling Distance from Amritsar: 280 kilometres
Conclusion
We hope you manage to choose the location that best suits your needs and taste from our handpicked list of best hill stations near Amritsar. Apart from that you don't need to worry about your stay because we have a huge inventory of hotels in Amritsar.
All these hill stations carry their own uniqueness and beauty within themselves. May the tourist in you succeed to experience and feel the charm of these locations. May their serene and cool atmosphere heal your soul and help you connect with nature.