Holi is not just sacred but also one of the most preferred festivals in India. The celebrations of this festival usually begin with Holika Dahan in the evening of the first day, followed by a day of playing with colors by people irrespective of their age.
But as we already know, India is a diverse country, so its different parts also have various ways to celebrate the festival. For this year, we have compiled top places to celebrate Holi in India in a list of five.
Amazing places for Holi Celebration
1. Shantiniketan
Situated in Bolpur, West Bengal, Holi in Shantiniketan is famous as Basanta Utsav. The Nobel laureate Rabindranath Tagore was the first to introduce Basanta Utsav to keep the ancient traditions alive at the Rabindra Bharati University in Shantiniketan.
Shantiniketan is one of the best places to celebrate Holi in India as the festival takes Holi celebration to a different level by combining culture with vibrant colors. Locals and students sing and dance to Tagore's songs, wearing saffron-colored dresses during the festival. Later, they play with colors and enjoy sweet delicacies. In the evening, students also apply gulaal to each other and spend the rest of the time interacting with their friends and family.
The Basanta Utsav attracts several tourists to this small town, making it lively and cheerful during Holi.
2. Mathura
The birthplace of Lord Krishna, Mathura, is a small town in Braj in Uttar Pradesh. As one of the best places to celebrate Holi in India, Mathura attracts people from everywhere to experience lavish Holi celebrations.
The town is also one of the few places in India where you can find evidence of Krishna's miracles. Here, visitors can witness morning chants and bhajans at the Dwarkadheesh Temple, which is later followed by playing with purple gulaal. There is also a colorful yatra from the Vishram Ghat to the Holi Gate with music and dance shows.
Tourists visiting Mathura during Holi can also enjoy Matki-phod events and Ras-Leela shows.
3. Vrindavan
If you're looking for the best places to celebrate Holi in India, you can't miss Vrindavan. The town celebrates the festival with great zeal and enthusiasm. It's when people bid goodbye to the shivering cold of winter and welcome the blooming spring.
Holi in Vrindavan starts with huge parades of people marching to music, wearing colorful attires. Moreover, locals on Ekadashi before Holi celebrate 'Phoolon wali Holi,' where temple priests throw flower petals on the devotees coming to the temple.
The town also celebrates 'Widow's Holi' to break the stereotype that didn't allow widows to wear colorful dresses or play with colors.
4. Barsana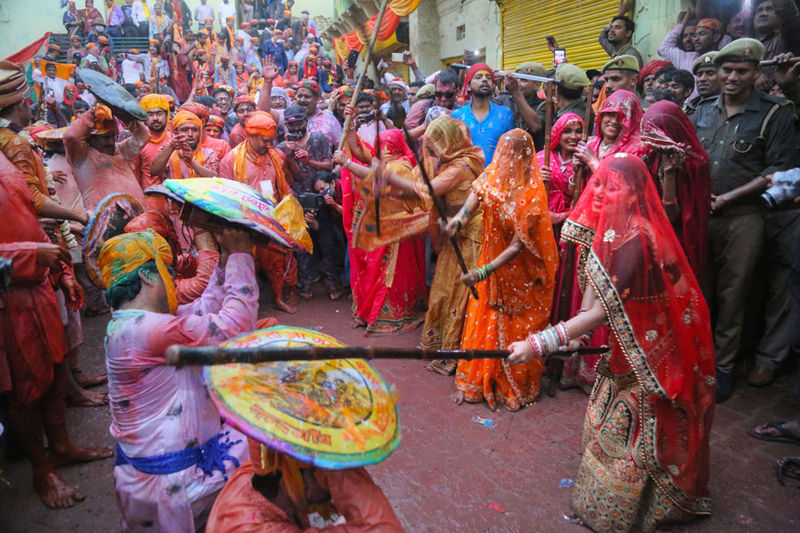 Known for its iconic Lathmar Holi, Barsana is another destination on the list of best places to celebrate Holi in India. This little town is near Mathura, and during this iconic festival, women playfully beat men with sticks. Barsana celebrates Lathmar Holi a week before the main festival.
Besides that, tourists can also participate in the Ladoo Holi at the famous Shriji Temple. Here, volunteers distribute ladoos between devotees visiting the temple, which signifies Lord Krishna's arrival to Barsana from Nandgram to meet Radha. And Holi here is incomplete without locals singing folk songs in Braj bhasha!
5. Manipur
Holi celebration begins on the full moon day of Phalguna, so it comes under Manipur's Yaoshang festival, which lasts about six days. Tourists in Manipur, during this period, can enjoy performances by various folk musicians and dancers. These performances are done around fluorescent lamps and bonfires.
Conclusion
These were some of the best places to celebrate Holi in India. And now that you have a list of places, it's time to choose the best one for this year's Holi festival and book your tickets to that destination!
But whichever place you decide, keep in mind to enjoy the festival to its fullest and welcome the nurturing spring season.