Home to enchanting snow-capped mountains, valleys, woods, and lush meadows, the state of Himachal Pradesh is a fascinating destination. Along the surreal natural beauty, calming spiritual aura, or never-ending adventures, do you know what else draws tourists to Himachal? The regional cuisine! As known, a place's food culture can tell a lot about its residents and way of life. The regional pahadi cuisine of Himachal has a distinct flavor, enticing to the senses, reflecting the equally astounding essence of pahadi culture.
So, let's explore the Famous foods of Himachal Pradesh so you can revive the foodie in you the next time you visit the hill state!
List Of 15 Famous foods of Himachal Pradesh
Dhaam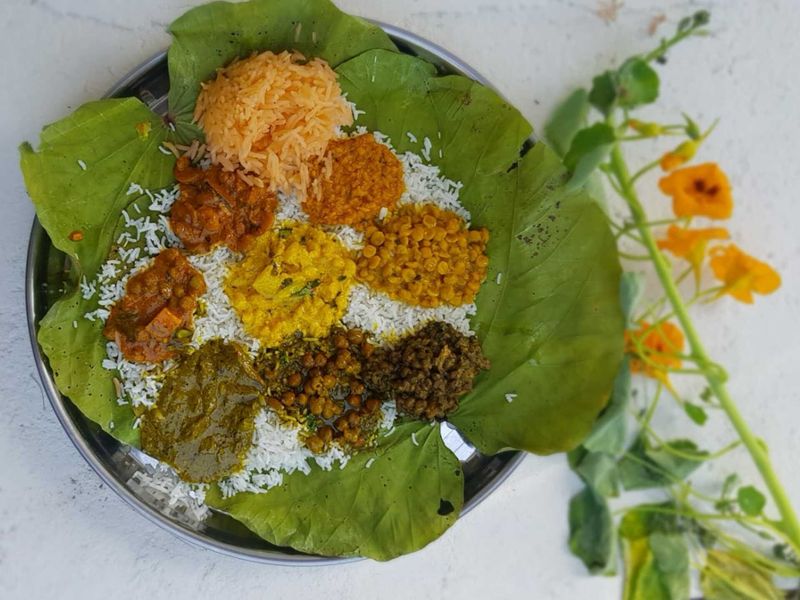 If you're looking for something nutritious, Dhaam is a must-try for you. It's a fully packed meal with various nutrients and rich flavors. This famous food of Himachal Pradesh is similar to what many know as a 'thali.' It has a spicy red bean curry, fragrant rice, fried dal, boor ki kadhi, curd, salad, jaggery, and some sweets. This dish is a must at various festivals and weddings in Himachal. Another unique feature of this dish is that specialized chefs, famous as 'Botis,' cook this flavourful meal.
So, people who want to get the best taste of Dhaam must visit Himachal during the festival season.
Where to try- Himachali Rasoi in Shimla and Chambyali Dham in Chamba are some of the best eateries in Himachal to have the most delectable Dhaam.
Madra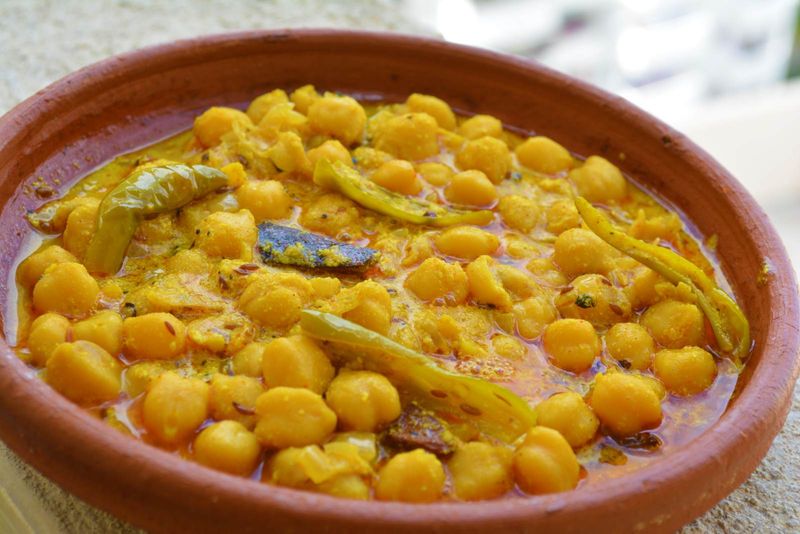 Madra, originating from the Chamba district, is one of the most interesting cuisines of Himachal Pradesh. It flaunts the incomparable taste of the state. It's made with soaked and boiled chickpeas or vegetables, then seasoned well with various spices, including cardamom, cumin, cinnamon, cloves, turmeric powder, and coriander powder. The best way to enjoy Madra is to pair it with rice, chapatis, and another local specialty- Babru.
This dish of Himachal is just as popular as Dhaam and is cooked and served by locals during each occasion and festival.
Where to try- Most restaurants in Himachal serve this mouth-watering dish, but if you want to try the most authentic flavor, visit any eatery in Chamba or Kangra.
3. Babru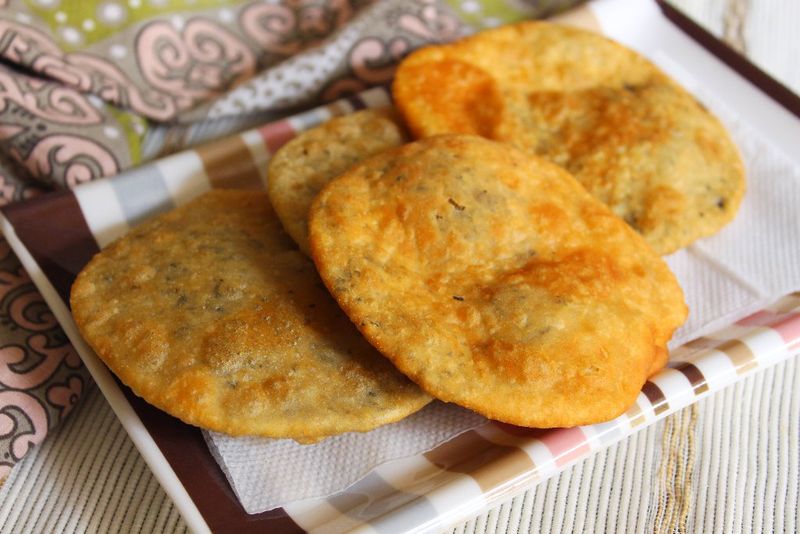 Babru is one of the most famous traditional foods of Himachal Pradesh. It looks similar to the kachoris found in most of the North Indian states but has a distinct taste to it.
Babru is a flat wheat bread or puri stuffed with a spicy black gram mixture. Most local eateries serve it with sweet tamarind chutney or Chana Madra. Moreover, its crispy texture and flavorful spicy mix make you forget the regular North Indian kachoris.
If you're visiting Himachal during the winter, don't forget to try Babru with a cup of hot tea!
Where to try- Any restaurant or dhaba in Shimla serves some of the best Himachali Babru in the state.
4. Siddu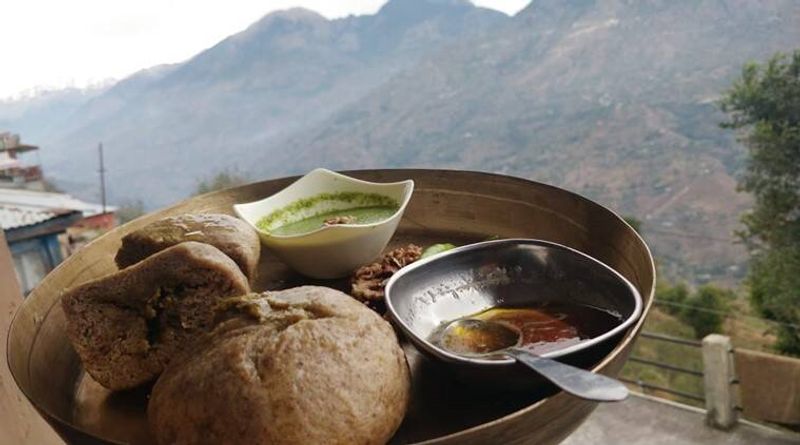 Siddu is among the must-try traditional foods of Himachal Pradesh. It's a type of bun made with wheat flour and yeast. And although its preparation is a bit time-consuming, the taste is worth every minute of work.
The wheat flour dough is usually set aside for 4-5 hours to allow the yeast to ferment. Then the fat is filled inside the dough. Now, it is put on the direct flame to cook it partially, which is further steamed to maintain its flavors and nutrients.
Locals generally serve Siddu alongside mutton or vegetable curry.
Where to try- Many local restaurants in Shimla, Chamba, and Manali serve soft and delectable siddu.
5. Bhey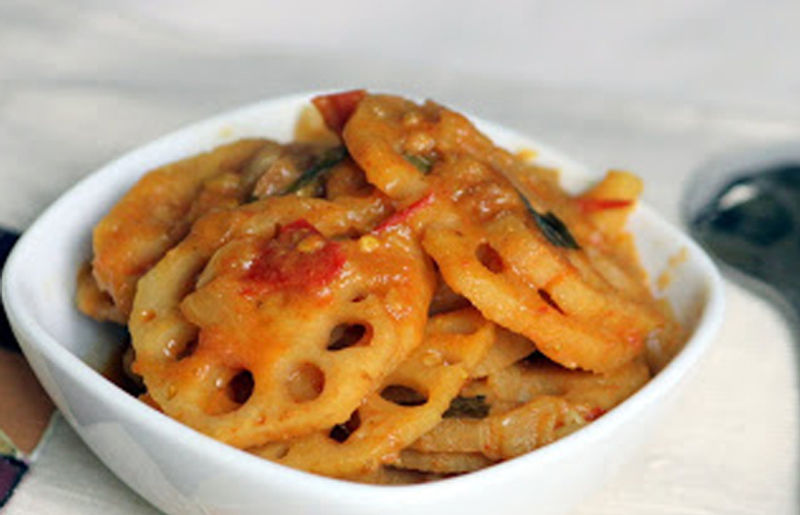 Bhey is another famous food of Himachal Pradesh that you must try on your visit to the state. It's made with thin slices of lotus stems, which are further cooked in various spices, ginger, garlic, onion, and gram flour for that mouth-watering taste.
Bhey usually goes well with paranthas, chapatis, and rice.
Where to try- Almost all eateries in Himachal Pradesh serve Bhey, so you can taste it wherever and whenever you want.
6. Kullu Trout Fish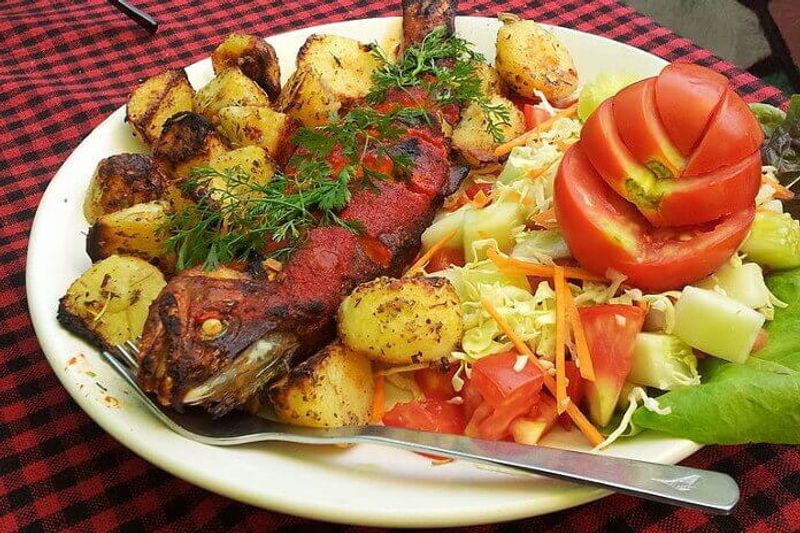 For seafood lovers, Himachal Pradesh has a special non-vegetarian delicacy, popular as Kullu Trout Fish. To prepare the fish, they first marinate it with a few spices, then cook it. It's generally pan-fried in mustard oil to give the fish a spicy, warm, and stinging flavor. A light lemon-onion sauce is poured on top of it for that added taste. This dish tastes better with some plain rice and boiled vegetables. And for that added zing, don't forget to squeeze some lemon on top.
Where to try- This famous food of Himachal Pradesh can be enjoyed in any eatery across Kullu.
7. Aktori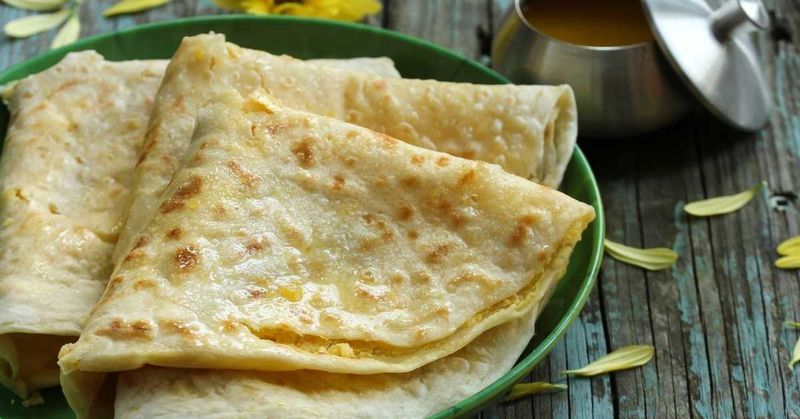 Aktori is a famous festive food enjoyed by the locals in Himachal. It's like a pancake made with buckwheat leaves cooked in wheat flour. And to that flour mixture, sugar, water, milk, and baking soda are added.
Originating from the breathtaking Spiti Valley, Aktori is one of the most famous foods of Himachal Pradesh. Locals pour some ghee or honey on top to enhance its taste.
Where to try- Tourists must visit restaurants or cafes in Lahul and Spiti Valley to enjoy the best Aktori in Himachal.
8. Chha Gosht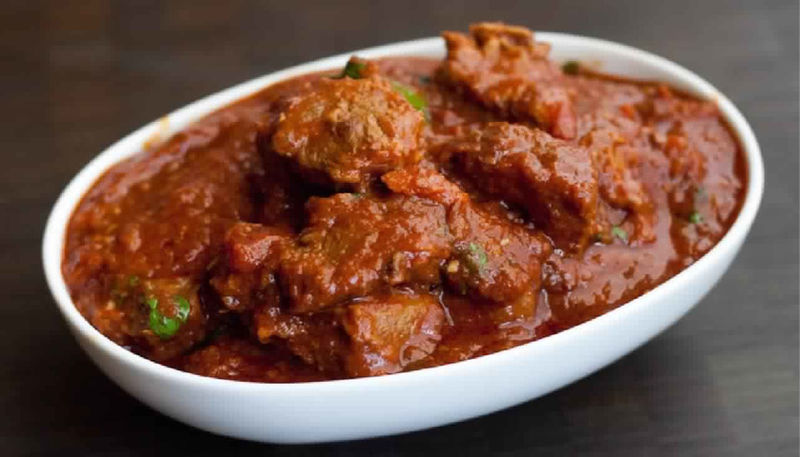 The popular Chha Gosht, also called the Himachali-style mutton curry, is a dish that non-vegetarian foodies in Himachal Pradesh cannot miss out on while they are here. This meal, a well-known example of the traditional cuisine of Himachal Pradesh, is made with marinated lamb and wonderfully cooked in a rich gravy made with yogurt and gram flour. Indian spices used in the sauce, including cardamom, red chili powder, onions, coriander powder, bay leaf, asafoetida, and ginger-garlic paste, give it a distinct, enlivening flavor that is a sheer treat to the senses.
Where to try: Local eateries in the Chamba district, Dhaba Old Sher-e- Punjab (with Himachli Kitchen), Dalhousie.
9. Tudkiya Bhath
Now that we have already discussed many main course cuisines, let us dive into some rice items, shall we? If you are a fan of Pulao and flavored rice dishes, wait till you try out Tudkiya Bhath! Yet another traditional food of Himachal Pradesh, the Tukdiya Bhath, is a unique flavored pulao of Himachal Pradesh that pahadi locals of Himachal prepare in their own distinct style. Slow-cooked with lentils, potatoes, curd, tomatoes, onions, garlic, and ginger, loaded with spices like cardamoms, cinnamons, and bay leaves, the rice dish leaves a delectable taste, making you yearn for more. Our tip? Order some mashed daal along with it and sprinkle it with lime juice for the best flavor experience!
Where to try: Chamba district, Zaika Pishori Dhaba.
10. Kaale Channe ka Khatta
Immensely popular among Traditional Foods of Himachal Pradesh, Kaale Channe ka Khatta is a pahadi dish known for its sumptuous, sour, and spicy burst of flavors. Served as a complimentary dish alongside Madra or Rice, Kaale Channe ka Khatta offers a tasteful blend of Indian spices and exquisite pahadi culture, bringing you the best of the quaint hill town. The dish is prepared by boiling black chickpeas and then cooking them in a gravy with tamarind and a variety of spices, such as fennel seeds, mint powder, asafoetida, cumin seeds, wheat flour, green chilies, coriander powder, tamarind powder, and salt. The sour and spicy delicacy, native to the Kangra area, is undoubtedly one of the must-try local dishes in Himachal Pradesh.
Where to Try: Kangra local eateries, Atithi Restaurant
11.
Chicken Anardana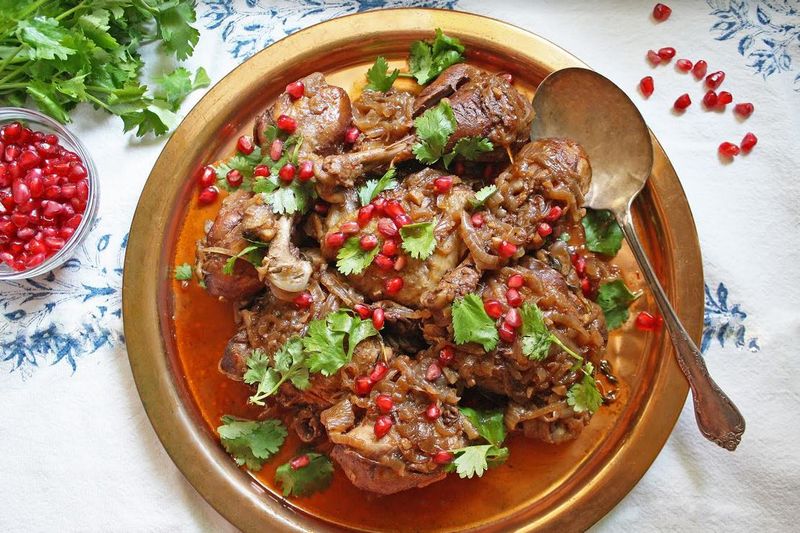 A chicken preparation unique to the Himachali culture, the Chicken Anardana is a favorite among the non-veg lovers who visit the hill town. As the name suggests, Anardana" ( Dried Pomegranate seeds) is what imparts the cuisine its unique essence. Marinated chicken pieces cooked in aromatic spices in a unique blend of gravy made with curd, pomegranate, garam masala, onions, cardamom, and cinnamon, impart a special sweet and tangy flavor, leaving a lasting impression on one's taste buds. Chicken Anardana makes the best meal with chapatis, naan, and rice.
Where to try: Goofa Ashiana Restaurant, Shimla.
12. Aloo Palda
Himachali-style Aloo Palda is one of the most relished household dishes among locals and tourists visiting Himachal Pradesh. This mouth-watering, famous food of Himachal Pradesh consists of chunks of soft-boiled potatoes cooked in a thick buttery gravy made of yogurt or buttermilk and flavored with cinnamon, cloves, coriander, chili powder, onion, and ginger-garlic paste will undoubtedly please your palate and make a filling meal. The ideal way to enjoy Aloo palda is with rice or Makki ki roti. The enlivening flavor of this meal, which is quite popular in Hamirpur and Kangra, is something you should not miss on your trip to Himachal Pradesh.
Where to try: Local eateries in Kangra and Hamirpur.
13. Tibetan Thukpa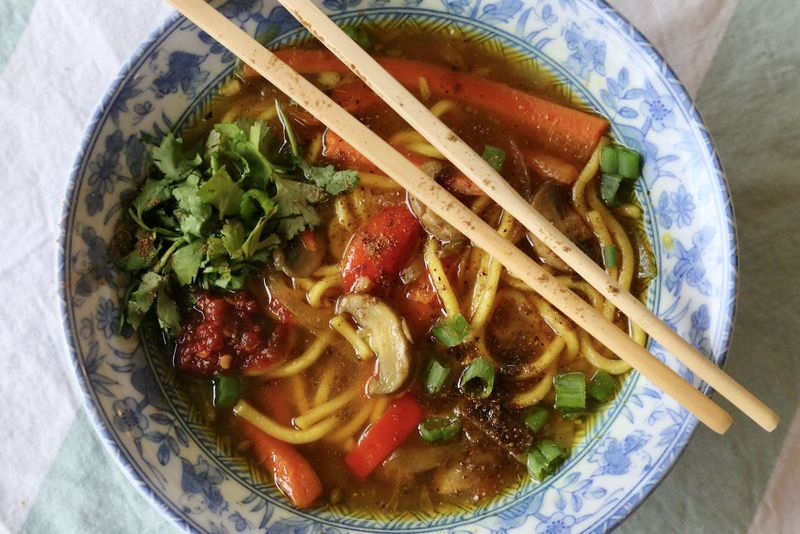 With the large number of Tibetan Buddhists who reside in Himachal Pradesh, it is likely that the Tibetan influence also permeates the Himachali cuisine culture. Consequently, a variety of Himachali cuisine includes delicious dishes inspired by Tibetan cuisines, such as Thentuk, momos, LuchiPoti, and Tingmo, with the renowned Tibetan Thukpa being one of the most well-known. Thukpa consists of a noodle soup dish, a hearty, nutritious, and flavorful meal made with boiling noodles, fresh vegetables like tomato, carrot, cabbage, spring onions, and beans, with the option of adding meat or chicken. Seasoned with sauces, garlic-ginger paste, and chilies- the Tibetan Thukpa is a definite,must-try delicacy when visiting the state.
Where to try: Tibetan Kitchen, Mcleodganj, and Dharamshala.
14. Mittha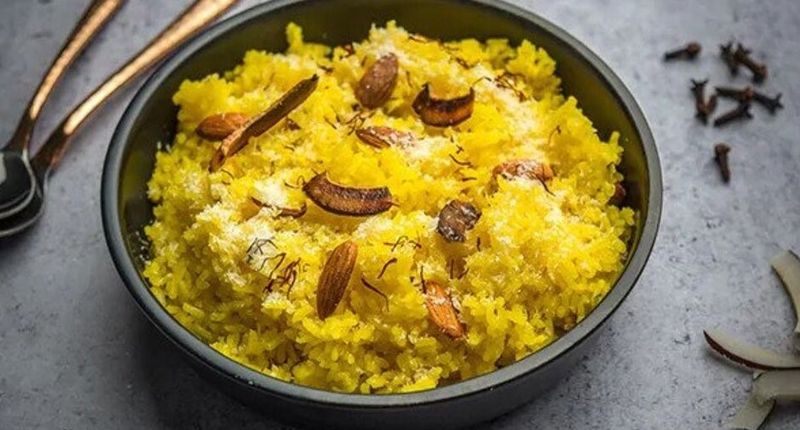 Are you looking for something to satiate that sweet craving after a satisfying meal? We have the perfect dessert for you! One of the most toothsome dishes in Himachali cuisine, Mittha is the most sought-after sweet dish of Himachal Pradesh. A beloved among Traditional foods of Himachal Pradesh, this sweet dish is a must-savory dessert served on special occasions, weddings, and parties. The traditional sweet dish comprises sweetened rice garnished with saffron, raisins, and dry fruits. For those guests who love to end their meals on a sweet note, Mittha should definitely be on your list!
Where to try: Eateries all across Himachal, Himachali Rasoi in Shimla.
15. Auriya Kaddu
Himachali Pahari Auriya Kaddu, locally called "Kaddu Ka Khatta" is a simple, local dish comprising delicious stir fries made with chunks of pumpkin. An important part of the cuisine of Himachal Pradesh, the dish is famous among locals residing in the land of beautiful snow-capped mountains. Cooked in pahadi style, the pumpkin is stir-fried and seasoned with turmeric powder, asafoetida, panch phoran, bay leaves, dry mango powder, and green chilies. When the dish is cooked with mustard oil and stir-fried using ground raw rice and mustard seeds, it gives the pumpkin a flavorful, nutty crunchiness. When paired with hot Phulka and Kala Chana, the tangy, flavorful, and spicy Auriya Kaddu makes a filling, delectable feast.
Where to try: Local dhabas in Himachal Pradesh.
Conclusion:
Discussed above are some of the best delectable Traditional foods of Himachal Pradesh. So, now that you are aware of the rich local culinary traditions of the state, the next time you are in Himachal Pradesh, do not miss out on the local culinary gems. Indulge your senses in a novel experience while admiring the breathtaking natural beauty of Himachal, and along with it, satisfy both your palette and soul!