Yes, it's what you're thinking- A New Year Party Event! And if you think all world-class events happen in foreign countries, then let us stop you right there and introduce you to some of the best events of your own country!
For our party lovers, we've some of the best events in store for which you won't have to travel abroad and burn a big hole in your pocket. Just pick one and pack your bags to have the best New Year Party of your life!
Revel in the musical party at Sunburn, Goa
Venue
Hilltop Vagator, Goa.
A good variety of dishes, crazy music, and a chance to see your favorite artists- Now, can there be another happening place to enjoy your last few days of 2021? The 15th edition of this festival will last for three days from 28th-30th December. With the theme 'Life is Calling', the organizers have a lot in store for the audience.
People visiting the festival will get a chance to see three different stages featuring 60 international and local artists. A limited audience will also get a chance to attend the after-parties of this world-class music festival. Not to forget, but the event promoters have also partnered with several other clubs across the country to organize 'Sunburn Echo'- the Livestream. It's to recreate the music festival experience all across India.
This promising event offers a great party ambiance and attracts people from various places to spend their evenings grooving to the foot-tapping music. So, if that's something you want this New Year's Eve, then Sunburn, Goa is where you should be!
Celebrate this New Year in comfort at the Aroma Gardens, Pondicherry
Venue
Aroma Gardens, Auroville, Pondicherry.
If you're a fan of lavish events, then Aroma Gardens will serve as an escape for this New Year from your daily busy life. Surrounded by lush green gardens, this place is ideal for you to unwind in the arms of nature. Lavish villas, swimming pools, and fitness centers- this place offers various premium comforts. It has one of the biggest audio-visual setups, so guests are bound to have the best nights of their lives. Enjoy concerts, dance all night, and stay back if tired! Aroma Gardens is like the perfect staycation for people visiting from afar.
Moreover, you can enjoy firework shows and try delectable dishes from their unlimited buffet. The variety of seafood and cocktails will undoubtedly leave you in awe!
Enjoy Rock Party at the Nahargarh Fort, Jaipur
Venue
Nahargarh Fort, Krishna Nagar, Brahampuri, Jaipur, Rajasthan.
If enthralling rock music gets you dancing all night, then consider spending this New Year at the Nahargarh Fort of Jaipur. Standing at the border of the Ravalli hills, this historic palace offers the best night view of the city of Kings. A world-class event is organized every New Year with international DJs playing rock and pop music. Besides, the fort offers many special activities to the crowd on New Year's Eve.
Fireworks and light blazing up in the night sky- what a beautiful sight to behold! Guests at the fort can also enjoy a good range of delicious foods and drinks to make their night more happening. Now, if you wish to spend this New Year royally, you know where to go!
Get dancing in the top-class party at The Leela Kempinski, Bangalore
Venue
23, HAL Old Airport Road, Kodihalli, Bengaluru, Karnataka.
If bidding goodbye to 2021 in Bollywood style sounds like your cup of tea, then you should join the party at the luxurious Leela Kempinski in Bangalore. With famous artists and an elite crowd, the event is all about glamour and entertainment. Ever-energetic DJs, enthralling mixes and remixes, and a dance floor- Now, what can stop you from dancing the night away?
A good party is always incomplete without food and beverages. But that's not the case at this 5-star property! Feast on a lavish range of delectable dishes and liquors. Watch amazing performances by fire jugglers and belly dancers, and wrap your party night at 3 AM.
New Year Night with Glocal Junction Andheri
Venue
Glocal Junction, B-57, Morya Bluemoon Building, Ground Floor, New Link Rd, Andheri West, Mumbai, Maharashtra 400053
If you happen to be in Mumbai this December, make sure to stop by the Glocal Junction on the 31st for their unusual New Year's Eve celebration with Glitz and Glamour. With DJ Glenn in the house to make you groove with the best of his music and delicious food of Glocal Junction to quench your appetite, this is the perfect opportunity to turn your boring new years into a cherishable memory. Dress prettily, get drunk with a variety of imported liquors and cocktails and dive into the freshly cooked buffet meals.
The unique ambiance, happening Dj, and classy hosts are going to give you an eventful night that will leave your heart tingling as you enter 2022 with a smile on your face.
NYE Neon Party- Sabka Club, Kolkata
Venue
Sabka Club Haute Street Corporate Park, 86A, Topsia Road,6th Floor, Kolkata, West Bengal 700046
The Sabka Club is a wonderful, high-energy bar cum kitchen that offers a distinct all-season hub for everyone to relax and let loose. With innovative design, a global cuisine, and a spectrum of liquors and cocktails, the pub is your ideal place to party and have fun with your gang. And to make things a little more active and bring your new year to life, Sabka Club is hosting a unique 'NYE Neon Party' this 31st of December. With DJ Neel as the special guest for the evening, the party might just turn out to be the most fun thing you've attended in a while.
So, if you're anywhere near Kolkata during the new year and are looking for a fun way to spend your 31st, then that's your cue to start your new year with this banging Neon Party!
TANDAV- Biggest New Year's Eve celebration
Venue
Tito's Pune, 45 Main Street, Sr No 88/1, new, Nashik Phata Flyover, Kashid Park, Pimple Gurav, Pune, Maharashtra 411061
Tito's Pune welcomes you with elevated cocktails and mouth-watering food into a robust, neon-lit dance club that has a lot more to offer than your regular nightclubs. With talented DJs and themed nights, every night at Tito's is more happening than ever, and this coming New Year's Eve is your chance to experience one such themed party, the 'TANDAV'. The five-level party zone has got a lot in store for you ranging from unlimited food, best tracks from EDM and Bollywood music, 3 separate dance floors, and a spectrum of drinks. You can avail all these with just one pass!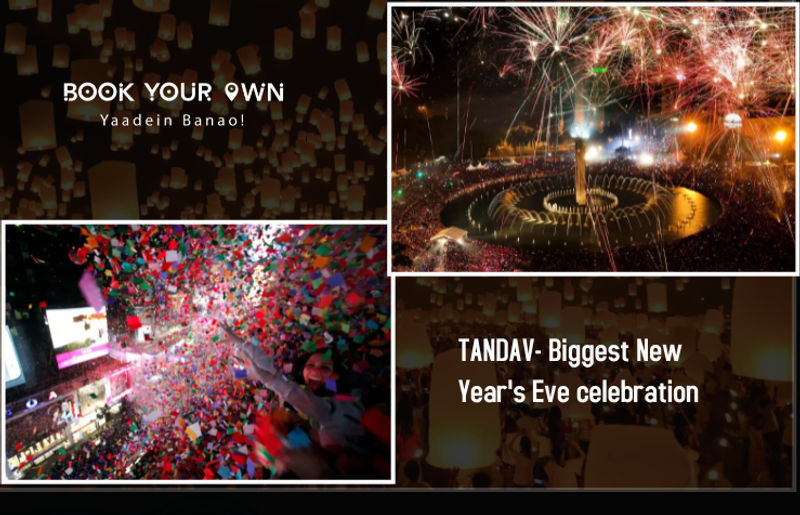 So, what are you waiting for? Grab your chance of experiencing this high-end themed party with the best DJs in the city and an energetic crowd and welcome 2022 with cheers!
The Red Carpet Oscars at Bigpitcher
Venue
The Bigpitcher, Doddakannelli, 116/9, Ambalipura - Sarjapur Road, Kaikondrahalli, Bengaluru, Karnataka 560035
Big Pitcher is a contemporary brewpub that offers an array of cocktails & multinational cuisines in a multilevel space with a rooftop patio, live music, and dancing to lighten up the ambiance. This New year they are setting the bar a little higher with a lovely themed event 'The Red Carpet Oscars'. This party takes a unique turn in being kids and family-friendly with a special kids buffet arrangement too. For adults, there are around 130 varieties of beverages and delicious food to satisfy your appetite.
Other than the food, the party will consist of a 5-hour event filled with fun activities ranging from Live Act Filler, Fire Dance, DJ Floor, a diversity of live performances, fireworks, and more! With so much served on your plate, you are going to dive into the new year with a heart full of happiness and memories!
A night full of sins at Informal By Imperfecto
Venue
52, Tolstoy Lane, Atul Grove Road, Janpath, Connaught Place, New Delhi 110001
This coming new year's, Informal by Imperfecto is here to get a little kinky with you all to welcome 2022 in a not-so-conventional way! The place is one of the most happening nightclubs in Delhi and this coming 31st December they are about to get extra naughty with their unique, themed party 'A night Full of Sins'. All the guests are to be present in the kinkiest roleplay attire, to heat up the party a bit. With this raunchy theme, powerful music, an assortment of drinks, and yummy food get ready to greet 2022 in the boldest and sexiest way possible. This extraordinary party is surely going to be a new year memory that you'll keep cherishing for a long-long time.
So, if you are in a mood to show everyone your kinky side this new year's, informal by imperfect is the perfect place to be!
New Year at the Kitty Su
Venue
The Lalit Hotel, Barakhamba Rd, opp. Modern School, Connaught Place, New Delhi 110001.
Kitty Su in The Lalit Hotel has been voted as the number 1 nightclub in Delhi by the INCA. The gay club is known for hosting some of the most happening parties in the city and new Year is a treat we all should be looking forward to. With the best EDM tracks and top-notch drinks, Kitty Su is ready to welcome anyone and everyone to have the best new year's party!
So, if you are a die-hard fan of EDM music, this is your chance to welcome 2022 with the best tracks, best ambiance, and the best people! Let all your concerns go and party till your feet are sore without having to worry about getting home safe, as Lalit hotel provides an array of room options for you to stay at.
New Year Boat Party 2022 with Paulo Cruise in Goa.
Venue
Panaji jetty, Panaji, Goa 403001
Paulo cruise in Panjim is one of the top established names in the Cruise services sector and it is here this 2021 to bring to you the best cruising experience in Goa, that you'll remember all your life. With the new year approaching faster than ever, this is your perfect opportunity to bid 2021 a final goodbye with a blast! This new years eve, get partying with your party gang at the Paulo Cruise. The four-hour cruise ride has got a lot in store for you. You are free to eat, drink and dance to your heart's content. You'll also get to appreciate the magnificent fireworks along with the night view of a variety of beautiful locations in Goa.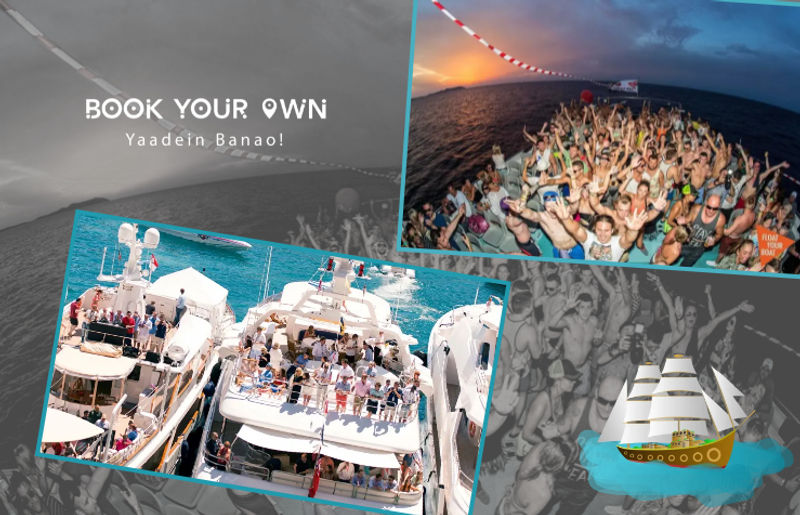 With so much to do and no one to stop you, you are bound to have the time of your life! To get your chance at this blast-of-a-party, book in advance and get ready to welcome 2022 in the most exciting way!
New Year After Party- The Silent Disco festival
Venue
Om Negi's Himalayan Camp, Kasol, Himachal Pradesh 175105
The new year calls for something new, and Om Negi's Himalayan Camp has just the right thing for you! With the growing rage of silent discos among today's generation, Om Negi's Camp in Kasol is ready to provide you with a similar, unique yet heart-racing experience that will set your mood for the approaching year right. A beat that doesn't bother others and doesn't let you stop!
This Silent disco party allows you to not only welcome the new year amidst the beauty of snow-laden mountains but also experience something new for the first time. This headphone-based party with an array of drinks and food arrangements will certainly be an event that won't be easy to forget! Dance to your own tunes with the people you vibe with and get ready to let in the new year in the most musical way!
Conclusion
Now that you know about some of the most happening New Year Parties of this year, all you have to do is pick a destination and land there before New Year's Eve. Trust us because you'll be having a blast this New Year!
Also, if you plan to stay in the city for a while, you might need to look for accommodation. For that, you can navigate through Book Your Own site. You'll be able to find a variety of hotels at the best prices in any city you plan to visit. Whether you want to book best hotels in Goa for honeymoon or going to visit in Himachal Pradesh, Manali, Delhi or Maharashtra, they have all the top hotels within your budget.