It is well said, "Live Your Life By a Compass, not a Clock." Are you planning your next vacation and looking for a holiday destination? Not to worry we have selected the best tourist spot for you, the mesmerizing hill town of Shimla. For you, our team has curated a 3-day Shimla Itinerary covering the main places to visit in Shimla in 3 days.
This quaint town of Himachal Pradesh is a perfect getaway from the hustle and bustle of the big cities. To get a refreshing break from the monotonous city life, pack your traveling bags and head straight to Shimla. Gifted with amazing flora and magnificent fauna, the Queen of Hills boasts its majestic snow-clad mountains. The summer capital of Britishers enjoys the glory of being the favorite destination for family vacations and honeymoon.
Unveil the Pristine Beauty of Shimla in 3 days
To make your holidays a memorable one we have handpicked some of the popular places for you.
1. Jakhu Temple
Dedicated to Lord Hanuman, the temple is located atop the Jakhu hill. This religious tourist spot houses a 108 ft. tall idol of Lord Hanuman which is visible from most parts of Shimla.
According to Hindu mythology, Lord Hanuman stopped by this place to relax, while he was on his way to get the medicinal herb Sanjeevani booti to heal Lord Lakshman. This place is worth visiting while on a 3-day trip to Shimla owing to its rich religious history.
Ways to reach the Temple
Visitors can reach the temple either by hiring a taxi or can make their way to the temple by walking up the hill covering a distance of 2 km. One can also avail a cable car to arrive at the temple.
2. The Ridge
The Ridge is a classic example of fine colonial architecture displaying the best of the Gothic buildings. Don't forget to visit the Ridge when planning a Shimla trip for 3 days. The famous road is nestled right in the heart of Shimla. The road flaunts luxurious boutiques, shops, cozy restaurants, and exquisite bars to fascinate as many visitors as possible.
The Ridge is just a few minutes walk away from the Mall road. The Ridge is the cultural hub of Shimla and is the best location to get photographed with beautiful mountains and appealing greenery enveloping the place.
Ways to reach the Ridge
The route to the Ridge is well connected to the different parts of Shimla. One can either avail of taxi services or can take their car to reach the destination. However, the entry of vehicles is banned on the street of the Ridge. However, you can park your car at a lower level.
The Ridge is at a distance of around 2.1 km from the closest bus stand. While the nearest railway station is just 1.6 km away from the famous Ridge.
3. Mall Road
Mall Road is the favorite spot to hang around with family and friends. The destination comes under the main places to visit in Shimla in 3 days. It is regarded as the commercial capital of Shimla. The Britishers constructed this well-known road. You will rarely see any vehicle on the Mall road thus making it pollution-free. People can be seen roaming around on foot while enjoying the scenic beauty of the place.
The road houses exclusive boutiques, ambient eateries as well as vibrant bars and clubs to attract the young crowd. If you are a shopaholic then you must visit the local markets like Tibetan Market to buy Tibetan handicraft items and jewelry.
The other famous markets are the Hong Kong Market, Thai Market, and Shangri La shopping Complex to buy local goods, the famous being Pashmina shawls and woolen clothes. Not to forget the Lakkar market to shop for local wooden items and furniture.
Ways to reach the Mall Road
To reach the Mall road you can go for a cab or can also travel by your car. However, the entry of vehicles is strictly prohibited on the main road. The Himachal Tourism Development Corporation runs a lift to carry people from the main road to the upper roads of the Mall road.
The Shimla old bus stand is just 1 km from Mall Road and the nearest railway station is 1.5 km from Mall Road.
4. Kali Bari Temple
If you are inclined towards spirituality and want to spend some quality time in divinity then a visit to Kali Bari Mandir must be added to your Shimla package for 3 days. A beautiful idol of Goddess Kali decorated with magnificent jewelry and flowers has been kept in the temple. The shrine has been built with unique Hindu-style architecture.
The place is located amid lush greenery where you can stroll around to enjoy the beauty of mother nature. The shrine provides accommodation services to the tourists. There is also a canteen serving tasty food.
Ways to reach the Temple
One can reach the temple from the Mall road after a few minutes' walk.
If you are coming from Shimla you can either go for an auto rickshaw or can walk your way to the temple.
One can hire a taxi to reach the destination from the bus stand or railway station. One can also avail of air services to arrive at Shimla, the nearest airport to reach Shimla from Chandigarh or Delhi is Jubbarhatti Airport.
5. Kufri
Kufri is gifted with breathtaking beauty, nestled in the amazing Himalayas it is a drive of 20 km from Himachal's capital city. Famous for its snow-clad peaks, and lush greenery it must be included in Shimla 2 nights 3 days itinerary. The places to see around Kufri are Mahasu Peak, Fagu, the Himalayan National Park, Indira Tourist Park, and Kufri Fun World. If you are on a romantic trip to Shimla then this spot must be there in your Shimla tour package 2 days 3 nights for couples.
Kufri is the hub of adventurous activities. If you are an adventure lover at heart then you have landed at the right place. Kufri offers opportunities for Skiing, Trekking, and Tobogganing. Other adventurous things to do in shimla that you can try your hands on are Yak riding and horse riding. Shopping is also a great option to engage in. You can buy woolen items, and popular souvenirs like Tibetan handicrafts, Himachali hats etc.
Ways to reach Kufri
Kufri and Shimla share good road connectivity. You can hire a cab from Shimla to arrive at Kufri or can also travel by your car. The nearest railway station is Shimla railway station which stands at a distance of 13 km from Kufri. The closest Airport is Jubbarhatti Airport.
6. Chail
This beautiful paradise is the epitome of exquisite beauty and magical charm. It is the ultimate getaway to escape the dull city life. The picturesque beauty of the place is enhanced by forests of pine, deodar, and chir trees.The appealing valleys of this former summer palace of the Maharaja of Patiala state are a sure stop for soul rejuvenation. Best venue for a honeymoon, It is highly recommended for the newlyweds to include the place in Shimla tour package 2 days 3 nights for couples.
The gorgeous Chail boasts of being the home to the world's highest cricket ground. Chail is visited not only by nature lovers but also frequented by adventurous seekers. Tourists can indulge in camping, trekking, etc. Tourist attractions of the place are Sadhupul Lake, Chail Palace Hotel, Chail Wildlife Sanctuary, Kali ka Tibba Temple, and Lover's Hill.
Ways to reach Chail
Chail is a drive of 2 hours from Shimla, the total distance between the two places is 43 km. Both taxis and personal cars can be used to travel to Chail from Shimla.
7. Mashobra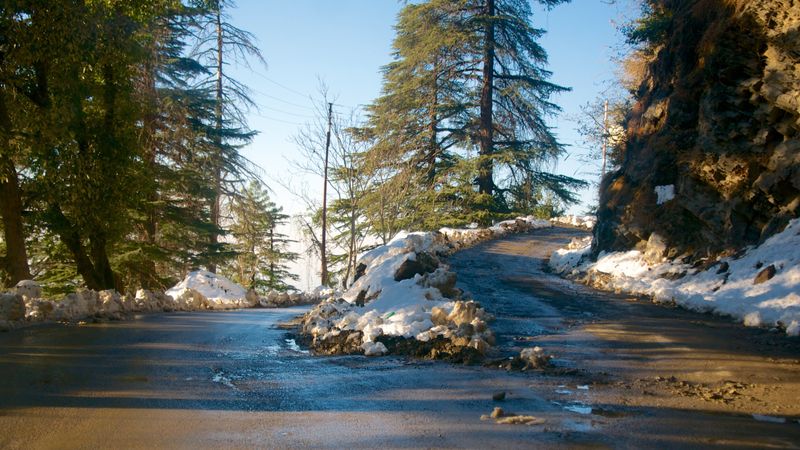 Mashobra or "The Quieter Shimla" nestled in the Himalayas is a mesmerizing hill town near Shimla. Known for its captivating oak forests, lush apple orchids, and bubbling streams. A perfect holiday spot to enjoy and relax while witnessing the charm of the small hamlet. Famous places of Mashobra are the Reserve Forest Sanctuary, WildFlower Hall, Mahasu Devta temple, the famous Craignano Villa, and Chadwick Waterfall.
Mashobra is a hub of activities like that of trekking, biking, paragliding, and rappelling. Do add this place to your Shimla 3 days package to pump up your adrenaline.
Ways to reach Mashobra
Distance from Shimla to Mashobra is 12.5km which can be easily covered by taxi or a personal car within 45 minutes. If you prefer trains, then the nearest station is Shimla railway station, approximately 11 km away. The closest airport to Mashobra is Shimla.
8. Narkanda
Narkanda is a small hamlet located in the heart of the Himalayas. It is set at a height of 2708 meters. The magnetic beauty of the place attracts thousands of tourists every year. The evergreen forests with awesome meadows and sprawling apple orchards will leave you spellbound. Tourist attractions of Narkanda are Hatu Peak, Tanni Jubbar Lake, Hatu Mata temple, and Jau Baug.
Narkanda is a popular ski destination in Shimla, if you are a skier then you must include the venue in your list of places to visit in Shimla in 3 days. Located at an altitude of 8100 ft. The location is perfect for skiing. Besides, trekking is also a hot favorite thing to do. Trekkers enjoy their trek to the Hatu peak. You will not regret including Narkanda in your 2 nights 3 days Shimla holidays package.
Ways to reach Narkanda
Narkanda is at a distance of 62 km from Shimla by road, this distance can be covered within less than 2 hours either by taxi or personal car. The distance between Narkanda and Shimla by flight is 32 km.
Questions Related to Shimla itinerary 3 days
Q1.Is a 2N 3D Shimla tour package functional?
Ans- It's a big yes You can visit all the worthwhile places of Shimla like Kufri, the Ridge, MAll road, Kail Bari temple, Jakhu temple, etc. in Shimla package for 3 days


Q2.Can Shimla be visited at any time of the year?
Ans- While making your plan of a 3 days trip to Shimla skip the monsoon season which begins in July and ends in September During this time there is a rise in the incidents of Landslides. Summers and winters are the best time to visit the place.


Q3.What is the Shimla trip cost for 3 days?
Ans- The cost of any trip depends upon a variety of factors. The prominent ones are the hotel you choose to stay in, the number of persons going on the holiday package, and the season you choose to visit a particular place. For example, if you visit any hill station in the summer, it will affect your budget as the hotels charge much during hot summers when their rooms are in high demand. As far as the means of transportation is concerned traveling by cab would cost you around 12990 - 18990 per person. If you travel by Indo-Canadian and use a local cab for sightseeing then the cost would be 10990 - 13990 per person.
Conclusion
Shimla is the land blessed with picturesque locations and an amazing flora and fauna. This beautiful city nestled in the lap of Mother Nature welcomes tourists from every nook and corner of the world. Get a glimpse of this paradise, abode to the enchanting views and rejuvenating natural surroundings with our Shimla tour package for 3 days.
So without wasting any time, ring us on 9878730549 or click here and book your 2- nights-3 days trip with us straight away.