Renowned as the twin jewels of Himachal Pradesh, it is no secret how popular and adored Shimla and Manali are as travel destinations across India. Nestled in the Himalayas, these hill towns mesmerize visitors with their perfect blend of history, local culture, adventure, and serene natural wonders.
So, whether you are a history buff, adrenaline seeker, couple, or a nature enthusiast, if you are planning to visit the star attractions of Himachal, our 5 days Himachal Tour Package is the perfect way to get started!
Our itinerary will guide you to the heart of all the top destinations one needs to visit in Shimla and Manali. Meticulously crafted to cover the best of these destinations, we have put together the perfect five-day Himachal Tour Itinerary. So, without further ado, let us dive into the adventure!
5 Days Shimla & Manali Tour Itinerary
Day 1 in Shimla (From Delhi to Shimla)
Kalka-Shimla Rail Ride
Our 5 days Himachal Tour Package starts with a trip to Kalka. Upon reaching Kalka, tourists can enjoy a scenic toy train ride to Shimla.
The famous Kalka-Shimla Rail Line was built in 1898 and has recently won a place on the list of India's World Heritage Sites by UNESCO.
With the Kalka-Shimla Toy Train, tourists can explore Himachal's natural, splendid beauty while passing through panoramic lush slopes, majestic peaks, sparkling streams, and pine forests.
Besides, the train covers a track of 96 km and passes through over 102 tunnels and 800 bridges. It also stops at a few popular tourist destinations that fall on the way. These include Salogra, Dharampur, Solan, Summer Hill, Taradevi, Barog, etc.
Nearby places to visit are- Jakhoo Temple, Himachal State Museum, Christ Church, Viceregal Lodge & Botanical Gardens, Lakkar Bazaar, The Mall Road, etc.
Best time to visit - Generally, the months from May to September serve as the most favorable duration to visit Kalka and hop on this exciting train ride. Moreover, we recommend taking the morning trains as they allow you to soak in the most surreal sceneries of the ride.
How to reach Kalka?
Tourists can book a cab to Kalka, about 260 km from Delhi. The journey usually takes about four to five hours, which makes it a long yet beautiful road trip. From there, the toy train takes you to Shimla in another five to six hours!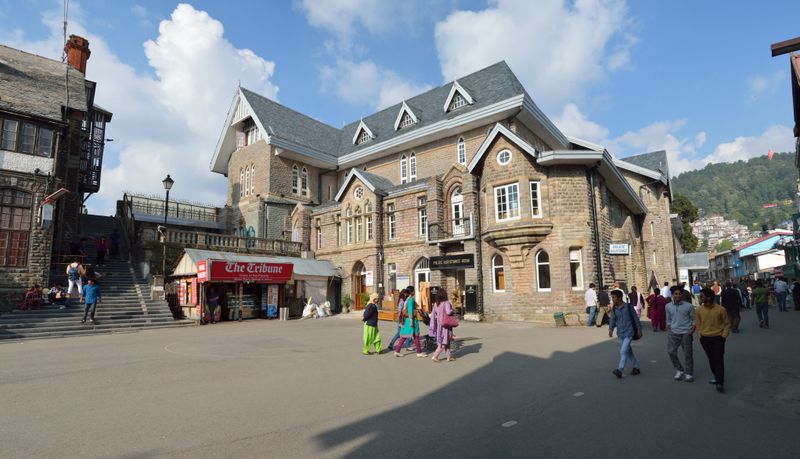 Mall Road Shimla
One of the highlights of our Shimla-Manali Tour Package is a visit to the lively Mall Road. With an overdose of cafes, stores, restaurants, and shops selling unique handicraft items, jewelry, and knick-knacks, making the perfect souvenirs!
Tourists can find many affordable accommodation options at Mall Road, making it the most popular housing area! The place is also close to well-known tourist spots, attracting hundreds of tourists daily.
Activities to try are- Shop to your heart's content at various shops on Mall Road. Indulge in a fancy dinner at top-class restaurants or try local cuisines at street-side stalls and cafes. Also, enjoy horse riding and relaxing walks through the road, basking in the surrounding natural beauty.
Nearby places to visit are- Kali Bari Temple, Gaiety Theater, Town Hall, Scandal Point, Lakkar Bazaar, The Ridge, etc.
Best time to visit- Tourists can visit the famous Mall Road in any season. In the summer, the place enjoys pleasant weather with a bustling crowd. The monsoon season makes it fresh and alive. And in the winters, the Mall Road appears no less than a wonderland, covered with sparkling snow as far as your eyes could see.
How to reach Mall Road?
Upon reaching the Shimla Railway Station, tourists can book a public vehicle to Mall Road, about 4 km away. Tourists traveling via domestic airlines can book a cab to Mall Road from the Shimla Airport, about 22 km away.
Kali Bari Temple
The Kali Bari Temple is the best architectural example of historical and religious beauty. Dedicated to the worship of Goddess Kali, the temple was built in 1845. The holy place houses a magnificent idol of the deity, embellished with jewelry and bright, colorful flowers.
Besides, the temple is near the Shimla City Mall, attracting hundreds of devotees daily. The place is also well-kept and regularly cleaned, allowing devotees to spend some time chanting prayers or meditating in peace.
Nearby places to visit are- Shimla City Mall, Christ Church, Mall Road, Jakhoo Temple, Chadwick Falls, City Point Bakery, Cake Masters, Himachali Rasoi, etc.
Best time to visit- The Kali Bari Temple shines the most between October and May when Shimla has many tourists. The famous Navratri festival is also celebrated for nine days in October or November, making the temple a must-visit place in that season. Also, it's ideal to visit in the evening to experience the magical evening Aarti.
How to reach the Kali Bari Temple?
The Kali Bari Temple is less than a kilometer away from Mall Road. One can easily walk or take a local vehicle from Mall Road to the temple. Moreover, the temple is about 1.6 km from the Shimla Railhead.
Jakhoo Hill and Temple
Next on the list of Shimla & Manali 5 days Itinerary is the town's highest point, the Jakhoo Hill. Covered with a dense forest of Alpine trees, the Jakhoo Hill attracts tourists looking for an escape from monotonous city life.
Moreover, the hill is around 8000 ft. above sea level. From this height, tourists can enjoy picturesque views of the snow-clad Shivalik Ranges and the beautiful town of Sanjauli.
The hill is also home to the ancient Jakhoo Temple, dedicated to Lord Hanuman. With the tallest sculpture (108 ft.) of the deity, the place is associated with many folklore and mysteries. One such popular belief is that the temple is at the exact location where Lord Hanuman had stopped for a while on his journey to get Sanjeevni Booti for Lakshman's recovery.
Activities to try are- Adventure enthusiasts can enjoy trekking at Jakhoo Hill. Upon reaching the hilltop, tourists can visit the ancient Jakhoo Temple. We also recommend exploring the nearby markets to find some nice souvenirs. Besides, sightseeing and photography are other popular activities to indulge in.
Nearby places to visit are- Scandal Point, Christ Church, Rashtrapati Nilayam (The Retreat), The Ridge, etc.
Best time to visit- The Jakhoo Temple attracts thousands of tourists in winter between November and March. But one can also plan a visit to the hill during the festive season of Dussehra when several colorful stalls open up around the area!
How to reach the Jakhoo Hill?
The Jakhoo Hill is about 5 km from the Kali Bari Temple and around 2 km from Mall Road. One can use the local transport to reach the hill. After that, it's a 30-minute walk to the Jakhoo temple.
Day 2 in Shimla
Chadwick Waterfall
Set in Shimla's Glen Forest, Chadwick Waterfall is a must-visit tourist destination for nature and adventure lovers. The waterfall gushes from an elevation of 86 m and forms a large canyon.
Moreover, the waterfall is surrounded by a thick blanket of canopying pine and deodar trees, giving it an ethereal look.
There is also a story behind how the waterfall got its name. In the past, the locals called it 'Chidku Jhaar,' where Chidku meant a sparrow, and Jhaar meant a waterfall. The locals believed only a sparrow could reach the waterfall's top. But British people found the pronunciation difficult, thereby changing the name to Chadwick!
Activities to try are- If adventure is your thing, you can indulge in trekking and hiking. The place also offers breathtaking views for photography.
Nearby places to visit are- Mall Road, Christ Church, Kali Bari Temple, Jakhoo Temple, etc.
Best time to visit- The monsoon season from June to September is an ideal duration to visit the Chadwick Falls. The surrounding receives heavy rainfall, breathing new life into the forest and raising the water level in the waterfall.
How to reach the Chadwick Waterfall?
The Chadwick Waterfall is about 7 km from Shimla's center. Taxis can take tourists into the Glen Forest, where the waterfall resides.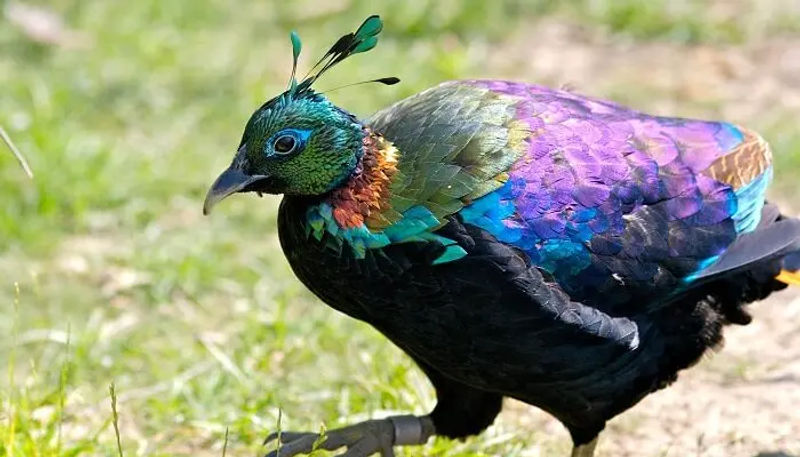 Himalayan Bird Park
The Himalayan Bird Park, famous as the Himalayan Aviary, is home to several native and rare bird species, with the Himalayan Monal being the center of attraction. Bird watchers and wildlife photographers may find this place a paradise with its collection of pheasants, peafowls, peacocks, etc.
Moreover, tourists can find a variety of lush green plants and trees while taking a stroll through the park.
Nearby places to visit are- Viceregal Lodge, Himachal State Museum, Chadwick Falls, Christ Church, The Ridge, Scandal Point, etc.
Best time to visit- The Himalayan Bird Park is only open in the summer season for its visitors, between March and September. Although the park is open from 10 AM to 5 PM, we recommend visiting in the early morning or evening hours. In the winter, the place gets completely covered in snow.
How to reach the Himalayan Bird Park?
The Himalayan Bird Sanctuary, about 3 km away, is a 10-minute drive from the Chadwick Waterfall. Moreover, it's about 2 km from the Shimla Railway Station.
Viceregal Lodge
The Visceral Lodge served as a summer residence to all the governors who had governed the country between 1888 and 1946. At the Lodge, they enjoyed a pleasant weather away from the country's scorching summer heat.
Tourists in Shimla must check out this place for its architectural beauty. It is surrounded by a well-maintained garden that offers an enchanting view of the mountain ranges.
Nearby places to visit are- The Ridge, Kali Bari Temple, The Mall Road, Lakkar Bazaar, Bantony Castle, Hawa Ghar, Himachal State Museum, etc.
Best time to visit- If you're planning a visit in the summer, March to June is the ideal time to visit the Viceregal Lodge. One can enjoy a nice walk around the garden and admire the stunning architecture of the place. Besides, the duration between October and December is also ideal for tourists who want to experience the cold climate and enjoy the picturesque views of the Shimla Mountain Ranges from the location!
How to reach the Viceregal Lodge?
The Viceregal Lodge is just opposite the Himalayan Bird Park, about 600 m away. It's also about 5 km from the Shimla Railway Station and 3 km from the Shimla Bus Station.
Christ Church
Located about 2 km from the Shimla Railway Station, Christ Church is another famous tourist destination in Shimla. With a Gothic Revival style of architecture, it was built in 1857 and is North India's second oldest church.
The church's interior is simple, offering a quiet place to meditate and pray. There are five stained glass windows on the east side, symbolizing different virtues of Christianity.
The Church tower is about 90 ft. in height, featuring a round clock, a metal cross, and a big brass bell with six smaller ones. Besides, the church looks more enchanting at night when the strategically placed lamps illuminate the stunning building.
Nearby places to visit are- Jakhoo Temple, The Ridge, Summer Hill, Mall Road, Kali Bari Temple, Viceregal Lodge, etc.
Best time to visit- One can visit the church on any day. It opens at 10:30 AM and closes by 5:30 PM. The church attracts the maximum number of tourists during the Christmas and Easter seasons.
How to reach the Christ Church?
The Christ Church is about 5.3 km from the Viceregal Lodge. Tourists can take local vehicles, and generally, it doesn't take longer than 20 minutes to reach.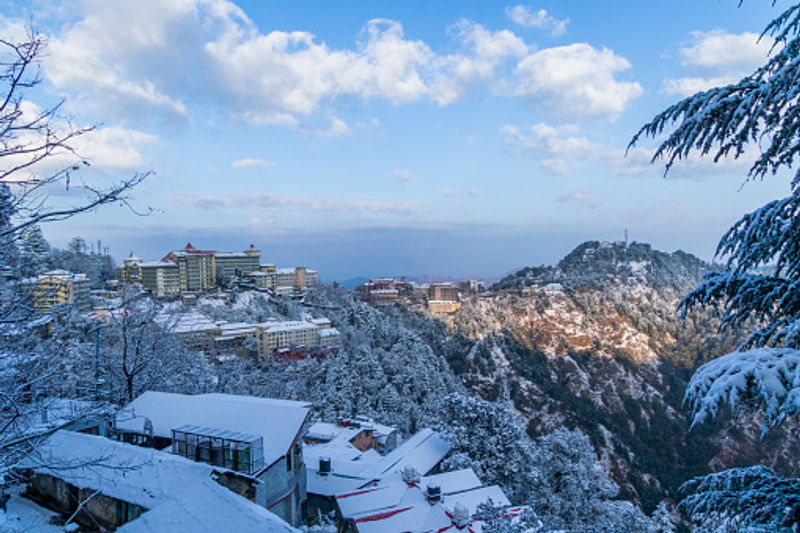 Kufri
Located 8607 ft. above sea level, Kufri welcomes adventure enthusiasts from across the globe. This small hill station offers picturesque views of snow-clad mountains, making it a must-visit spot in this Shimla-Manali Tour Package.
As an adventure hotspot, the place offers various facilities and training to conduct different winter sports.
Activities to try are- Kufri is a hotspot for enthralling activities, including ice skating, hiking, horse riding, and skiing. One can also enjoy scenic walks through the captivating landscapes.
Nearby places to visit are- Kufri Fun World, Indira Tourist Park, Himalayan Nature Park, Mahasu Peak, Green Valley, Fagu Valley, etc.
Best time to visit- Kufri enjoys pleasant weather throughout the year. But those who wish to see snowfall must visit between December and February. Many tourists also visit this town between April and June for sightseeing!
How to reach Kufri?
Kufri is about 15.3 km from Christ Church, making it a 50-minute drive. The Shimla Railway Station is approximately 17 km from Kufri.
Day 1 in Manali (Drive from Shimla to Manali)
Popular tourist spots on the way to Manali are-
Gobind Sagar Lake
Set in Himachal's Bilaspur and Ulna districts, this destination captures the scenic beauty of pristine blue Gobind Sagar Lake, surrounded by rolling hills and grassy plains. This artificial, gigantic reservoir was built on the Sutlej River by the majestic Bhakra Dam. It was named after the tenth Sikh guru, Gobind Sagar.
The Gobind Sagar Lake is about 90 km long and covers an area of 170 km², making it India's third-largest reservoir. And as it's located near the Himalayan Ranges, one can only find lush greenery as far as their eyes can see!
Activities to try are- Tourists can indulge in various water activities. These include boat races, kayaking, canoeing, river rafting, ferry rides, etc.
Nearby places to visit are- Bhakra Dam, Nangal Dam, Bachhretu Fort, etc.
Best time to visit- The months between June and August bring in rainfall, making the water levels of the lake rise. It's the ideal duration to visit this lake as the surroundings appear fresh and alive. Tourists who crave adventure must visit the place between September and December when the Department of Tourism hosts several water sports and other recreational activities.
How to reach the Gobind Sagar Lake?
As Bilaspur falls on the route from Shimla to Manali, visiting the Gobind Sagar lake is worth a shot for its enchanting beauty! The lake is about 127 km from Shimla. If you're traveling by private car, it takes around four hours to reach the place.
Naggar Castle
Built by Raja Sidh Singh in the 15th century, Naggar Castle is a building of historical significance overlooking the Kullu Valley. The castle offers stunning views of the town and the nearby Alpine forests.
These days, the castle is being run as a heritage hotel by Himachal Pradesh Tourism Development Corporation. The castle's wooden architecture is an example of the unique construction style of that era. Over the years, a few European elements have been added to the place to enhance its beauty.
Nearby places to visit are- Gauri Shankar Temple, Muralidhar Temple, Dagpo Shedrupling Monastery, Roerich Art Gallery, etc.
Best time to visit- We recommend tourists to visit the Naggar Castle between September and December, once the monsoon season is over and the winter is around the corner.
How to reach the Naggar Castle?
Naggar Castle is about 170 km from the Gobind Sagar Lake. The total journey takes about five hours by a private vehicle. Besides, Manali is only 22 km away from the Naggar Castle.
Bhrigu Lake
Bhrigu Lake is a must-visit place on this Shimla-Manali Tour Package for couples. A tranquil water body passing through the Alpine tundra and evergreen forests- can you think of a place more beautiful than this for your honeymoon? We doubt you can!
One of the best destinations for trekking near Manali- this place is set at an altitude of more than 4000 m. It offers scenic views of the entire Pir Panjal Range, attracting many nature photographers.
Activities to try are- Adventure enthusiasts can participate in the Bhrigu Lake Trek that starts from the Gulaba village, about 22 km from Manali.
Nearby places to visit are- Nehru Kund, Naggar Castle, Jogini Falls, etc.
Best time to visit- The duration between May and October is ideal for visiting the Bhrigu Lake. The weather gets pleasant, and the icy terrain begins melting from mid-May, but most of the land remains frozen. June is the best time to go for a Bhrigu Lake Trek and witness the sapphire blue of the lake.
How to reach the Bhrigu Lake?
The Bhrigu Lake is about 32 km from the Naggar Castle. It usually takes an hour and a half to reach by car. Besides, Manali is about 18 km from the lake, taking almost an hour via the Kullu-Naggar-Manali Road.
Day 2 in Manali
Solang Valley
Located 13 Kms from Manali, Solang Valley is one of the major highlights of the Shimla-Manali trip. With its snow-capped peaks, lush green meadows, and an exciting range of thrilling activities, Solang Valley is visited by thousands of tourists every year.
It is located between the Beas Kund and Solang Village, beckoning adventure seekers and nature lovers to a realm of breathtaking beauty. It is the perfect place to start your second-day journey at Manali.
Activities to try are- Solang Valley is an adventurer's dreamland. During the summer season when the skies are clear and the surroundings are a lush green, you can partake in thrilling activities like paragliding, zorbing, ropeway, horse riding, parachuting, and more.
During winters, when the valley is covered in snow, it provides the perfect opportunity to enjoy skiing and riding snow scooters. Its picture-perfect alpine beauty is one of the primary reasons for its immense popularity among tourists across the country.
Nearby Places to visit are- Nehru Kund, Kothi Village, Rohtang Pass, Jogini Waterfall, Jana Falls, etc.
Best Time to Visit- Solang Valley can be visited by tourists all around the year. It entirely depends on your desired activities. If you are interested in paragliding, zorbing, horse riding, and other activities, the months of April to June are ideal. If you want to enjoy a snowy landscape and enjoy winter activities, you can plan your visit between November and February.
How to reach Solang Valley?
Solang Valley is located 13 Kms from main Manali town. You can reach Solang via local buses that leave from Manali Bus Stand in the mornings and afternoons. Besides, shared cabs, bike rentals, or hired taxis are also available if you are looking for a relaxed experience.
Jogini Falls
Hidden amidst lush forests and serene surroundings, nestled deep within the heart of nature's sanctuary, lies this stunning tourist attraction- The Jogini Falls.
This destination lies 8 Kilometers from the Solang Valley and 4 Kms from Vashisht Temple. Tourists can enjoy a leisurely trek from the temple which takes 3 hours both ways.
The entire trek is a scenic journey through apple orchards, rolling rivers, and bridges- perfect for capturing snaps or enjoying a refreshing trek with amazing views. The romantic scenery makes it a popular destination for the Shimla Manali Tour Package for couple.
The cascading waterfall drops from a height of nearly 150 feet, an adventurous experience for travelers who seek the journey to this hidden paradise.
Activities to try are- The trek from Vashisht Temple to the Jogini Falls is comparatively easy, which takes around 45 minutes to 1.5 hours one way. Tourists enjoy the panoramic views along the way and spend some time rejuvenating and watching the waterfall. There is also a temple at the base of the falls, the Yogini Mata Temple. Tourists can visit the temple and offer their prayers here.
Nearby Places to Visit are- Vashisht Temple, Manu Temple, Manali Sanctuary, and Old Manali.
Best time to visit- The ideal time to visit the Jogini Falls is during the summer season, between the months of March and May, when temperatures remain pleasant. The winter months of October and February are also a good time to enjoy the trek. The best time of the day to enjoy the view is mostly around afternoons.
How to reach the Jogini Falls?
Jogini Falls lies 8.1 Km from Solang Valley. Although there are no direct cabs/ bike routes services directly to the falls, you can travel via your vehicle to the nearest Vashisht Temple. From here, it is a 3 Km trek up to the falls. This route is fairly easy and beginner-trekker-friendly.
However, if you are traveling solo and up for some adventure, you could take another route via Bahang, another pass that lies on the way back from the Solang Valley. This path is a little steeper, but it is a shorter-duration trek, and the panoramic views from the top are definitely worth the hike.
The falls are located approximately 7.5 Kms from the Manali Bus Stand.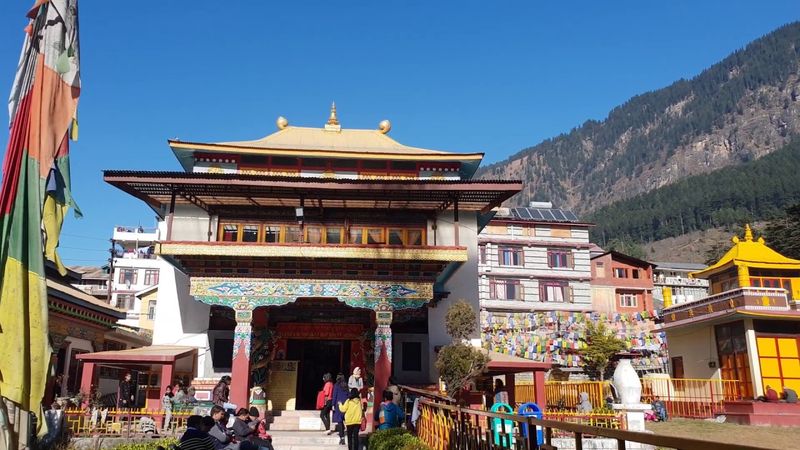 Himalayan Nyingmapa Buddhist Temple
Himalayan Nyingmapa Buddhist Temple
Nestled amidst the beautiful Himalayan Peaks, the temple is an enchanting destination for devotees and tourists alike to seek solace and tranquility. It is one of the oldest and most famous monasteries in the quaint hill town.
The architecture is built in the traditional Tibetan Style, adorned with several wall paintings depicting the principles of Lord Buddha, several wooden structures, and a large statue of Lord Buddha.
Perched on the mountain slopes surrounded by the breathtaking beauty of its surroundings, this spiritual sanctuary is the ideal place to unwind and enjoy some peaceful time at the end of your all-day journey around the town.
Activities to try are- The Himalayan Nyingmapa Buddhist Temple is particularly awed for its aura of spiritual tranquility and pleasing architectural beauty.
The temple has special meditation spaces where you can devote some time and practice meditation for inner peace. You can also attend spiritual teachings, take a spiritual walk around the stupas, participate in spinning the prayer wheels, and more that will further enrich your experience.
Nearby Places to Visit are- Hadimba Devi Temple, Van Vihar, National Park, Knoi Waterfalls, Museum of Himachal Culture, etc.
Best Time to Visit- Tourists can visit the famous Himalayan Nyingmapa Buddhist Temple anytime between October and May, as this is also the peak tourist season in Manali. In the Summer season, there is clear, pleasant weather to visit the temple in peace, whereas winters mean snow-covered surroundings. The temple remains open from 6 AM to 7 PM, in the evening, which is the best time to explore the beauty of the temple.
How to reach the Himalayan Nyingmapa Buddhist Temple?
Himalayan Nyingmapa Buddhist Temple is situated close to the popular Mall Road. From Jogini Falls it is a 4 Km ride to the temple. It is less than a kilometer from the main Mall Road, precisely near Market Square.
Day 3 in Manali (and a drive back to Delhi)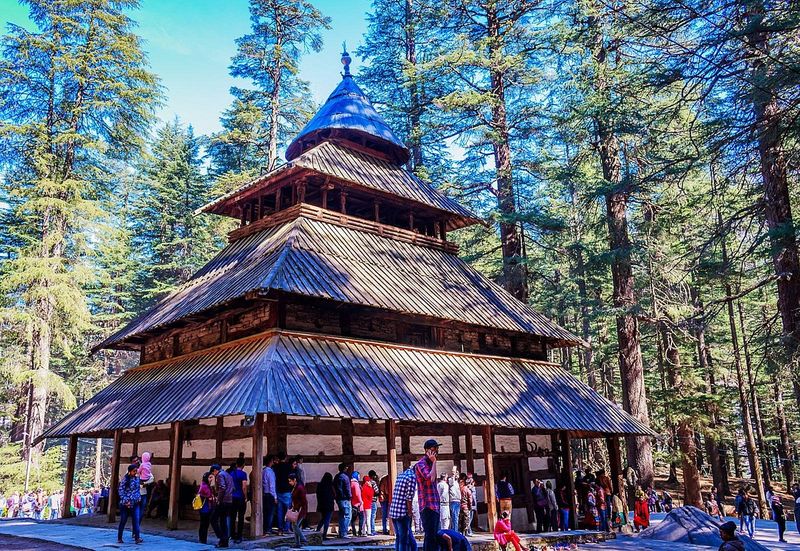 Hidimba Devi Temple
Also famous as the Dhungari Temple, the Hidimba Devi Temple is a beautiful ancient shrine dedicated to Hidimba Devi, the mother of Ghatotkach and wife of Bheema. It was built on a sacred rock in 1553 by Maharaja Bahadur Singh, which is believed to be the incarnation of Hidimba Devi herself.
Moreover, the temple is surrounded by gorgeous cedar groves and has snow-covered mountain ranges as its backdrop. And if the surrounding beauty and historical significance aren't enough, the temple is unlike any other. With a cone-shaped roof, wooden doorways, and walls, the distinct architecture is enough to attract tourists from nationwide.
Nearby places to visit are- the Museum of Himachal Culture & Folk Art, Manu Temple, Siyali Mahadev Temple, Manali Sanctuary, Rahala Falls, etc.
Best time to visit- The temple stays open throughout the year, so if you want to visit in peace and avoid any crowd, we recommend visiting between September and April.
How to reach the Hidimba Devi Temple?
Set in the Old Manali, the Hidimba Devi Temple is about 2 km from the town's center. One can either take the local bus or simply walk to the temple.
Nehru Kund
Ideal as a summer retreat- Nehru Kund is a natural spring on the Manali-Rohtang Pass Highway and a must in our 5 days Himachal Tour Package.
In the past, the spring was often visited by India's first prime minister, Jawahar Lal Nehru, whenever he used to come to Manali. Locals say that he used to drink the clean water from it; hence, the spring was named after him.
Tourists moving towards Rohtang Pass usually stop at Nehru Kund to rest in nature's lap. The fresh water and serene Himalayan surroundings never fail to relax tired souls and ease tensed minds. Several photography lovers also visit this place to try and capture its beauty in a film.
Nearby places to visit are- Hidimba Devi Temple, Rohtang Pass, Manu Temple, Solang Valley, Gulaba, etc.
Best time to visit- The ideal duration to visit Nehru Kund is between May and October. However, we still advise avoiding the rainy months from July to September due to transportation problems.
How to reach Nehru Kund?
Nehru Kund is about 5.7 km from the Hidimba Devi Temple. Local vehicles are available from the location to Nehru Kund. Besides, the Manali Bus Stand is about 5 km from Nehru Kund.
FAQs Related to the 5 days shimla manali tour package
Q.
When is the best time to visit Shimla Manali?
A. Months between March and June are best to enjoy pleasant weather and popular attractions. For the snow and winter sports lovers, November to February is ideal.
Q.
What are some adventure activities to enjoy in Manali?
A. Adventure Travelers in Manali can enjoy activities like River rafting at Beas River, Paragliding and Camping in Solang, Trekking in Kasol, Skiing in Rohtang Pass, etc.
Q.
What are the main popular shopping areas in Shimla and Manali?
A. During your Shimla-Manali trip, you can indulge in local shopping at the Mall Road and Lakkar Bazaar in Shimla, Old Manali Market, or Tibetan Market in Manali.
Q.
What are some local dishes to try while on a trip to Shimla-Manali?
A. If you are interested in local flavors, you can try Himachali dishes such as Dham, Madra, Chha Gosht, Chicken Anardana, Babru, etc., at different local street food joints and restaurants in Shimla and Manali.
Q.
Is Rohtang Pass open to tourists throughout the year?
A. Rohtang is open to tourists from the month of May/June till October, depending on weather conditions. However, it is inaccessible for traveling in winter due to heavy snow.
Are you enjoying the chills and thrills of Shimla-Manali? How about an exciting trip to Himachal with family and children? You might be interested in our Shimla-Manali Family 5 Days tour package!
Final Verdict On Himachal Tour Package:
With this, we come to the end of our Shimla-Manali 5 Days Itinerary. Whether a family trip, romantic getaway, adventure tour, or solo trip, Shimla-Manali has something to offer for every genre of visitor.
So, what are you waiting for? All you gotta do now is to visit Book Your Own holiday packages to plan, book those package, and grab your travel essentials, and you are ready to set out on your postcard-memory-worthy journey to the hills.
If you dont have enough time for Shimla Manali trip and want to visit only shimla, then you can discover our specially curated 3 days Shimla travel package with meticulously planned itinerary to discover the best of Shimla and its nearby attractions.
Have you been to Shimla and Manali? If yes, what was your favorite part of the trip? You can share with us your experiences in the comments below!