Planning to visit a hill station in India for a refreshing summer break? India has plenty of stunning hill stations nestled in the Himalayas, Western Ghats, and Eastern ghats that will fill you with joy. So, ditch your boring routine and sunny days, it's time for a retreat!
Get ready to visit India's most popular hilly areas filled with positivity, lush green forests, snowcapped mountains, and freshwater lakes. Here is our list of the #10 most beautiful and best hill stations in India for the most memorable vacations. Plan it with your families, friends, or a solo escapade for a unique traveling experience!
1. Manali, Himachal Pradesh
Manali is the most visited and popular hill station cradled in the Beas river valley in the Himalayas. This beautiful hill station in the Kullu district is situated above 6427 feet above sea level. Surrounded by snowy mountains, waterfalls, and marvelous weather, Manali is the top spot for adventure seekers and newly married couples.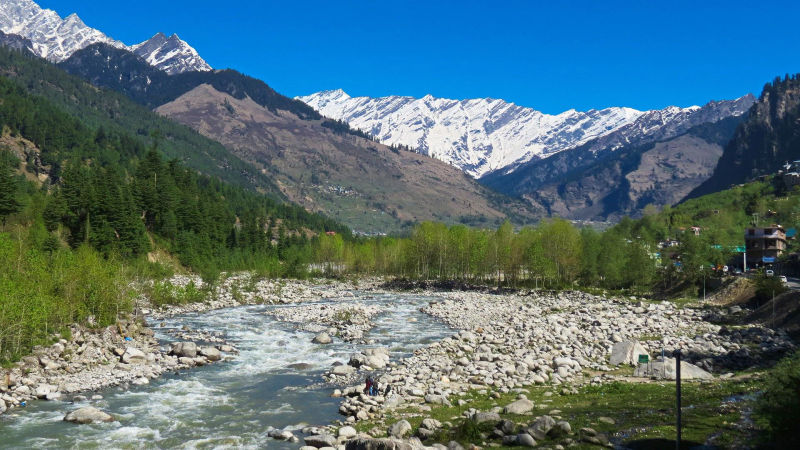 This surreal hill station has many ancient temples, forts, and hundred years old shopping points. A perfect and must-visit place to beat the summer this year. You'll find plenty of the best places to visit in Manali. The average high temperature in summer ranges from 25°C to 28°C and gets low during nights to 8°C to 13°C. Contact BYO to book Couple friendly hotels in Manali at affordable prices.
Best Places to Visit in Manali: Hidimba Devi Temple, Shiva's Mandir, Vashisht Ashram, Manu Temple, Rohtang Pass, Solang Valley
Exciting things to Do in Manali: Paragliding, horse riding, mountain biking, skiing, camping, trekking, river rafting, trying local cuisines.
Best Time to Visit: October to June
Nearest Airport: Bhuntar Airport (51 km)
Nearest Train Station: Joginder Nagar Railway Station (144 km)
2. Dharamshala, Himachal Pradesh
Located in Kangra Valley, Dharamshala is the closest yet most visited hill station in dev Bhoomi Himachal. It is situated at an altitude of 1457 m above sea level and is the winter capital of Himachal Pradesh. A top attraction for tourists, couples, and families.
Dharamshala is known for its spirituality and Buddhist culture. Another attraction is HPCA stadium known as the highest international cricket stadium in the world. So, visit and fall in love with the snow-capped mountains, and rainfalls, and witness the serene beauty of the majestic Himalayas. Enjoy your stay with BYO packages for cheap and the best hotels in Dharamshala.
Best Places to Visit in Dharamshala: Mcleodganj, Bhagsunag waterfalls, HPCA Cricket Stadium, Triund Hill, Dalai lama temple, Jwala Devi Temple.
Exciting things to Do in Dharamshala: Enjoy the beautiful view of the Dhauladhar ranges, trekking, paragliding, camping, and explore the Tibetan market.
Best Time to Visit Dharamshala: December to June
Nearest Airport in Dharamshala: Kangra Airport (13 km)
Nearest Train Station Dharamshala:

Pathankot Junction (86 km)
3. McLeod Ganj, Himachal Pradesh
Also known as Little Lhasa, Mcleodganj is situated a few km far from Dharamshala. It is situated at an elevation of 2830m above sea level. Mcleodganj represents the mix of British and Tibet cultures. The place is best for awakening to enlightenment, meditating, and a high spiritual aura. It's home to the 14th Dalai Lama, the spiritual leader of Tibetans, and many other monk monasteries.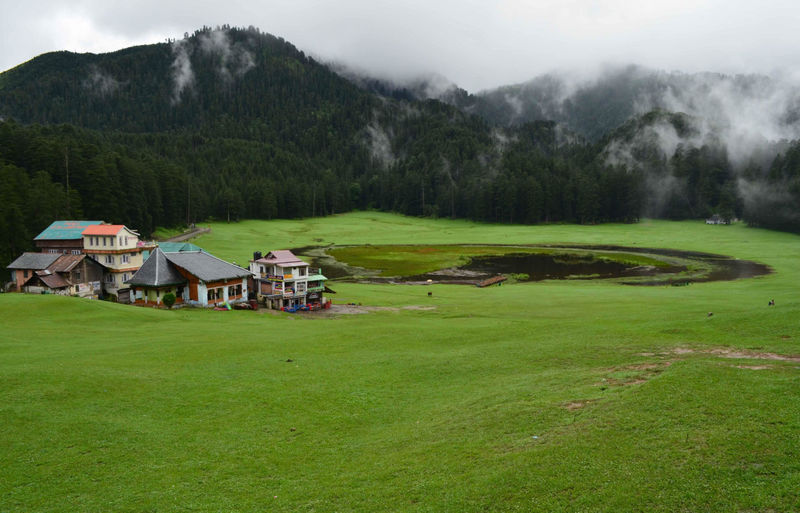 The rainfalls, street foods, and tranquil views will make you fall in love with this ultimate place. Mcleodganj is best known for museums, ancient Buddhist temples, monasteries, waterfalls, lakes, and Tibetan settlements. Book budget-friendly Mcleod ganj hotels with book your own!
Best Places to Visit in McLeod Ganj:

Tsuglagkhang Complex, St. John in the Wilderness, Dal Lake, Kalachakra Temple, Kangra Fort, Tushita Meditation Centre, Tibetan market.

Exciting things to Do in McLeod Ganj:

Explore resto-bars & cafes trekking camping, mountaineering, street foods, and buy Tibetan jewelry and handicrafts.

Best Time to Visit McLeod Ganj:

Oct-June

Nearest Airport to McLeod Ganj:

Kangra Airport (18 km)

Nearest Train Station to McLeod Ganj:

Pathankot Junction (86 km)
4. Dalhousie, Himachal Pradesh
This highly visited hill station in the lap of the Himalayas is located 1970m above sea level in the Chamba district. The average night temperature during the travel season is 4 degrees and goes maximum to 11 degrees. This stunning hill station is known for gorgeous waterfalls, river valleys, and a salubrious climate. It's an abode to many religious deities and monasteries. Khajjiar, satdhara falls, Chamba temple are some of the attractive places to visit in dalhousie.
It was founded in the 1850s near the Dhauladhar ranges and has been named after Lord Dalhousie, an official British governor of the 19th century. About 170 years old, Dalhousie is a favorite destination in Punjab state. Tourists from Jalandhar, Amritsar, and Ludhiana love to visit Dalhousie every season.
Attractive Places to Visit in Dalhousie:

Chamba, Khajjiar, Kalatop Wildlife Sanctuary, Chamera Lake, Dai Kund, Panch pula, Chamunda Devi Temple, and Satdhara Falls,

Exciting things to Do in Dalhousie:

Laxmi Narayan Temple, River rafting, Ganji Pahari Trekking, Khajiar paragliding, Bridge crossings Rivers Saal and Ravi, Indo-Tibetan Market Shopping.

Best Time to Visit:

July- September; October-February.

Nearest Airport:

Kangra Airport (108 km), Pathankot Airport (87 km)

Nearest Train Station:

Pathankot Junction (82 km)
5. Mussoorie, Uttarakhand
Mussoorie is known as the queen of hill stations located 6578 feet above sea level. This beautiful hill station is situated at a distance of 34 km from Dehradun. From pleasant climate, hotels located on hills, parks, and food; everything is adorable about Mussoorie. One must visit is the natural epitome of beauty at least once in their lifetime.
Mussories used to be a popular retreat of Britishers in the 19th century. A best summer vacation destination surrounded by the doon valley, dense Sal, Oak, and Deodar forests. So, plan a tour to Mussoorie with your family or friends or solo with BYO (Book Your Own). We provide the Mussoorie's best accommodations.
Best Places to Visit in Mussoorie:

Gun hills

,

Kempty Falls, Cloud's End, Company park, Dalai Hills, Jharipani Falls, Lake Mist, and Benog Wildlife Sanctuary,

Exciting Things to Do in Mussoorie:

Trekking, rock climbing, river rafting, Lal Tibba, Panoramic views, exploring the Landour town, street food, traditional Cuisine, trekking.

Best Time to Visit:

April to June

Nearest Airport:

Dehradun's Jolly Grant International Airport (61 km)

Nearest Train Station:

Dehradun Railway Station (34 km)
6. Nainital, Uttarakhand
Located in Uttarakhand's Kumaon region, Nainital is commonly referred to as the lake of districts. It is surrounded by freshwater lakes and the most popular Nainital lake of Kumaon hills. This hill station is situated 2084m above sea level.
A perfect destination spot for travelers seeking peace, landscapes, pleasant weather, and a natural environment. You'll find many places to visit in Nainital, such as Tiffin Top, Khurpa Taal, trekking points, and vantage points. If you are bored of overheated plain areas, Nainital is undoubtedly the best place for you. BYO has a range of affordable hotels in Nainital. Give us a call to book your stay now!
Top attractions to visit in Nainital:

Mukteshwar temple, Tiffin Top, snow view, Nainital lake, Kainchi Dham, Hanuman Garhi Temple, Khurpa Taal, High Altitude Zoo, Bird Sanctuary

Exciting things to Do in Nainital:

Taking a stroll at Tandi Sadak, trekking, rafting, horse riding, boating, ropeway ride, buy the ancient jewelry and traditional clothes from Bhotia and Tibetan Market

Best Time to Visit:

March to June.

Nearest Airport: Pa

ntnagar Airport (59 km)

Nearest Train Station:

Kathgodam Railway Station (26 km)
7. Srinagar, Jammu & Kashmir
Spend your vacations in the lap of mother nature, yes we are talking about Srinagar! Located in the stunning valleys of Kashmir, Srinagar is called the paradise of earth. Winters and summers are the best seasons to plan vacations in Srinagar.
The temperature in summer ranges from 14°C to 30°C. If you want to experience the chilly weather, and heavy rainfall, we recommend planning a trip in winter. Houseboat stay and Shikara ride are the two attractions in Srinagar. How can we forget to mention the beautiful dal lake and Indira Gandhi Tulip garden?
Best Places to Visit in Srinagar:

Dal Lake, Shikara, Pari Mahal, Shankaracharya hills, zero bridge, Aru valley, Shalimar Bagh, Chashma Shahi Garden, Indira Gandhi tulip gardens Mughal Garden, Pahalgam, Gulmarg.

Exciting Things to Do in Srinagar:

Kesar baghs, buy Kashmiri phirans, shawls, woolen suits, dry fruits of Lal chowk market, Kashmir Kahwas, Spices, etc.

Best Time to Visit:

April to September

Nearest Airport:

Srinagar Airport

Nearest Train Station:

Srinagar Railway Station
8. Leh-Ladakh, Jammu & Kashmir
If you want to experience the most unique traveling experience and chilly winters, Plan a road trip to Leh-Ladakh for the best experience. Leh is also called the land of lamas or little Tibet. This marvelous hill station is known for Tibetan Buddhism culture and extremely low temperatures throughout the year.
Leh Ladakh is located in the Ladakh region at an altitude of 3500m. Some of the top attractions in Leh Ladakh are the world's highest motorable road and Pangong Tso Lake, the world's highest saltwater lake. Capture the scenic landscapes, the natural beauty, unique delicacies, cuisines, camping, and high-level trekking.
Best Places to Visit in Leh Ladakh:

Gurudwara Pathar Sahib, Leh Palace, Shanti Stupa, Hall of Fame, Thiksey, Alchi, Rizong Monastery,

Exciting things to do in Leh Ladakh:

Visit the ancient monasteries, Pangong Tso Lake Camping, Camel safari at Nubra Valley, boating, and high-altitude trekking.

Best Time to Visit:

March to June(15

degrees to 30 degrees)

Nearest Airport: Leh's

Kushok Bakula Rimpochee Airport

Nearest Train Station:

Jammu Tawi Railway Station (702 km)
9. Ooty, Tamil Nadu
Ooty is also called as queen of hill stations in western ghats. Do you know the original name of Ooty is Udhagamandalam? It is located in Nilgiri hills, and 86 km from Coimbatore. This capital city of madras in the 19th century was a retreat for Britishers in the 19th century. Ooty has been declared a UNESCO world heritage site.
It is connected with the Nilgiri mountain railways and Nilgiri ghat roads. It's a popular holiday destination among tourists from around the world. January and February are extremely cold months in Ooty. BYO offers the best affordable hotels in Ooty. So plan and capture the natural environment filled with peace, lush tea gardens, freshwater valleys, and cozy cottages.
Best Places to Visit in Ooty: Doddabetta peak, Avalanche park,

Emerald Lake, Deer Park, Ooty Rose Garden, Toda hamlet, Dolphin's Nose, Honeymoon boat view, Kamra Sagar dam, and Tea Museum

Things to Do in Ooty: Visit parks, Museums, tea gardens, trekking, rafting, fishing, and enjoy the scenic waterfalls.
Best Time to Visit:

Between

March and June.

Nearest Airport:

Coimbatore International Airport (87 km)

Nearest Train Station:

Mettupalayam Railway Station (51 km)
10. Lonavala, Maharashtra
Maharashtra's most loved hill station, Lonavala is situated between Mumbai and Pune, Located in the Sahyadri mountain range, the weather remains pleasant throughout the year. Lonavala is a famous picnic and Bollywood shooting spot.
You'll find many hidden Places in Lonavala such as forts, lakes, river valleys, and caves. Lonavala is worth visiting especially during the rainy season. If you are planning to visit Lonavala this year, we have some best deals and tour packages for Lonavala. Book cheap hotels in Lonavala with BYO!
Top attractions to Visit in Lonavala:

Visapur Fort, Carla Caves, Lohagad Fort, Tiger's Leap, Reverse Waterfall, Aamby Valley, Bhaja Caves, and Sunil Shetty's Wax Museum.

Exciting Things to Do in Lonavala:

Visit Wet n' Joy water park, bungee jumping, Trekking,Hiking, waterfalls, experience spirituality at Bhairavnath Temple and Narayani Dham Temple.

Best Time to Visit:

October to May;

July-September in Monsoon.

Nearest Airport:

Mumbai's Chhatrapati Shivaji Maharaj International Airport (93 km), Pune International Airport (70 km),

Nearest Train Station:

Lonavala Railway Station (2 km)