Making a plan to travel to the traditional and heritage city of Punjab? Amritsar, often called Ambarsar, is the most historic city of Punjab. It was known as Ramdass Pur after the fourth Sikh Shri Guru Ram Das Ji. Amritsar owns the legacy for being a cultural hub of Sikh religion.
Amritsar is one of the heritage cities of India under HRIDAY (heritage city development and augmentation yojana) scheme. You'll find many top historical places in Amritsar like Jallianwala Bagh that bore the most tragic chapter of Indian history. Amritsar has become a tourist hub.
People from all across the world love to visit this religious city. Golden Temple, Wagah border are some of the popular hotspots in Amritsar. The architecture of the city still reveals the essence of traditional and cultural values of Amritsar.
All set to visit the city? But make sure to book the hotels in Amritsar city center. As it will be more convenient and approachable.
Explore H

istorical places

in Amritsar
Golden Temple

Wagah Border

Jallianwala Bagh

Ram Tirath

Jama Masjid Khair Uddin

Gobindgarh Fort

Durgiana Temple

Akal Takht

Punjab state war heroes memorial

Pul Kanjari
1. Golden Temple
Golden Temple | #1 of 10 Historical Places in Amritsar
Golden temple or Darbar sahib is situated in the centre of the city. It is easy to reach the Golden Temple anywhere from the city. The place holds much religious and historic significance among the Sikhs. The golden architecture of Sri Harmandir sahib is magnificent. Mughal emperor Akbar donated the land. The foundation stone was laid by Mian Mir a Sufi saint a Muslim in the 16th century.
Langar is served daily to about 100000 devotees. Langar Seva continues for 24/7. At the right side of the entrance, you'll find a Sikh museum revealing the injustice endured by Sikhs in the 1984 riots.
Sri Harmandir sahib, the main temple is located at the centre surrounded by Amrit Sarovar. It is surrounded by two Islamic kind minarets, a clock tower at the front. It was Maharaja Ranjit Singh who covered the gurdwara walls with pure gold in 1830. Since then; it has been named as the Golden Temple. The doors are open 24/7 for all devotees.
2. Jallianwala Bagh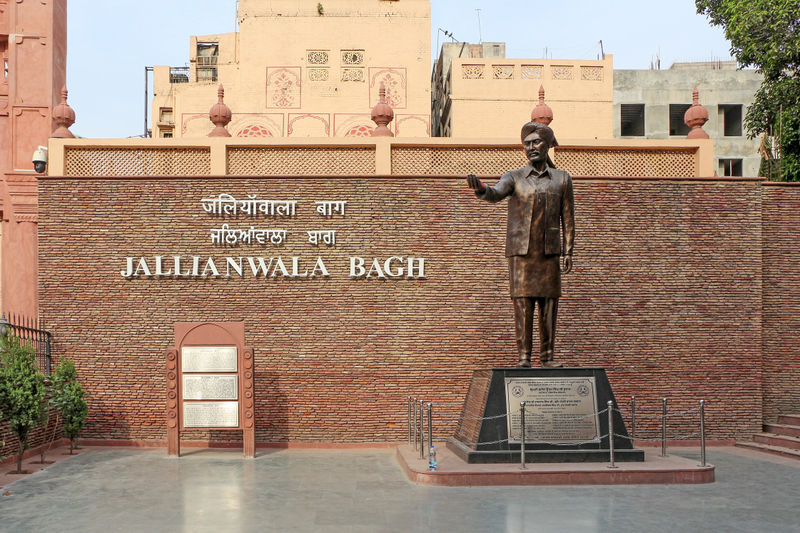 Jallianwala Bagh | #2 of 10 Historical Places in Amritsar
Jallianwala Bagh is situated near the Golden Temple and covers about 6.5 acres area. It has witnessed many freedom struggles and sacrifices Indian's had to suffer. The unforgettable massacre took place on the day of Baisakhi in April 1919 at Jallianwala Bagh. It was General Dyer who broke all the limits of cruelty.
Thousands of people including women, children were open fired. Still, you'll find the shreds of evidence as the fire spots at Jallianwala Bagh. Hundreds of people jumped into the well inside Jallianwala Bagh, trying to escape from bullet fire. There is an Amar Jyoti at the entrance as a tribute to all the martyrs who lost their life.
On your visit to this memorial place, you'll find a museum dedicated to martyrs who died on that unfortunate day. This memorial museum was inaugurated by Dr Rajendra Prasad on 13th April 1961 This place is managed by Jallianwala Bagh National Memorial Trust. This historic place has been turned into a beautiful park now. The timings to visit Jallianwala bagh which is from 9.00 am to 7.30 p.m.
3. Wagah Border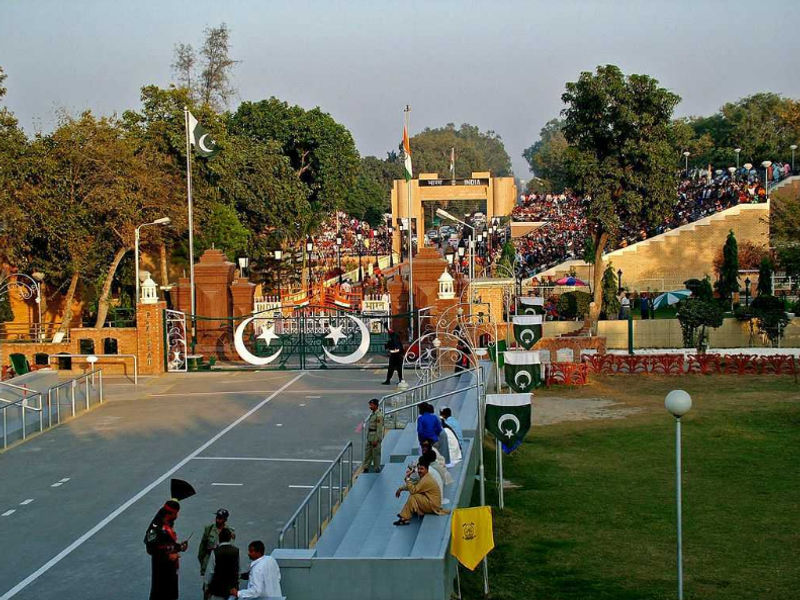 Wagah Border | #3 of 10 Historical Places in Amritsar
Wagah Border represents the boundary or Radcliffe line between Indian and Pakistan. It is located at a distance of 25 km from Amritsar and 22 km from Lahore. This place is of special significance as migrants from India crossed the border in 1947.
Another prime attraction is the parade or Beating retreat ceremony and flag ceremony i.e. held every day before the sunset. The soldiers from both sides of the respective countries display a military meet of 30-min long show of military camaraderie. The ceremony ends at the the closing of both the gates and lowering the flags of respective countries. This practice is being performed consistently since 1959.
Wagah Border is among popular historical places in Amritsar. The crowd gathering is just ultimate on weekends where people show respect to their country by chanting together the loud anthem of India with loud applause.
All set to visit Wagah border? There is no entry fee and winter ceremony timing are from 4:15 pm to 5:00 pm while in summer – 5:15 pm to 6:00 pm
4. Sri Ram Tirath Ashram
Sri Ram Tirath Ashram | #4 of 10 Historical Places in Amritsar
This renowned temple is one of the best heritage places in Amritsar. This religious monument has a deep connection with Maharishi Valmiki. So you'll find a great statue of Valmiki JI plated in gold. It is said that when Lord Rama abandoned Mata Sita. She came to live here with Valmiki Ji. Ram Tirath is also the birthplace and gurukul of Luv- Kush; two sons of Lord Rama. The Ashvamedha battle between Lord Rama and his son took place at this pilgrimage.
This place is also called Bhagwan Valmiki Tirath. Every year a 5 day long fair is organized after Diwali. Thousands of devotees from all over India visit this historical place in Amritsar to take the bath in pious Sarovar. It is a belief that bathing on the Puran Mashi night in the Sarovar removes all the lifelong sins and opens the door of heaven.
Tulla Torana is an age-old tradition that is practised here. The light lamps made up from kneaded flour and ghee are released into the water. The visit to pilgrimage is not complete without donating some money to the poor and needy people.
This pilgrimage is constructed in lime yellow stones. Also, a small amusement park is constructed in this ashram. It consists of merry go rounds for kids, magic shows, the big wheel ride. You can visit this place from 5.00 am to 9.00 pm.
5. Durgiana Temple
Durgiana Temple | #5 of 10 Historical Places in Amritsar
Established in 1921 by guru har rai mal Kapoor. This temple is also known as Laxmi Narayan temple or Seetla mandir. This renowned temple was modelled and inspired by the Golden Temple. You'll find a similar temple situated in the middle and surrounded by water. The temple's entrance door is made up of silver. You will find various statues of Lord Vishnu and Lakshmi Mata in the premises of the temple. Also one can notice a big fountain around lord Shiva in between the Water.
This temple is known for its beauty and peace. On your visit to this enshrine, you'll find A big Hanuman Mandir (Langoor's Mandir). People from across the world visit this place especially in Navratri to show their dedication and faith to Hanuman Ji. There is an ancient tree inside this mandir. It is believed that Hanuman Ji was tied to this tree by Luv and Kush, the sons of Lord Rama.
Durgiana temple is among the best places to visit in Amritsar, situated at a distance of 1.6 km from a golden temple near Hathi gate. The temple is of great historical and architectural interest. You can visit this temple from 5.00 am to 9.00 pm.
6. Gobindgarh Fort
Gobindgarh Fort | #6 of 10 Historical Places in Amritsar
The Gobindgarh Fort was established by Gujjar Singh bhangi in the 18th century. It is among the renowned historical places in Amritsar. It is a memorial museum and traditional theme park displaying the history of Punjab. This fort has been the evidence of various bloodsheds since the 18th century. This fort was under the control of the Indian army and has been recently converted to a tourist place.
You'll come across various museums showcasing the collection of weapons, household items, Punjabi attires used then by people. Live shows are performed every weekend to entertain people with different traditional art forms like Ghatka, Gidda and Bhangra.
You can watch live shows such as Whispering walls based on Maharaja Ranjit Singh's struggle, Sher E Punjab. Many of the handmade paintings of saints and martyrs have been displayed to show the ultimate struggle of Punjab in getting freedom. You can also buy traditional Juttis, food and phulkari at the Haat Bazaar.
Gobindgarh Fort is one the best forts near Amritsar located in old Cantt, Vijay chowk Amritsar. There is a nominal entry fee of Rs.25 for Indians and Rs.100 for foreign tourists. Timings are fixed from 10.00 am to 10.00 pm. No entry after 5.00 pm.
7. Jama Masjid Khairuddin
Jama Masjid Khairuddin | #7 of 10 Historical Places in Amritsar
Out of many heritage monuments in Amritsar this sacred masjid has a special significance in Indian history. It was built by Mohammad Khairuddin in 1876. The walls of the masjid are decorated with calligraphy aayats. He brought a huge revolution in the war against the Britishers. This masjid is situated outside Hall Bazar, Amritsar.
The place where Syed Attaullah Shah Bukhari also known as Tootie-e- hind motivated and encouraged people to stand against British rulers. He was a Muslim and political scholar who played an important role in the Freedom struggle of the country.
The masjid is made up of white marble. It is designed impressively with three domes and four minarets and painted in green colour. This sacred mosque is a must-visit place to feel that purity, spirituality and peace of mind. There is no entry free. You can visit this pious place from 7 am to 7 pm.
8. Akal Takht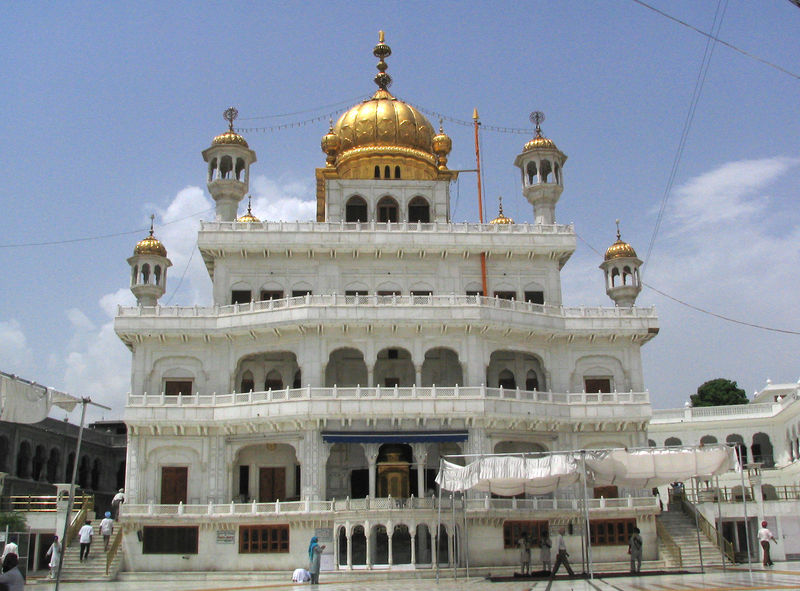 Akal Takht | #8 of 10 Historical Places in Amritsar
It is located at the right opposite of the Golden Temple. Akal means timeless or infinite whereas Takht refers to the throne or powerful seats of authority. Akal Takht was established by Guru Hargobind Ji in 1606. It symbolizes the political and religious authority of the Sikh religion. It represents one of the five Takhts or power seats of Sikhism.
Akal Takht is the historical place in Amritsar where the blue star operation took place in 1984. Indira Gandhi, the prime minister of India, controlled this mission. The building was almost destroyed and many people lost their lives.
Akal Takht is handled by the Jathedar, the highest spokesmen among the Sikh community. All the earthly concerns, and religious activities are decided and addressed at Akal Takht. Now, this place has been rebuilt into a gurdwara covered with a golden dome the place holds much religious and historic significance among the Sikhs.
9. Punjab State War Heroes Memorial and Museum
Punjab State War Heroes Memorial and Museum | #9 of 10 Historical Places in Amritsar
This war memorial symbolizes the spirit of patriotism and is counted highly as one of the top historical places in Amritsar. This place is made up of Nanak shahi bricks. It showcases different paintings, photographs, artifacts, weapons that will give you a glimpse of age-old culture and freedom struggle. This place reminds us of the sacrifices of brave soldiers of Punjab. You'll come across a photo collection to commemorate the Sikh soldiers who were martyred in 1965 and 1971 Indo-Pak wars.
Much like Gobindgarh fort, there is a 7-D Auditorium that will take you close to the reality of pain, sacrifices made during that era. 3 eras of war zones are well portrayed as pre-British, British rule and post-British i.e. independence era.
The appealing and fascinating 45-meter sword is placed on a water body. 3500+ martyrs' names are inscribed on the sword. You'll get to watch and know about the decommissioned aircraft carriers like INS Vikrant, MiG-23 and 3 tanks. The entry is kept at Rs.100 and is best to be visited on the way to Wagah border before watching the parade.


10. Pul Kanjri
Pul Kanjri | #10 of 10 Historical Places in Amritsar
Pul Kanjari is known as the Taj Mahal of Amritsar situated near Wagah Border. This is a historical site built by Maharaja Ranjit Singh. It is named after his favorite Muslim dancer Moran from Makhan Pura. A bridge (pull) was built in the 18th century between Amritsar and Lahore.
This area was devastated during the Indo-Pak wars in 1965 and 1971. Many people lost their lives. This village became a disputed land between both the countries. The remaining inhabitants of this village shifted to Himachal Pradesh, Chandigarh and Delhi.
Recently, the Pul kanjari has been renovated by Punjab's government as a tourist place.
You'll find attractive walls designed by fresco work. The walls are made up of Nanak shahi bricks. This pull was a huge shopping center during that era. But after the partition the war memorial has also been made to pay respect to the martyrs who lost their lives. Besides this place, you can visit a shiv mandir, a mosque, Baradari (resident place of maharaja) and a Sarovar. This place is located 35 km away from Amritsar but is worth a visit.
Want to book your visit in Amritsar?
Planning to visit Amritsar? Well! BYO (book your own) is always ready to serve our clients. Contact BYO to book cab service and budget hotels in Amritsar at inexpensive and affordable prices. That's all! We hope you have a memorable and unforgettable experience while roaming around the top historical places to visit in Amritsar that are highly recommended in the blog.