Amritsar has become the tourist's centre of attraction due to its ancient history. The roots of Amritsar are linked to Hindu's Epic Ramayana. Also, the foundation of the city was laid by Guru Ram das Ji, the fourth guru of Sikh religion. It was known as Ramdass Pur during that time.
Amritsar is the home to Golden temple, the biggest gurudwara in the world. That's what makes this city even more special. Amritsar has seen many sacrifices and played a vital role in the freedom struggle. The unfortunate and unforgettable Jallianwala Bagh massacre took place in Amritsar.
The blue star operation also took place in Amritsar at Akal Takht. Wagah border (Indo-Pak border) parade ceremony will give you goosebumps.
Amritsar is famous for its culture, the tight bazaar's, traditional clothing, Juttis and delicious food. No other city in India can compete with the tasty food of Amritsar.
Ready to visit this glorious and heritage city? Well, Amritsar has many tourist places to visit and create unforgettable memories. Let's get started with our mini-guide to all the tourist places in holy city Amritsar.
Top 10 Tourist Places to visit in Amritsar
Amritsar or more often called Ambarsar is a city that will give you whole new experiences. It will hardly take your 2 days to visit all these tourist places in Amritsar.
Keep Reading! We have a lot to reveal about these special tourist places.
1) The Golden Temple, Amritsar
| | |
| --- | --- |
| Location | Golden Temple, Amritsar |
| Timing | Any Time |
| Entry Fee | No Fee |
This holy place can not be described in a few words. It's more about experiencing the ambience, peace, purity and spirituality. The clean environment and the Vaani will make you fall in love with this place. It was built in the 16th century. To your surprise, the foundation was laid by a Muslim follower Mian Meer Ji.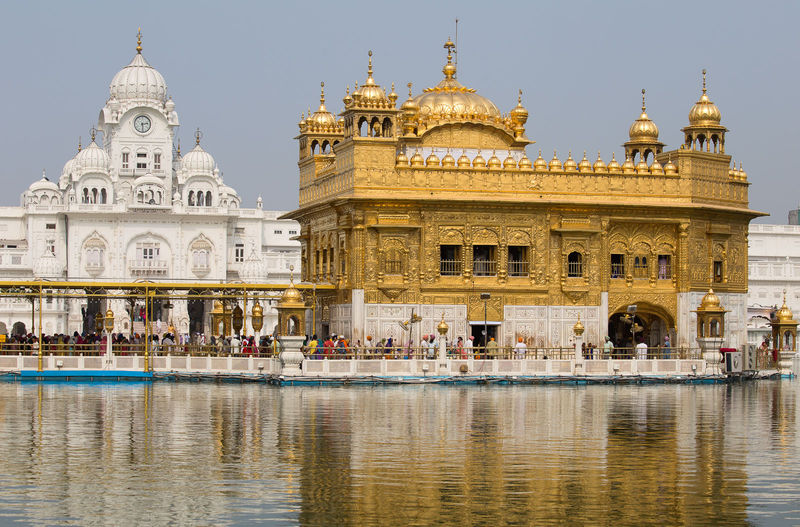 The land was donated by the Mughal emperor then, Akbar. The Golden Temple has a unique architecture; The perfect blend of Hindus and Islamic art styles. Shri Hari Mandir Sahib is placed in the centre surrounded by water all around. Shri Darbar Sahib of Harmandir sahib walls is covered with gold. It was Maharaja Ranjit Singh who donated the gold to be built on walls.
The holy book of Sikhs 'Sri guru Granth sahib is placed inside Shri Harmandir sahib during the day and is taken to Akal Takht during the night. The Langar Seva keeps running for 24 hours. The place where all the categories of people sit together without any status and caste boundary to eat Langar together. Golden temple is home to many needy and poor people.
The shrine is open for 24 hours any time of day or night. There is no entry fee. But Make sure to cover your head and dress appropriately before entering the shrine.
2) Jallianwala Bagh, Amritsar
Location: Golden temple road, Amritsar
Timing: 9.00 am to 7.00pm
Entry fee: free
Jallianwala bagh is located near to Golden temple. The red coloured historic building is a remembrance of the martyrs who lost their lives in the unfortunate Jallianwala bagh massacre in April 1919. It was the day of Baisakhi when a general meeting was held and general dyer crossed all the boundaries of cruelty. He ordered open fire on the whole crowd including women and children. Many people jumped into the well located inside the park escaping from fire but still, they died.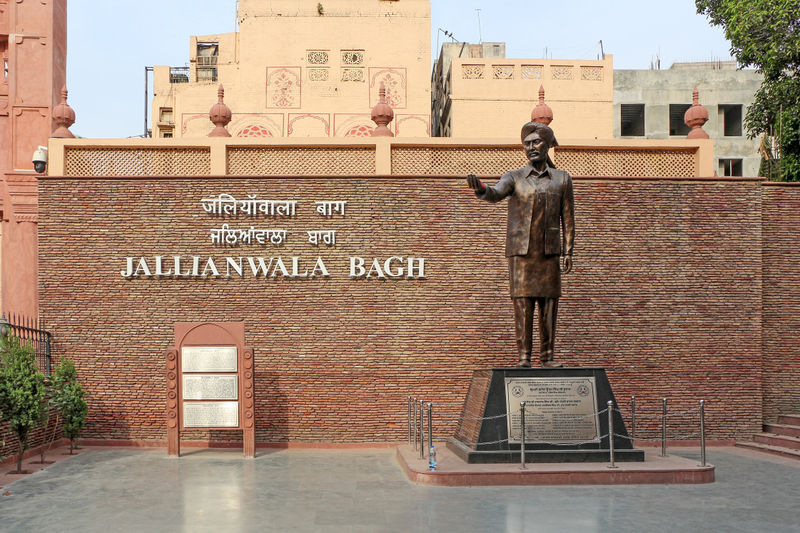 You'll still find many fire spots on the wall as the pieces of evidence of the misfortune event. On the entrance of this bagh, you'll see an Amar Jyoti that symbolizes the infinite sacrifices made by freedom fighters and the martyrs who were killed in that incident.
This place has been turned into a beautiful garden nowadays. There is a museum at the right side of the Jallianwala Bagh that was inaugurated by Dr Rajendra Prasad, the president of India that time. You'll find phenomenal paintings of the freedom fighters and martyrs and photos depicting the incident that took place on 13th April 1919. This place is worth spending time!
3) Wagah Border
Winter ceremony timing: 4:15 pm to 5:00 pm
Summer ceremony timing: 5:15 pm to 6:00 pm
Entry fee- Free
Location: Wagah Border, National Highway 1 PB, Amritsar
Wagah border is situated at a distance of 22 km from Amritsar and 28 km from Lahore. It is the Radcliffe line between the India and Pakistan border. A visit to the Wagah border is a must to feel patriotic. Wagah Border is the evidence when migrants from India crossed this border to reach Pakistan and vice-versa in 1947.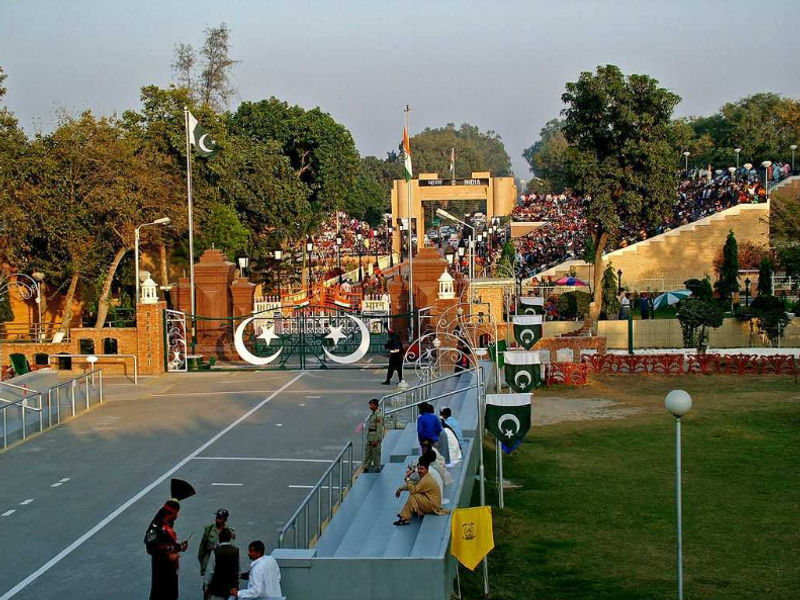 The Beating retreat ceremony and flag ceremony is showcased daily in the evening. Soldiers of both countries take part in this 30-minute long event. The event is finished lowering the flags of both countries before the sunset. This practice has consistently been performed since 1959.
There is no entry fee and no booking for seats. So, you have to arrive early to get this ultimate experience. A pair of binoculars will be best to see the other side activities and crowd. The crowd is quite high on weekends and the chanting of the national anthem together will surely give you the goosebumps.
4) Khalsa College, Amritsar
Location: NH 1, GT Road, Putligarh
Timings: as per campus timings
Entry Fee: Free
The Indo-Saracenic architecture of the college campus is brilliantly designed. Khalsa college campus is spread in a wide area of 300-acres. It was established in 1892 and plays a significant role in the freedom struggle of the country. The main campus building looks much like a castle.
Many film and song shootings are done in Khalsa college. It was built in British rule for providing high education to Sikh scholars. Bhai Ram Singh designed the college with the help of Dharm Singh Gharjakia, an engineer. Bhai ram Singh was the principal of Mayo school of arts in Lahore.
5) Ram Tirath Ashram, Amritsar
Timing:5.00am to 9.00 pm
Entry Fee: free
Location: Ram Tirath road, village Kaler.
Ram Tirath is situated in village Kaler at a distance of 12 km west of the city. Ram Tirath is connected to Hindu's mythology Ramayana and Maharishi Valmiki. It is said that after Lord Rama abandoned Sita Mata, she lived here in the ashram of Valmiki Rishi. Both the sons of Lord Rama were born here and educated by Maharishi Valmiki.
People from different states in India visit this place on the day of Puran Mashi after Diwali. A 5-day long fair is organized at this place. Thousands of devotees come to this place to take the bath in pious Sarovar. It is a belief that taking a bath on Puran Mashi day removes all the sins and opens the doors of heaven.
You'll find various statues of Hindu lords inside the temple, This pilgrimage is built using yellow marbles. The gold plated statue of Rishi Valmiki weighing about 800kg is the centre of attraction.
6) Mata Lal Devi Mandir, Amritsar
Location: 61/62 Model Town, Mohindra colony, Rani Ka Bagh.
Timings: 05:00 am to 11:00 pm
Entry Fee: No entry fee
This mandir is situated in the centre of the city. It symbolizes the dedication and faith for 20th-century saint Mata Lal Devi g. Like other temples, you'll find mirrored hallways, ankle-deep waterway entries, statues of many Hindu deities. The twisted pathways and caves are look-alike of Vaishno Devi temple.
It is a belief that women with no child are blessed here. Many devotees have experienced miraculous changes in their life praying at Mata Lal Devi g shrine. To know and get attached to Hindu roots visit this miraculous and peaceful place.
7) Punjabi Restaurants
Amritsar is known for its delicious food, colourful treats and tasty recipes. Amritsari chole-Bhature, Amritsari kulcha, Dal makhani, tandoori chicken, fish are some of the popular foods worldwide.
Bharawan Da Dhaba is the oldest and most loved restaurant in Amritsar. It is located quite close to the golden temple and partition museum. Dal makhani and cheese stuffed kulchas are the speciality of this place. You can also visit Ram jalebi Wala near the golden temple.
Another go-to place is Kesar da Dhaba to give a soothing experience to your taste buds. Lawrence Road, Ranjit avenue are the most developed and luxurious places to visit in Amritsar to feel the westernization.
Treat yourself with hot gulab jamuns and hot jalebi at Sharma sweets, Lawrence road. Kanhaiya sweet shop is the perfect breakfast place.
8) Maharaja Ranjit Singh Museum and Panorama
Location: Company Bagh, Mall road
Timings: 10:00 am to 5:00 pm
Entry Fee: No entry fee
This museum is dedicated as a symbol of love and respect to the Sher-E-Punjab( lion of Punjab) Maharaja Ranjit Singh. He was truly a brave emperor. A visit to this panorama is all worth it. You'll be relieved with the silence and mesmerizing sound of birds chirping.
Outside the museum is well-maintained lawns. This museum depicts the lifestyle of Maharaja Ranjit Singh. You'll come across the handmade paintings, weapons used by the legend, the traditional outfits and the currency used in that era. The sound effects of battle cries will melt your heart taking you close to that painful era.
9) Gurudwara Tarn-Taran Sahib, Tarn- Taran
Location: Old City, Tarn Taran Sahib
Timings: 5:00 am to 10:00 pm
Entry Fee: No entry fee (free)
Tarn taran gurudwara is among the most popular and sacred tourist places of Amritsar. Tarn Taran is a small district of Punjab. People from far places in India visit this pious place.The foundation of gurudwara was laid by the fifth guru of Sikh religion Shri Guru Arjan dev Ji in 1590. The gurdwara is built using white marble and golden dome. The Golden dome is surrounded by serene water bodies.
10) Durgiana Temple, Amritsar
Location: Hathi gate, Amritsar
Timings: 05:00 am to 10:00 pm
Entry Fee: No entry fee
Durgiana mandir also known as Seetla Devi Mandir or Laxmi Narayan Mandir. It was built by Guru har rai mal Kapoor in early 19's. It was modelled after the Golden temple. On your visit, you'll notice the design is much like the golden temple. The main temple is surrounded by a water body. You'll find a beautiful sculpture of lord shiva inside the water. The main door of the mandir is made up of pure silver with Hindu mantras scripted on it.
Another significant place is bada hanuman mandir i.e. the part of durgiana mandir. Every year many devotees come here in Navratri seeking blessings from Hanuman Ji. This temple's roots are connected to epic Ramayana also. It is said that sons of lord Rama i.e. Luv and Kush tied Hanuman Ji to a big tree. Now the tree is worshipped by many people.
This place is located at a distance of 1.6km from golden temple. You must pay a visit to durgiana temple to feel that peace in the ambience.
FAQs:
Q1. Is there any airport in Amritsar?
Ans. Yes, the city has Shri Guru Ramdas Ji international airport with daily domestic flights to all over India. The airport also serves International flights from Australia, Canada, Doha and other parts of the world.
Q2. How to reach Amritsar by trains?
Ans. Paschim Express, Howrah-Amritsar Mail, Shatabdi Express, Akal Takht Express, Golden Temple Mail, Jan Shatabdi Express are some of the trains that connect Amritsar to major cities.
Q3. Is it possible to reach Amritsar by buses?
Ans. Yes, buses are easily available from Chandigarh, Delhi, Jammu, Katra and Dharamshala. You can drive on your own or hire a taxi to reach the holy city.
Q4. Which hill stations are close to Amritsar?
Ans. Himachal Pradesh is the local state to Punjab . You can visit Mcleodganj, Dalhousie, Chamba, Kangra, Kasauli to feel the chilling cold mountains.
Get ready to Visit Amritsar now!
All set to visit the heritage city of Punjab. Amritsar is more about experiencing than just visiting. People from around the world love to visit this city due to ethnicity, tradition and age-old culture.
Looking for hotel booking in Amritsar to stay during your visit. Book your own is just a call away! Call us at 9878730549 discuss your budget and requirement. We'll find you the best hotel in Amritsar.
No need to make google searches for booking a cab to visit the city. Book your own also provides cab drivers at nominal fares.
That's All from our side! Hope you have a memorable visit to Amritsar.