There are many places in Amritsar, Punjab for which the city is well-known. But there are some sites that have also played an important role in the history of Amritsar or establishment of the religion of Sikhism, however most people are not aware about them.
One such site is the Gurudwara Bir Baba Buddha Sahib. Located 20 kilometres south of Amritsar, the shrine is built in the honor and remembrance of Baba Buddha Ji. Baba Buddha was a revered Sikh during the reign of Guru Nanak and lived long enough to anoint five successive Gurus.
If you wish to explore a site that is beyond the "touristy" places of the city, you must include Gurudwara Bir Baba Buddha Sahib in your Amritsar itinerary.
The History
Baba Buddha, who lived for 125 years, was born on 6th October 1506 in the town of Katthu Nangal. Bhai Buddha, who is also lovingly referred to as Baba Buddha Ji, holds a special place in Sikh history and in the hearts of all Sikhs. Being blessed as a youngster by the first Sikh Guru Guru Nanak Dev, he anointed the five subsequent Gurus. Bhai Buddha spent more than a century in close proximity to the first six Sikh Gurus from 1521 to 1631. He devoted a significant amount of time to maintaining the "Bir," which was a cattle-grazing reserve forest that is claimed to have been donated to Guru Arjan. The local lore claims that Baba Buddha formerly called this area of the jungle outside of Amritsar his home.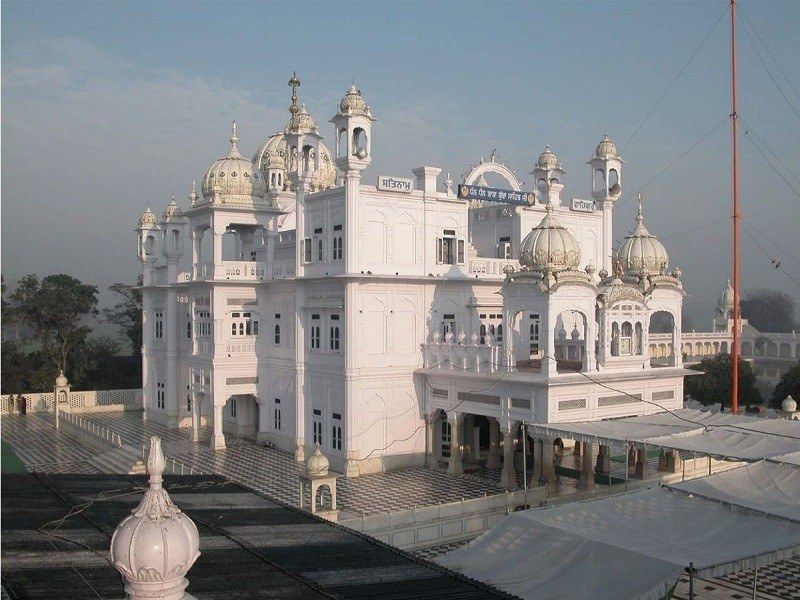 Bura, as was the name given by his parents, met Guru Nanak Dev Ji while grazing his cattle outside the village and Guru Ji happened to pass by. He prayed to Guru Nanak Dev ji to absolve him from the circle of birth and death. Guru Ji was impressed by the wisdom of such a young boy and told him that he possessed the knowledge of an elderly man. Thereby, Bura came to be known as "Bhai Buddha" as "Buddha" refers to an elderly man in Punjabi and one gets wisdom with age. Bhai Buddha eventually turned into Guru Nanak's loyal pupil. Bhai Buddha gave his all to serving the Gurus throughout his life, serving as an example of holy living for the expanding community of followers. Later, as he grew older, he became well-known as Baba Buddha.
Mata Ganga, the fifth Sikh Guru's wife, asked her husband for the blessing of a son and Guru Arjan Dev advised her to go see Baba Buddha ji to make her request. She offered Baba Buddha a variety of dishes prepared by her servants, but Baba turned them down. Later, Mata Ji herself made an onion and missi roti before meeting him again. Baba bestowed her with blessings and told that her kid would be a strong fighter. Later, Mata ji and Guru Arjan were blessed with a boy, Guru Hargobind, who became the sixth Guru of Sikhs.
Given that Baba Buddha ji belonged to a supposedly low caste, it was a testament to Guru Nanak's brilliance that the seva (service or work) of applying tilak was assigned to him. He was appointed as the first "priest" (or Giani) of Harmandir Sahib, or the Golden Temple and also established the foundation for Dera Baba Nanak. Baba Buddha was one of the foundational characters of early Sikhism and after serving six Gurus of Sikhism, he died on 8th September 1631.
Guru Hargobind founded the Akal Takht, then known as Akal Bunga, which is the highest position of Khalsa power on earth. It served (and still does) as a site for justice and the evaluation of worldly matters. Guru Hargobind built a 9-foot-high slab with the help of Baba Buddha and Bhai Gurdas, where his two swords were placed representing Miri and Piri.
Baba Buddha spent his final days in meditation at Ramdas, also known as Jhanda Ramdas, a village established by his son. According to legend, Guru Hargobind Ji assisted with the funeral ceremonies by lending his shoulder to the coffin. Ramdas is home to two shrines honouring Baba Buddha:
Gurdwara Tap Asthan Baba Buddha Ji, where the family lived on the southern outskirts of the hamlet;

Gurdwara Samadhan, where he was cremated.
The Present
Gurudwara dedicated to Baba Budha Ji is called Baba Budha Sahib or Bir Sahib Gurudwara. Approximately 2 kilometres northwest of Thatta, the Sikh temple is located on the Chabhal-Amritsar road (next to Chabhal Kalan village) in the Amritsar region of Punjab. One can reach the place by bus or cab, passing through Punjab's lush green paddy and wheat fields on the way to the Gurudwara. The place welcomes people from all religions and faith, allowing everyone to experience the beauty and serenity.
Sant Gurmukh Singh Sevavale's disciple Baba Kharak Singh constructed the gurudwara's current complex. A rectangular hall and a sizable divan hall were erected to it between the years 1951 and 1975 AD. The Guru Granth Sahib is placed in the sanctum, on a meter-high square platform at the far end of a rectangular hall built in 1951, under a canopied seat made of white marble. The northern side of this hall houses the 70 square metre Amrit Sarovar. Baba ji served as the volunteer coordinator when the sarovar was being dug, and he did it while sitting on the sarovar's edge in the shadow of a jujubee tree, which still exists today.
There is a two-story residential building and Guru Ka Langar, which has a huge dining hall designed specifically for pilgrims, close to the Gurdwara in a separate property. Besides that, there are two institutions bearing the names of Baba Buddha: the Khalsa College, founded in 1969, and the Khalsa Higher Secondary School, founded in 1963.
Built in white color, the Gurudwara has an aura of calmness and divinity where visitors can sit for hours in peace. Since it is constructed in the outskirts of the village, you get to capture the spirit of traditional rural Punjab.
Like many other tourist attractions in Amritsar, the Shiromani Gurdwara Parbandhak Group oversees a local committee that looks after the Gurdwara. The committee is in charge of overseeing the management of Gurdwaras (Sikh places of worship) in the states of Punjab, Himachal Pradesh and Chandigarh. On the first day of the Bikrami month, huge celebrations are held in addition to daily prayers and the commemoration of significant Sikh anniversaries. The main event of the year is a religious fair that takes place on Assu 21st, which falls on October 6.
The Gurudwara continues to offer Missi roti and onion as Prashad in remembrance of the dinner made by Mata Ganga. The celebrations during the Bikrami month are the largest event of the year at this ancient place because of the vast number of worshippers that come.
Punjab tourism has many such "not-so-famous" places that have a rich history but are overshadowed by the more renowned ones. Still standing since ancient time, more historical places to visit while in Amritsar are Jallianwala Bagh and Gobindgarh Fort.
After Sikhism, Hinduism is the second most common religion in the city and many Hindu temples attract thousands of tourists every day. Check the top 5 temples in Amritsar that are worth a visit.