The famous city of Golden Temple has an unexplored side to it, the one where people love to party! Besides all the history, Amritsar has developed itself to keep pace with the modern time. Everyone knows about its love for food, but the people here also love music, drinks, and fine dining.
Eating and drinking are a part of life, so much so that restaurants can be found virtually everywhere. If you want to experience Amritsar's thriving nightlife, we list the city's best nightclubs for you to loosen up or just laze around.
Step out of your hotels in Amritsar and experience the nightlife here
The Beer Café
If you have an unwavering passion for beer, The Beer Cafe is undoubtedly the place for you! It has almost everything that makes up a perfect chill-out place. Its upbeat atmosphere, cosy couches, interesting antiquities, and inspiring decor are difficult to overlook.
The live music performances, chart-topping songs, and a delicious food selection all contribute to the lively atmosphere of the venue. For the buddies who just want to catch up or a work team marking a victory, every pint is a celebration here! For beer enthusiasts in the city, the Beer Café is an authentic heaven. The place is renowned for its excellent customer service and helpful staff that is always willing to assist you.
Location: District Shopping Complex, Ranjit Avenue
Average cost for Two: INR 1200
Timings: 11 am – 12 am
Underdoggs Sports Bar and Kitchen
It is the perfect combination of fantastic cuisine, artisan beer, entertainment, sports and music! What else one could ask for? Underdoggs Sports Bar & Kitchen is one of the best places to chill with your friends, relax, watch live sports, or even play video games. The food is made to order to maintain its freshness and is expertly presented. Their menu has handcrafted gourmet meals and drinks to fulfill all kinds of appetites.
The venue will keep you upbeat all night long with its handmade drinks, live sports, intensely flavorful beers, live performances, and gaming. The place has multiple television screens that have been strategically arranged to make sure everyone gets the best seat!
Location: B-Block, Ranjit Avenue
Average cost for Two: INR 1400
Timings: 12PM-1AM
Peddlers
Another establishment on the must-see list of Amritsar's bars and clubs is Peddlers, which guarantees a fantastic evening. It offers delicious food, funky music, vibrant decor and a positive atmosphere. It is an English-style pub that combines superb musical talent with top-notch food and drink selections.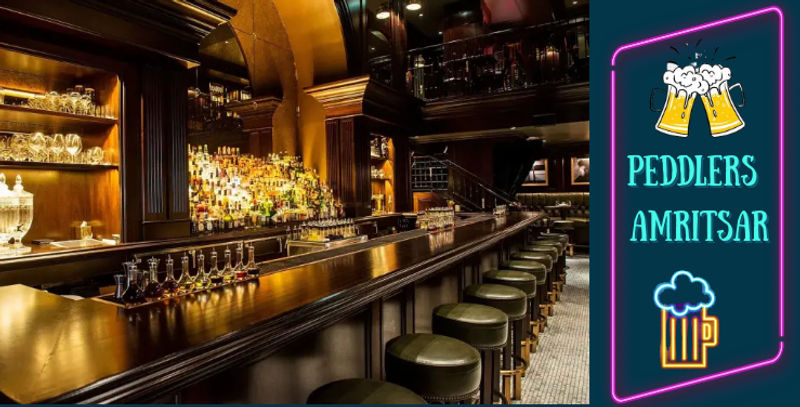 Peddlers specialises in Asian cuisine, offering a wide variety of dishes to choose from. Since the focus is on Asian menu, Indian food is a must-try. Don't pass up the chance to sample some tempting beer.
Tuesday and Thursday nights are Corporate Nights and offer you 50% discount on beverages if you have your work IDs with you! The place also features DJ and live band to keep the mood uplifted.
Location: District Shopping Complex, Ranjit Avenue
Average cost for Two: INR 1100
Timings: 11AM-1:30AM
Irish Beach
Being founded in 2016, Irish Beach is one of the top clubs in Amritsar and it provides an incredible party experience. The venue has a lush decor, DJ stations and a dance floor where you can let yourself loose. One can also host birthday parties, business meetings, corporate events and private gatherings here. Prepare to indulge in fresh draught beer as well as a variety of other beers and spirits.
Their freshly prepared salsa, guacamole and tortillas are mouth-watering. Irish Beach has developed into Amritsar's most well-known pub and restaurant throughout the years, with a location in a vital commercial district. Evenings feature live music performances by musicians.
Location: The Mall, Mall Road
Average cost for Two: INR 1200
Timings: 12 pm – 11.30 pm
Bar Xchange
Known to be Amritsar's first liquid stock exchange, the food and drinks at Bar Xchange are reviewed as some of the best. The lively atmosphere and their North-Indian food will surely uplift your mood. Their bar selection is extensive and outstanding; offering imported scotch, cognac, gin, rum, cocktails, liqueurs, and much more.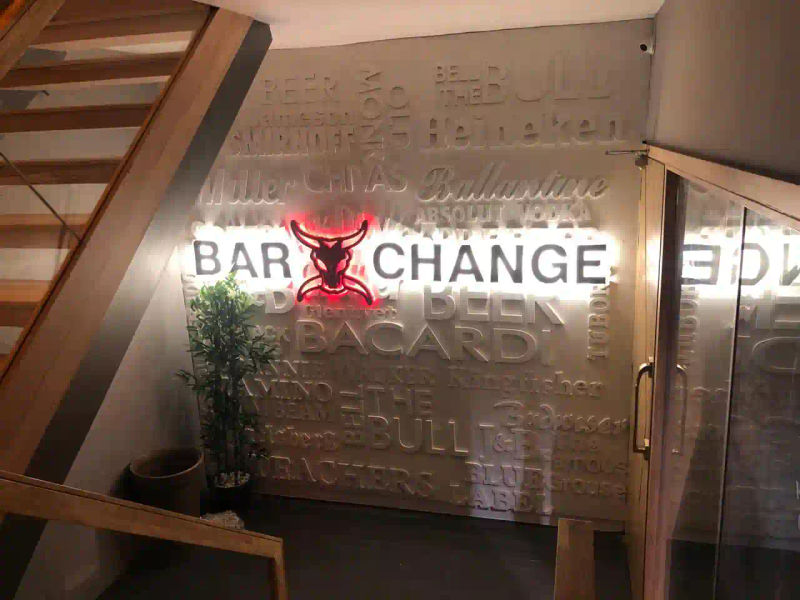 This place has the perfect ambience and the décor is beautifully done. Categorized as one of the best clubs in Amritsar, their service and staff is excellent. Uniquely done, their roof cum wall is covered with glass bottles and is a treat for the eyes. You will want to take pictures of the food before you start eating as the presentation is amazing.
Location: District Shopping Center, Ranjit Avenue
Average cost for Two: INR 1300
Timings: 11 am – 1 am
The BrewMaster
The BrewMaster Amritsar Microbrewery provides a multi-cuisine menu; including Chinese, Italian, European, Barbeque, Grill and North-Indian. The ambience is perfect for a leisurely evening. Invite your family over, gather your friends or meet up with your colleagues to have the best time. The service and staff are quick and courteous, adding to the customer experience.
The BrewMaster is the first microbrewery in Punjab and provides a fantastic selection of brewed beers. The weekends are usually busy; hence, it is advisable to make prior bookings. Live music and their special white beer are not to be missed! Over all, the place is really upbeat with its chic interior design.
Location: District Shopping Complex, Main Road, Ranjit Avenue
Average cost for Two: INR 1400
Timings: 11:30 am – 11 pm
Chatter Box
Live music and an eccentric décor are the highlights of Chatter Box. Drinks and food become special when shared with someone you love. Meet your family and friends over a meal of Continental cuisine at this perfect place. Being famous for their hospitality, the staff is also polite and respectful towards the customers.
How does a late-night coffee sound? Fulfilling, right? Head over to the place for a chat over coffee and then a long drive back to home! Their cocktails are loved too. Food preparation and service is excellent, and makes customers come back for more! Chatter Box offers an awesome place to spend time with your dear ones and make memories.
Location: B-Block, Ranjit Avenue
Average cost for Two: INR 1000
Timings: 11 am – 12 am
The Liquid Room
The Liquid Room, the only late-night club in town, provides a novel idea as a pub, disco, fine dining, and luxury lounge all rolled into one. This place has lifted the standards when it comes to great cuisine, drinks, dancing, and simply hanging out. This is one of the top spots to party in Amritsar for party-goers, with a vibrant club scene and a relaxed atmosphere.
Specializing in North Indian, Chinese, and continental cuisine, the food is opined to be the finest even among the best restaurants in Amritsar. They offer some of the best mocktails and liquor in town. Live bands perform and DJs spin tunes till the early hours of morning.
Location: D-Block, Ranjit Avenue
Average cost for Two: INR 1000
Timings: 12 pm – 1 am
Kava Grill & Lounge
Kava Grill & Lounge, a component of Fairfield by Mariott, provides a delicious selection of North Indian, Chinese and Italian food. You can choose to have a healthy meal in the morning as they have a variety of breakfast items on the menu. Offering three major cuisines, the food is authentic in taste and desserts are most-loved!
The restaurant opens early in the morning and transforms into a bustling bar as night falls. Elegant interiors, an outdoor seating and live music are sure to make you fall in love with the place. Maintaining Mariott's standards, the hospitality and service get a five-star rating.
Location: Mall Road
Average cost for Two: INR 1800
Timings: 7 am – 11 pm
Scotch Haus
A part of Hyatt Regency Amritsar, Scotch Haus provides the best lounging experience in town. The restaurant offers a variety of fine drinks; including premium scotch, single malts and inventive cocktail mixes. The best barbeque grills and live music add to the enchanting ambience and experience. Occasional band performances feature modern contemporary tracks of soft rock, retro, pop and international hits.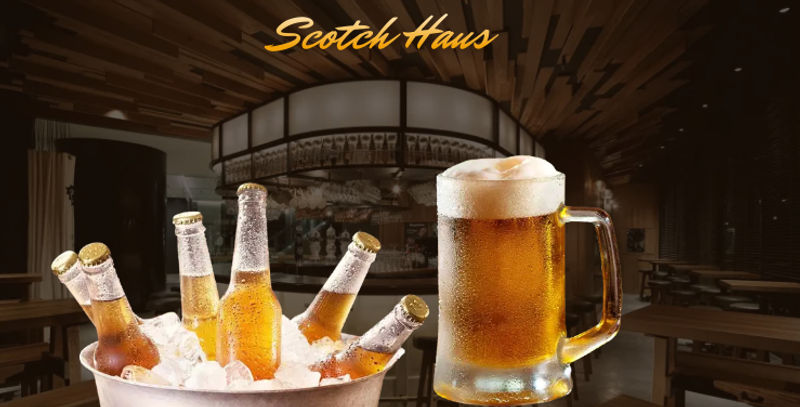 Ensured to help you unwind and have a fine evening with your loved ones, the place maintains high standards of service and welcomes you with warmth. It is the best place to relax after a full day of shopping in the Mall of Amritsar which is one of the top tourist places in Amritsar.
Location: Hyatt Regency Amritsar, GT Road
Average cost for Two: INR 3000
Timings: 11 am – 11.30 pm
Firangi Dhaba
Located in one of the busiest areas of Amritsar, Ranjit Avenue, Firangi Dhaba is one of its kind in the city. The interior is decorated with real plants, making you gasp at the beauty and freshness of the place as soon as you enter.
Loved for its authentic taste, the place serves Indian, Asian, and international cuisines as well as contemporary cuisine. The restaurant was opened in 2019 and also has a rooftop bar. It offers a variety of drinks; including mocktails, cocktails, vodka, rum, scotch, and many more options to choose from. Visit the Firangi Dhaba to spend an unrushed, comfortable evening and have the finest experience.
Location: B-Block, Ranjit Avenue
Average cost for Two: INR 1300
Timings: 11 am – 11.30 pm
Bon's Adda
The first thing you will notice about Bon's Adda is the décor. The finest of both a bar and a café are combined here, making it an urban lounge. It is the newest hangout spot in town and is located away from the city's bustle. Filled with a lively energy, the place serves you with delectable food that matches its surroundings in beauty.
This cafe cum club offers both Chinese and Italian food. Taste the expertly prepared pizza or spaghetti and decide for yourself! You can make yourself comfortable sitting inside or outside. The service and staff are excellent, giving you an amazing experience overall. Food presentation gets a five-star rating and the liquor bar is full of options to choose from!
Location: Ajnala Road, Ajnala
Average cost for Two: INR 1500
Timings: 11 am – 11 pm
Wine & Dine
With live music to make your day incredible as well as a selection of drinks and wines to satiate your thirst, Wine & Dine provides the ideal setting for some leisure time away from the bustle and noise of the outside world. The place offers excellent food, a captivating ambience,
and a chivalrous staff, which make it a top-notch dining place.
The food is flavorsome, and the menu offers some unique dishes that are a must-try. The place has a wall depicting rural life that is the highlight of the venue. Offering a variety of drinks to choose from, the fine dining experience leaves you with nothing but good taste and a wish to visit the place again.
Location: Mall Road, Green Avenue
Average cost for Two: INR 1200
Timings: 11 am – 12 am
The Peg
The Peg, housed inside the Taj Swarna Hotel, offers a variety of single malts and the greatest wines from across the world to satisfy the preferences of its customers. The bartenders present their own creations of time-honored classics and contemporary favourites behind the bar. Their signature cocktails are available for every season, mood and occasion.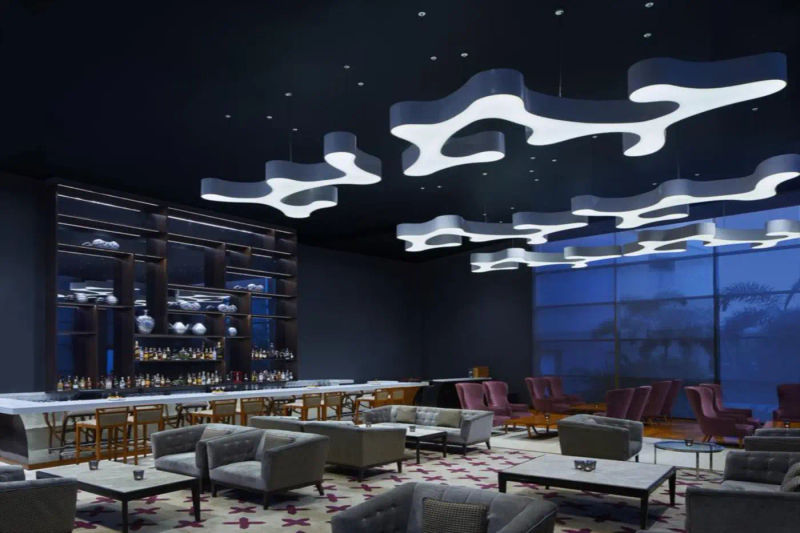 The bar creates a fantastic indoor/outdoor ambiance that changes into a modish location by evening. The Peg's menu features a wide range of international cuisines, including Indian meals prepared using a wonderful combination of traditional techniques. Their Long Island Iced Tea is a favorite among most visitors. Make a list of your things to do in Amritsar while taking a sip of your preferred scotch.
Location: Taj Swarna Hotel, Outer Circular Road, Opposite Basant Avenue
Average cost for Two: INR 1500
Timings: 1 pm – 11:45 pm
Glass House
With Chinese and Indian cuisines on the menu, Glass House Amritsar is the best option to spend an evening at a budget-friendly restaurant. Thanks to the lovely décor and unique atmosphere, you may unwind and relax leaving all stress aside while you are here. Live music events further enhance the level of entertainment. The friendly crew makes this establishment even better by working hard and keeping the place upbeat.
The food here is authentic in taste and offers a good variety to choose from. You can either have a decent meal or party till late night. Get surprised by the delicious meals and reviving cocktails presented aesthetically. The place is big enough even for larger groups.
Location: Mall Road
Average cost for Two: INR 900
Timings: 12 pm – 1 am
The city of Amritsar has a splendid character. Exploring the historic places during the day and de-stressing later in the evening is the best way to spend time here. Make the most of your trip by trying out different cuisines and places that leave you with new experiences every time!