Amritsar, located in the state of Punjab, is a city well-known for its importance in the Independence era of India. The Jallianwala Bagh, The Golden Temple and Wagah Border are some of the places that the town is famous for and can be visited to explore Amritsar. If you are a local in the city, you know about these places already and would want to move out for a vacation.
Located in the North of India, Amritsar is surrounded by some of the best weekend getaways. Some of these lead you to a different cultural experience, some to the serenity of mountains and others take you on a trip to historical India.
10 Best W

eekend Getaways From Amritsar
Delhi
What do you do when you get a long weekend staying in Amritsar? You take a trip to Delhi, as simple as that! Being crowned as the capital of India, Delhi has its own magnetism. It is a mix of glamour, simplicity, heritage, modernization, branded showrooms, high class restaurants, street food and local shopping. The list goes on and it never ends!
You cannot ever get enough of Delhi. Most famous places include (but are not limited to) India Gate, Qutub Minar, Jama Masjid and Gurudwara Bangla Sahib. The city has an old-world charm with the likes of Humayun's tomb and Agrasen ki Baoli; whereas for nightlife, it has many clubs and pubs.
One common favorite thing for almost everyone is the Delhi food. If you really wish to explore the soul of Delhi, its food is a must-have. You will find all cuisines here; and eating places will vary from roadside vendors to luxury restaurants. Street food is available literally everywhere and should not be missed!
Since summers and winters in Delhi are extreme, the best time to visit is between September and November or February and April.
Distance from Amritsar: 460 kms
Parwanoo
Sitting at the border of the two states, Parwanoo acts as a doorway between Haryana and Himachal Pradesh. A must-do activity is the famous cable car ride where you get to see an aerial view of mountains and appreciate the beauty of nature. The town is located in the district of Solan in Himachal Pradesh and enchants tourists with the decorative apple orchards and pine trees. There are many treks as well as biking and hiking trails within the town that will keep you on your toes. Being a hill station, weather favors tourism almost throughout the year; however, it should be avoided during monsoons.
You can either make a stopover in Parwanoo while moving on to farther hill stations in Himachal Pradesh or make it a 2-day trip to the town exclusively. Even if you do not wish to do anything adventurous, you can just relax in the lap of nature enjoying a cup of tea!
Distance from Amritsar: 250 kms
Fatehgarh Sahib
If you wish to explore Punjab and its history, Fatehgarh Sahib is the perfect place to go. Fateh Singh, son of Guru Gobind Singh, was buried alive here by the Mughals along with his brother Zoravar Singh; hence the name of the city. Gurudwara Sri Fatehgarh Sahib is considered a sacred pilgrimage for Sikhs and gets many visitors from across India, mainly during October-November and February-March. A sanctuary preserves the historic wall where the two sons were buried alive, named as Bhora Sahib, and is located within the main Gurudwara.
The city depicts the martyrdom and bravery of the Sikh heroes and builds a solid foundation for the religion. The town is accessible via air, train as well as road. You can take a flight to either Mohali or Chandigarh airport and travel the rest 50 kms by road.
Distance from Amritsar: 210 kms
Chandigarh
While listing weekend getaways from Amritsar, the list does not complete without including Chandigarh. The city gets its name from "Chandi" (Goddess Chandi) and "Garh" (fort); thereby meaning the "Fort of Goddess Chandi". Established in 1953 and designed by French architect Le Carbusier, it was the first planned city of India. It is one of the cleanest cities in the country and is internationally known for its beautiful blend of design, architecture, natural beauty, tradition as well as urbanization.
The union territory is accessible via road, railways and by air. The best time to visit is from August till December. Famous for more than 1500 varieties of roses, Zakir Hussain Rose Garden is a major tourist attraction in Chandigarh. Other go-to places that should not be left out from your list are Sukhna Lake, The Rock Garden, Pinjore Gardens and Elante Mall. Food and shopping remain an unbeatable experience as the city is full of delectable Punjabi food and not to be missed.
Its proximity to many hill stations, namely Solan, Parwanoo, Kasauli and many more, makes Chandigarh a favorite among the travelers.
Distance from Amritsar: 230 kms
Katra / Vaishno Devi
Katra, situated in Jammu, is most famous for Vaishno Devi temple which is located 12 km from the city. It is considered one of the most sacred temples for Hindus all over India. The idols, belonging to three Goddesses, are in the form of stone structures and placed in a shrine.
Tourists visiting the shrine have abundant choices to further explore nearby hill stations like Khajjiar, Spiti, Una and more. It is true that the place is all about religion but the trek from Katra to the shrine and further to Bhairavnath Temple has many picturesque views that take your breath away.
When it comes to food, Rajma chawal served by many restaurants in and around Vaishno Devi are mouthwatering and a fulfilling meal. Though the temple is open throughout the year, it is best visited between the months of March and October when the weather is pleasantly cool.
Distance from Amritsar: 300 kms
Pathankot
Located at a mere distance of 120 kms from Amritsar is a city that is famous for its history as well as natural beauty. Pathankot is an underrated city of Punjab that deserves more appreciation. Though the town has its own airport, it is mostly used by the Indian Air Force. Hence one can either take a flight to Jammu or Amritsar and cover the remaining distance by road.
Some of the intriguing places like Shahpurkandi Fort and Nurpur Fort attract travelers who are interested in the history of India. Pathankot is also famous for its religious charm, which can be experienced by visiting famous temples like Mukteshwar Temple and Nagini Temple.
Best time to visit the city is from October till March when the weather is cool and you might even witness snowfall in peak winter months, if lucky!
Distance from Amritsar: 120 kms
Dehradun
Fairly enthroned as the capital of the vast state of Uttarakhand and located in the midst of Doon valley, Dehradun is coming out of its shell. Till recent times, it was overshadowed by the presence of a mesmerizing hill station "Mussoorie" located adjacent to Dehradun. However, it is now being explored by travelers who are unravelling the layers of this city. It is situated between two of the most important rivers of India, the Ganga and the Yamuna. While maintaining its small-town charisma, the city is gradually opening to the modern ways of life.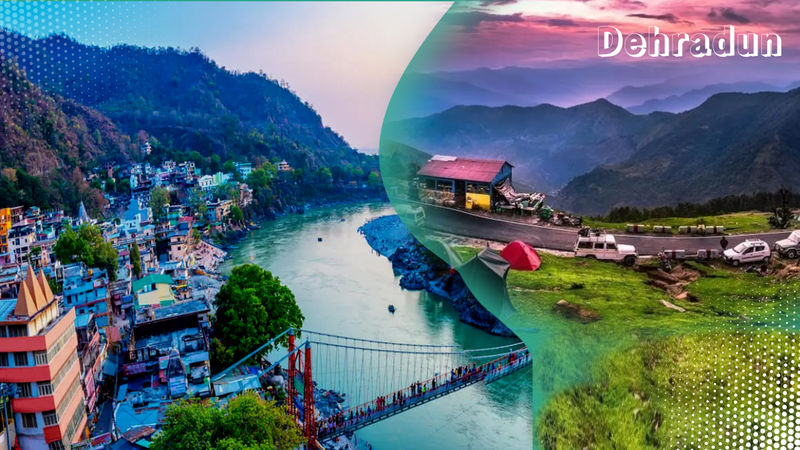 Major tourist locations include Barkot, Tapkeshwar temple and Malsi Deer park. Robber's cave, locally known as Guchhupani, is another attraction for nature lovers and has a trek that goes through a dark cave. If you are fascinated by Tibetan and Buddhist cultures, a visit to Clement Town will be fruitful. The city is best explored in the months of March till June.
Distance from Amritsar: 430 kms
Rishikesh
It's a divine place! With the holy and calm air flowing through you, the city is a feast for the eyes as it lies at the foothills of Garhwal Himalayas. The sacred river of Ganga flows across the city and people from all over the world visit the place to take a dip in the holy river. It is believed that the act cleanses your soul. Rishikesh is not only famous among the religious, its adventure sports make it a favorite among adrenaline junkies as well; namely river rafting, kayaking, cliff jumping and more.
The city is known for its yoga ashrams, temples and other architectural establishments and is best visited between October and February during the winter season. The evening Maha Arti and the spectacular view of diyas (earthen lamps) floating in the river is one you should see at least once. Prime tourist attractions include the Raghunath temple, the 13-storey Trimbakeshwar temple and the twin Ram & Lakshman Jhulas.
Distance from Amritsar: 470 kms
Corbett
Renowned as the oldest National Park in India, Jim Corbett is home to about 215 tigers. The park not only shelters big cats, but has a wide variety of other wildlife, animal and bird species. The town is located in the Nainital district of Uttarakhand and has astonishing views of nature.
You can book a safari online and go inside in the jungle, which is divided into zones. The outermost zones majorly see a lot of birds and wild animals; including deer, elephants, wild boar, jackal and more. The innermost zones have maximum possibility of sighting a tiger, though it all depends on your luck and you might spot one in any of the outer zones!
The Tiger Reserve remains closed during monsoons and welcomes thousands of visitors between the months of October and June when it closes again.
Distance from Amritsar: 560 kms
Patiala
For sightseeing near Amritsar, the city of Patiala is a must. Serving as the epitome of cleanliness in Punjab (survey 2020 & 2021), the city also has a rich history and showcases many heritage architectures.
The town is built around Qila Mubarak, and was named after its founder Ala Singh. Kali Devi Mandir is one of the most popular temples in the city and is known for its architectural design. Gurudwara Dukh Niwaran Sahib and Gurudwara Moti Bagh are two well-known religious places for the followers of Sikhism.
The city also houses Asia's largest sports academy, The National Institute of Sports, which is built in the palatial complex of King of Patiala located in Old Moti Bagh. Most favorable time to visit the town is between the months of October and December.
Distance from Amritsar: 240 kms
You have so much to explore within the above-mentioned weekend getaway locations, to have a full experience of the place. Within a city or a hill station, there are so many unexplored areas in addition to the "tourist" spots. Talk to the locals wherever you go! They can always inform you about such hidden gems, their best food, the best market and so on. You can also check our list of Top hill stations to visit near Amritsar.
Why wait anymore? Plan your travel with Bookyourown team, pack your bags and you are ready to leave!