When we think of Amritsar the first thing that comes to most of our minds is the magnificent golden temple or the historical memoir of the jallianwala bagh and Wagah border. But is it all there is to Amritsar? The answer is a simple NO. The rich culture and compelling history surely make Amritsar a treat to visit. But it's a place whose vibrancy speaks to you through its colourful shopping bazaars, and makes your visit a memory worth cherishing. These beautiful places make sure you never run out of things to do in Amritsar.
From high-end boutiques, top hotels in Amritsar, shopping malls to roadside flea markets, Amritsar has got everything that would bring a smile to a shopaholic's face. With that being said, here's our list of 10 wonderful places where our shopaholics can find solace.
1) The Celebration Mall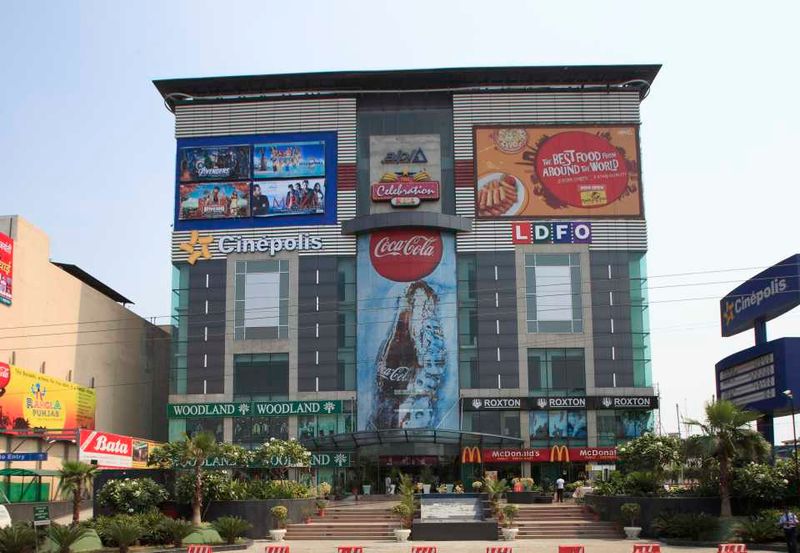 Location- Batala Road, Amritsar
Opening time- 9 AM
Closing time- 11 PM
Starting from a simple yet famous shopping destination- The Celebration Mall is the highlight of the city life of Amritsar. Despite having a simple build, this mall makes the best shopping centre for all your needs. It is designed in a way to embody the perfect blend of style and substance. It has some famous branded showrooms for clothes and accessories. Not just that, this mall is the centre of bustling eateries and big-screen movie halls, making it a perfect spot for entertainment.
Other than the stores and movie halls, this place takes care of all your needs. It has some of the best restaurants in Amritsar, making it a perfect option for your fancy dinners. The modern yet classy look of this mall ensures you fall in love right after your first visit.
2) Hall Bazaar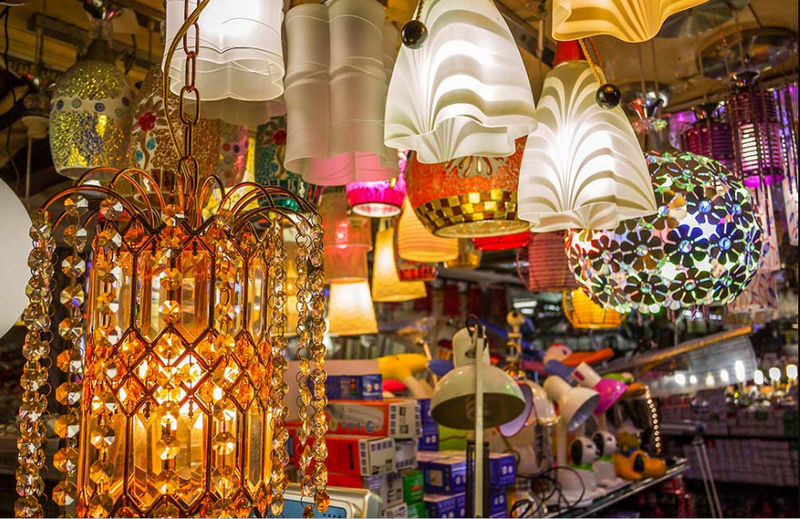 Location- Hall Bazaar road, Katra Ahluwalia, Amritsar.
Opening time- 10:30 AM
Closing time- 10 PM
Famous for its Phulkari design dress materials, Hall Bazaar is one of the oldest and established markets in Amritsar. The rustic charm of this market attracts many tourists all around the year. It lies on the way to Golden temple and is a famous shopping destination for both travellers and locals. This bustling market is known for its different stores and their variety of shawls, carpets, footwear, handicrafts, and food stalls. The items sold here are unlikely to be found anywhere else in the country. So it's worth splurging upon these rare handicrafts and designer accessories.
After wandering around the market, you're likely to get tired. But no worries, the aroma of delicious Amritsari Chhole Kulche is bound to entice you towards the food stalls of this market. Not just that, you can find a variety of other delicacies, including butter chicken, Amritsari fish, and the famous makki di roti and Sarson ka saag. The mouth-watering street food found in the local dhabas is a must-have during your visit to Hall Bazaar.
3) Katra Jaimal Singh Bazaar
Location- Near Hall Bazaar, Amritsar
Opening time- 10:30 AM
Closing time- 8:30 PM
In a city known for its Bazaars and shopping hotspots, Katra Jaimal Singh Bazaar looms as the best market of Amritsar. There is a saying that your shopping is incomplete without paying a visit to this market. It is because it has something to satiate everyone's needs.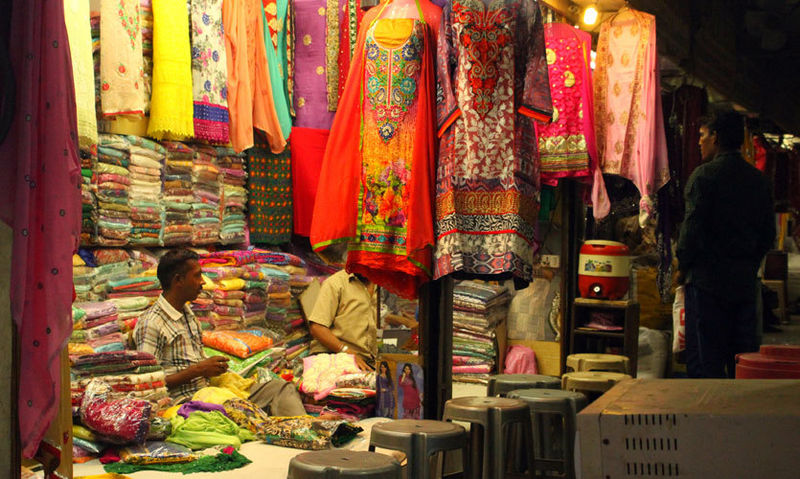 Located in the old part of the city, it's surrounded by many tourist spots. This bustling market is famous for its Phulkari suits and dupattas available in beautiful patterns and fancy wears. You can shop for tailored suits, designer shirts, traditional jutti shoes, and beautiful dresses for different occasions and festivals. The reasonable prices of this market make it easier for the shoppers to buy in bulk. You can also find locals and tourists bargaining for better prices at different stores. In short, if you love clothes with unique patterns and designs, then this is the place for you.
There are many historical places to visit while shopping in the Katra Jaimal Singh Bazaar. Besides, if you get hungry while shopping, you can find many food outlets in this market. The authentic flavours of Punjabi food are enough to satisfy both your taste buds and your hunger.
4) Guru Bazaar
Location- Shiv Puri, New Amritsar city
Opening time- 10:30 AM
Closing time- 9:30 PM
Another famous marketplace in the city is Guru Bazaar. With Golden Temple on one side and Guru ka Mahal on other, this place is a shopping hotspot for both locals and tourists. There's no denying that Guru Bazaar largely contributes to the overall shopping culture of the city. This market is a cluster of around 2400 small street shops. These stores are famous for selling all kinds of things from clothing, accessories, and electronics to jewellery, earthen lamps, and idols of God and Goddess.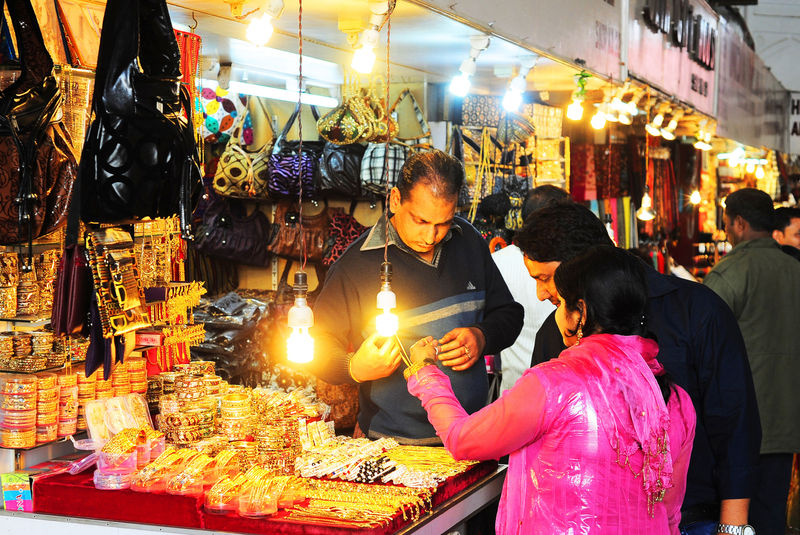 This market is an all-time favourite of ladies as they get the best gold and silver ornaments, especially the exquisite Jadau ones. So the next time you visit Golden Temple, don't forget to rush to this bazaar! And if you happen to go early in the morning, then it becomes easier to bargain for better prices.
5) Lahori Gate Market
Location- Near Lahori Gate, Amritsar
Opening time- 11 AM
Closing time- 10 PM
Are you looking for a budget-friendly marketplace? If yes, then hop to the bustling streets of Lahori Gate Market. Situated near the popular landmark Lahori Gate, this market is a famous commercial hub of the city. With numerous shops, showrooms, cafes, and restaurants, you are bound to have a fun time shopping here.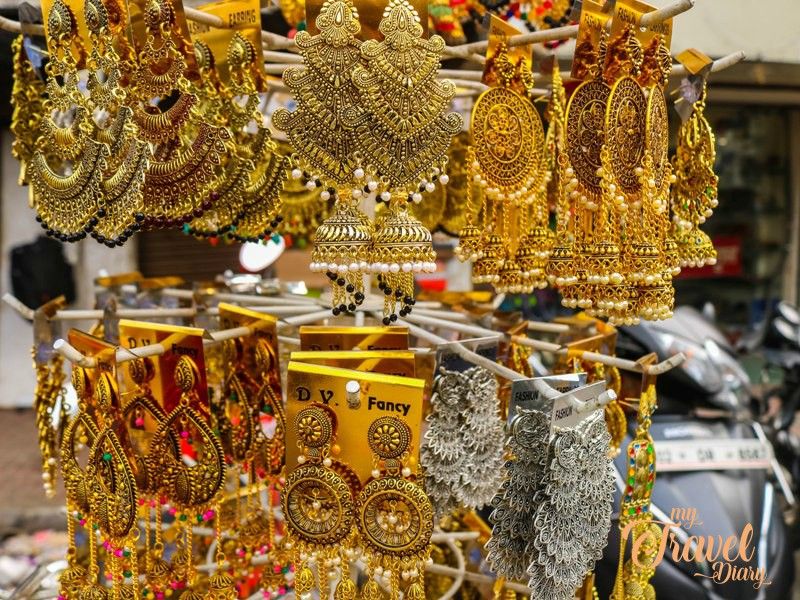 This place is famous for Pashmina shawls, cotton suits, heavy and casual suits with Phulkari design, footwear, and a lot more, all at a medium price. So bargain well before making any purchases. Who knows, you might get your desired item at a lower cost.
Not to forget the delicious Amritsari papad, kulcha, homemade pickles and jams, and other food items that can be found in the shops of this market. It also has some of the best restaurants of Amritsar, offering a variety of delicacies. So while you're here, make sure to indulge in the pleasure of their palatable dishes.
6) Shastri Market
Location - The marketplace located near Guru Bazar Road opposite to kali Mata Mandir
Opening Time - 10 AM
Closing Time - 9 PM
The Shastri market is known as one of the popular wholesale markets in Amritsar. Also, it is one of the great places in Amritsar to do shopping. Amritsar is also known as the heart of the city, is famous for its textile products ranging from cotton salwar suits to eye-catching Patiala salwar suits and many more.
The noticeable marketplace is situated in one of the busiest city Amritsar. You will notice a tremendous buyers hub shopping a variety of beautiful accessories including classic pendants, rings, exceptional necklaces, as well as traditional justice and footwear.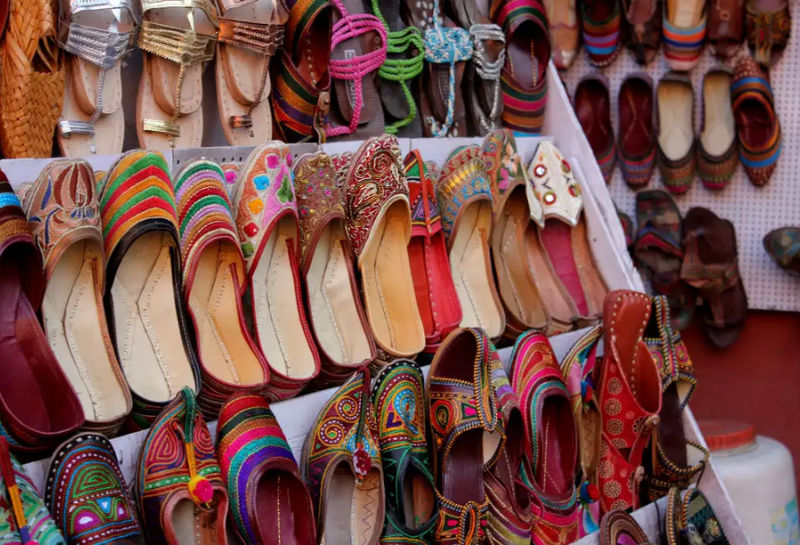 As the marketplace is placed not too far from the Golden Temple, the place sees too many footfalls every day. Not just accessories, the market is well known for wholesale outlets of textiles and other garments. You can easily spot numerous stores selling ethnic wear to modern wear at a reasonable price. Once you visit the marketplace, we assure you that you won't come back with empty hands.
7) Alpha One Mall
Location - Near to Mbm Farms, Sultan wind sub-Urban, Main GT Road, Amritsar India.
Opening Time - 11 AM
Closing Time - 11 PM
No wonder why this mall is known as " Mall of Amritsar". The mall is located in between the highway and is mostly famous for fabulous food courts and all kinds of entertainment. It has prominent showrooms and can be considered as the best shopping destination for those who love to wear branded clothes and accessories. One can easily buy designer clothes from branded shops or boutiques.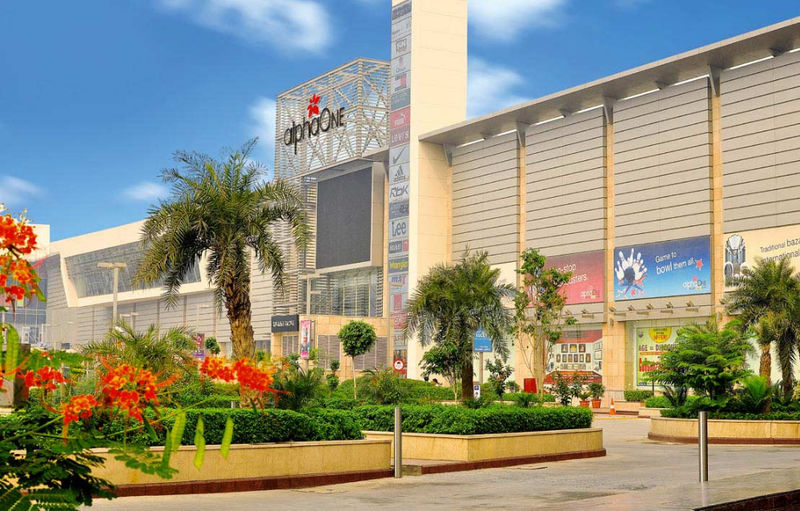 However, one can spend the entire day just by window shopping with their friends and family. If you want to buy some Amritsari accessories, then this Mall is the best option for you. You will get fashionable and trendy clothes along with stylish shoes and knickknacks.
Several restaurants and nightclubs are located inside the mall. So that one can enjoy late-night parties or hangouts with their loved ones. There are various places in Amritsar to explore, and this bustling mall will give you the real taste of Amritsar.
8) Lawrence Road
Location-Near Guru Bazar Karanagar, Amritsar, India.
Opening Time- 11 AM
Closing Time- 10 PM
Who doesn't love Amritsari kulchas? Lawrence road is considered one of the popular junctions for its amazing cafeteria, sweets shops, bars, etc. While walking through the road, you will find a variety of casual jewellery, necklaces, hand-crafted artworks, bracelets, and branded costume stores.
The streets are quite big and you can simply keep walking in your Amritsari pehnawa and enjoy the roadside meals.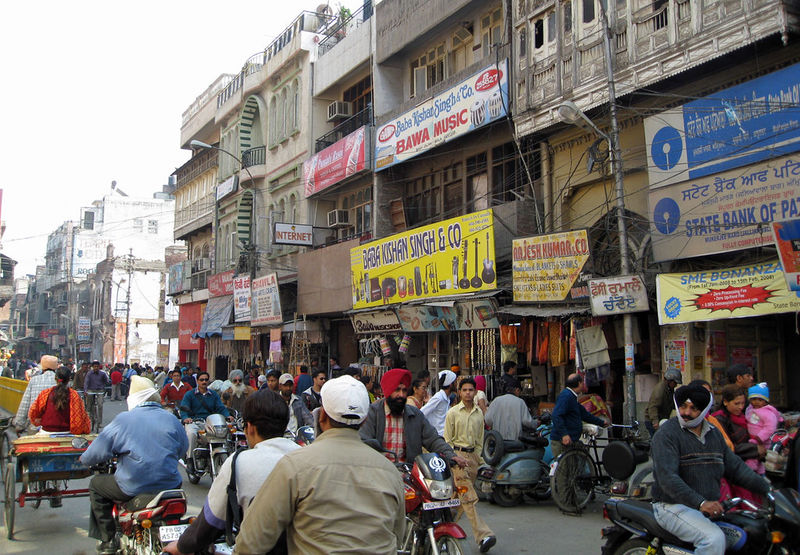 If you ever visit Lawrence Road, you must try sukhrams fruit Ice cream and Durgas fruit. There are various food stalls, where you can explore different tastes such as the famous Bhature channe to Aloo Tikki chaat so that you will never feel enough.
You will observe small vendors to big stalls selling out colourful bangles and home decor products. The marketplace should be on your list of the top visiting places. A traveller can collect some amazing postcards and trinkets along with them as a piece of memory of Punjab.
9) Kapda Bazar
Location- Kapda Bazar, Amritsar
Opening Time- 10:30 AM
Closing Time- 7:30 PM
The name is enough to tell you what this bazaar holds for you. The market is located near the Townhall and is a well-known place for shopping in Amritsar. Just by seeing the name of the Bazar, you might have guessed it right. The market is hugely popular for selling all types of Punjabi kurtas and dresses. Plus you will be amazed to see phulkari embroidered textiles varying in different colours and textiles. While walking through the bazaar, you will notice the simplicity of the place.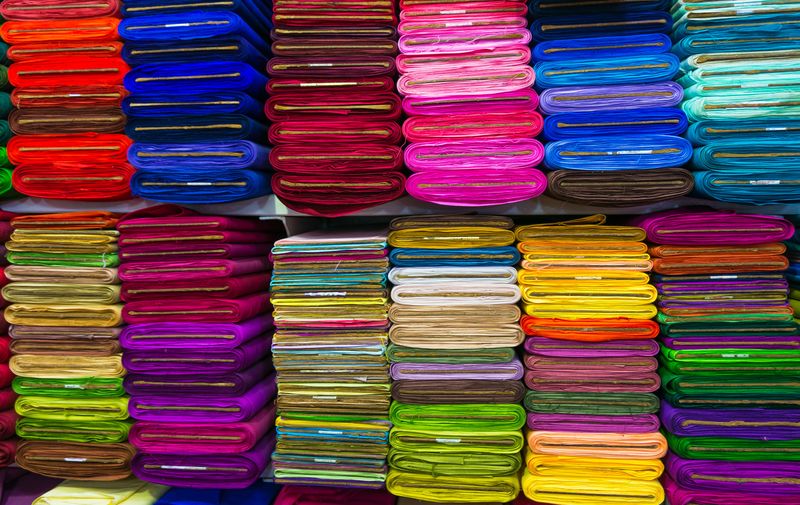 A small vendor selling various products from colourful dupattas to dazzling earrings and salwar kameez at a much cheaper rate. Both sides of the road are filled with several platform sellers, selling unique garments and food items such as pickles, spices, papad, etc.
Altogether, no one can deny the fact that this is one of the best marketplaces to explore local accessories and clothing.
10) Trilium Mall
Location- Opposite to Basant Avenue, plot No - C- 4, Circular Road, Amritsar.
Opening Time- 11 AM
Closing Time- 10:30 PM
Are you looking for a sophisticated place where you can enjoy and spend some leisurely time with your family and friends? Then Trilium mall is a perfect place for you. The mall is recognized as a fashion hub as all the national and international brands can be found under one roof. The lavishing food court includes some of the famous food outlets and dining options.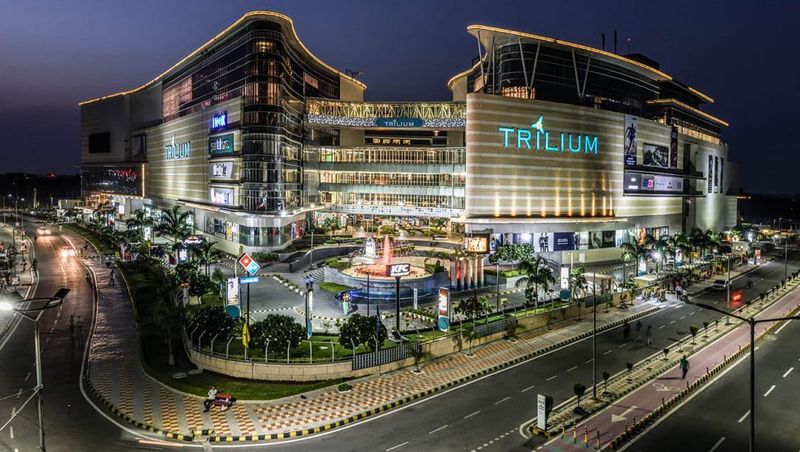 How can someone miss watching 3D movies? Yes, you heard it right. This Mall provides you to enjoy cliff-hangers and marvellous 3D movies in one place. Also, you can buy beautiful and luxury home furnishings items from a branded store. There are countless things that you can explore throughout the mall from traditional handlooms to hand-crafted decor items like woven carpet and swollen garments. The glitter and glamour of the Trilium mall can make you feel mesmerized. Also, it can be considered a perfect hang out spot for the weekends. So what are you waiting for? Visit the mall on your weekends and cherish some great memories.
Conclusion
Now that you know the best places for shopping, all that's required is a loaded wallet and you are ready for a shopping spree in Amritsar. Enjoy the spirit of Amritsar through its vibrant bazaars and lip-smacking street food that would leave you wanting to visit again.