Well, it's that time of the year again- when everyone wants to break free from their daily-life routines and head to fun holiday places. Goa is one such place where you can be close to nature and still enjoy the fun urban lifestyle with late-night parties.
And not just that, Goa is also a shopper's paradise. With various malls, flea markets, and night bazaars shopping in Goa is such a thrilling and exciting experience, tourists can explore the culture of Goa and take some of it back with them as souvenirs.
15
shopping markets in Goa
that you can check out during your Goa trip!
1. Anjuna Flea Market
If planning a trip to Goa between October and May, you should check out this popular flea market in Goa that opens every Wednesday near Anjuna Beach. This flea market has been here since the 1960s, allowing hippie travelers to buy and sell unique items. The place is always abuzz with live music, making it a fun experience for visitors. Here, people can choose from a treasure of items like jewelry, handicrafts, hammocks, clothes, beachwear, musical instruments, artifacts, wall decorations, etc.
Visitors will also find various food outlets in and around the market. Café Looda, Sea Breeze Bar & Restaurant, and Ben Vita's Beach Shack are some of the best restaurants in Goa near Anjuna Beach. Also, while here, you can get your body pierced or your hair colored at specific stalls in the market.
Location- St. Michael's Vaddo South, Anjuna, Goa 403509.
Things to purchase- Beaded/Macramé Jewelry, Dresses, Tibetan Stuff, Wooden Artwork, Footwear, etc.
2. Tibetan Market
The lively and vibrant Tibetan market in Calangute near Baga Beach is among the popular shopping markets in Goa, which deserves to be on every traveler's itinerary. Here you will find multiple shacks displaying handmade jewelry and accessories, metal artifacts, singing bowls, leather goods, yak shawls, etc.
Besides the handicrafts shacks, you can also find stores that sell refreshments and authentic Goan delicacies. We recommend you visit after sundown when the entire space comes to life with different lamps and lanterns, a sight to witness.
Location- Baga- Calangute Road, Goa.
Things to purchase- Jewelry, antique pieces, home decor, leather goods, wooden items, shawls, etc.
3. Saturday Night Market
Are you looking for a place to find beautiful handbags for your collection? If yes, Saturday Night Market is for you. With an exhilarating ambiance, this marketplace is One of the best places for shopaholics in Goa . Here, you'll find various items, including bags, accessories, jewelry, books, semi-precious stones, clothes, shoes, rugs, doormats, paintings, home decor, etc.
Besides, Saturday evenings at this market are always buzzing with live DJs playing music, stalls serving cocktails, and people dancing around, making the atmosphere fun and exciting.
Location- Arpora, Goa
Things to purchase- Handbags, Apparels, Rugs, Handicrafts, etc.
4. Mapusa Friday Market
Mapusa Friday Market is one of the best shopping places in Goa . Each Friday, you'll find gazillions of merchants here trying to sell their products. And trust us, there is nothing you can't find in this market- from earthenwares, handicrafts, jewelry, and accessories to fresh/dried seafood, spices, and blood sausages.
The best thing is you can bargain here to get your favorite items at a better deal. Also, if you love desserts, don't forget to try the Goan sweets found here, like dobola, bebinca, chana doce, and serradura.
Location- Mapusa Municipal Market, Mapusa, Goa 403507.
Things to purchase- Textiles, clothes, Blood Sausages, Dry Fish, Fruits, Vegetables, Seedless Tamarind, Handicrafts, etc.
5. Mackie's Saturday Night Market
Visiting Mackie's Saturday Night Market is a must when shopping in Goa. It adds an exciting experience to your trip to Goa. Moreover, you can get everything on your shopping list in this market. From unique antiques to trendy beachwear- the place is full of affordable yet useful items.
As one of the best markets in Goa, this Saturday market has various stalls for home decor items, souvenirs, junk jewelry, funky clothes, etc. A tip to get great deals is to bargain at these stalls.
Also, the market opens in November and stays till May end. And while shopping, you can even check out the nearby terrace cafes, live woodcarving, tarot card reading stalls, and live music performances.
Location- Baga Road, Arpora, Goa- 403516.
Things to purchase- Fish, Unique Ornaments, Clothes, Handicrafts, Groceries, Earthenware, etc.
6. Panjim Municipal Market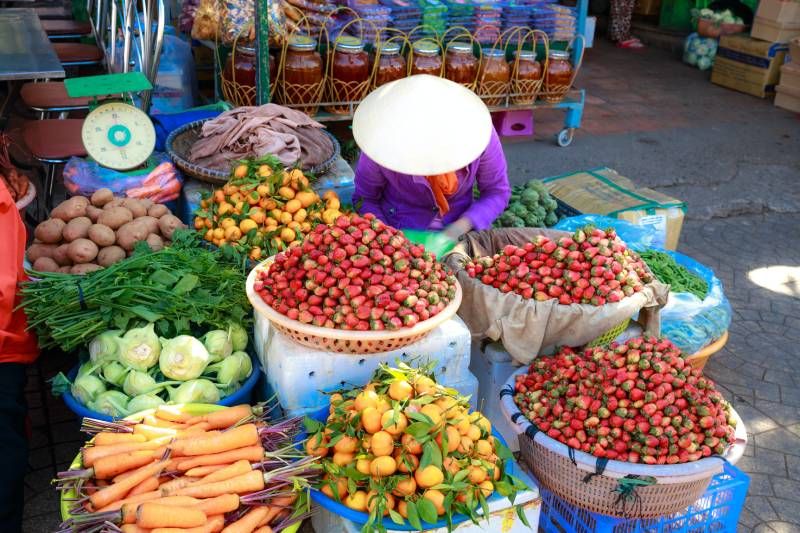 Located in the capital city of Goa, the Panjim Municipal Market tops the shopping markets in Goa. This market consists of various old-time shops and the newest shopping malls. So, people can shop for a wide range of things.
Both tourists and locals can find groceries, fruits, vegetables, handicrafts, antiques, clothes, furniture, home decor, jewelry, and a lot more here. Besides, there are many famous restaurants and pubs in Goa nearby where guests can wind down after an exhausting shopping experience.
Also, tourists visiting Goa on a trip can look for comfortable and budget-friendly hotels in Goa in Panaji!
Location- Panaji, Goa
Things to purchase- Groceries, Spices, Wines, Cashew nuts, Local Handicrafts, Antiques, Clothes, etc.
7. Calangute Market Square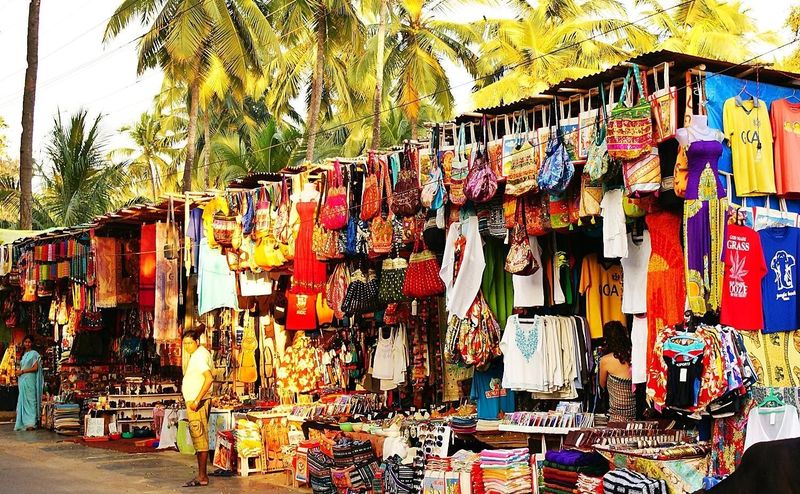 Calangute Market Square is one of the must-visit markets of Goa. From trendy summer clothes to stylish jewelry- you can find anything and everything in this market. If you are after street shopping in Goa then this place is perfect for you. It is always buzzing with locals and tourists.
You can also look for seashellcraft items in the market, such as trinkets and sarongs. Besides, you can buy handicrafts, embroidered pieces, leather products, metal crafts, and other souvenirs.
Once done with shopping, you can recharge yourself with a flavorful seafood meal and a chilled bottle of beer!
Location- Calangute Beach
Things to purchase- Clothes, Souvenirs, Handicrafts, Metal Crafts, Seashell Items, Leather Products, etc.
8. Palolem Market, Palolem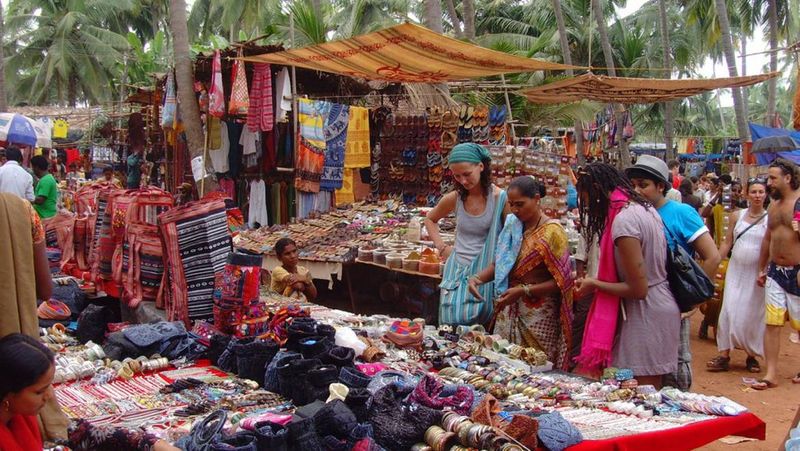 Among the popular flea markets in Goa, the Palolem Market near palolem beach is worth mentioning. Series of stores close to the stunning shoreline where you can find a wide range of touristy items from clothes, hats, and sleeping bags to decorative items like artworks. The region embraces a distinct hippie culture, adding to its charm, which attracts a flock of tourists. This place offers for where you can buy casual clothing, hats, spices, flavored teas, raw gemstone rocks, souvenirs, and so on at affordable rates. It is a seasonal market that usually operates from September to April, during the peak season, and is open on Saturdays.
Location- Canacona, Goa
Things to purchase- Beach items, clothing, hats, footwear, dry fruits, flavored teas, accessories, souvenirs, etc.
Goa, known for its pristine beaches and commercial nightlife, mouth-watering seafood, and various watersports, is also renowned for its rich cultural history. Illuminating age-old forts of Goa, showcasing the rich blend of Indian and Portuguese cultures, is also one of the prime attractions of this region. Check out more about Forts in Goa you should visit on your Goa trip.
9. Margao Municipal Market
Shopping in Goa is incomplete without a visit to Margao Municipal Market. Famous for various spices like Cardamom, Triphala, Cinnamon, etc., the market is on the east side of the Margao Municipal Garden. Goan dishes are incomplete without these exotic spices. Hence, you'll find many locals visiting the market daily.
Besides spices, the place is a paradise for traditional Goan shopping who want to buy Goan specialties like dried fish, dry mangoes, etc. Remember that these get sold out within hours of setting the stall, so be early!
Also, Fridays are celebrated as 'Bazaar Day' because of the influx of traders, vendors, and tourists.
Location- Margao Municipal Market, Comba, Margao, Goa 403601.
Things to purchase- Footwear, Dried Mangoes, Salted Mangoes, Exotic Spices, Fruits, Vegetables, etc.
10. Ingo's Saturday Night Bazar
Among the most happening flea markets in Goa, Ingo's Night Bazar is one of the areas you cannot miss out on during your trip to Goa. As the name suggests, this market is open only on Saturdays, so make sure to pay a visit!
Here you will find many colorful stalls selling eye-catching designer jewelry, handicrafts, carpets, dreamcatchers, local herbs and spices, designer clothes, and lots more. Besides all the shopping and mouth-watering cuisines, this night bazaar is also a paradise for hippie enthusiasts. Live trance music, colorful lights, an open stage to showcase one's performance, and so on makes Ingo's Saturday Night Market contribute to the great shopping experiences across Goa.
Location- Arpora, Goa
Things to purchase- Clothes, accessories, bags, jewelry, linen, dreamcatchers, local spices, etc.
11. Ashwem Beach Market
Aside from the stunning beach views, Ashwem Beach is a popular flea market in Goa. This open-air beachside market consists of several stalls housed in white tents where sellers display their unique designer products. Here you can find a wide variety of products ranging from designer apparel to handmade jewelry to bags, its specialty being hand-crafted Bohemian dresses and jewelry. You can take home unique souvenirs available only in Ashwem Beach Market. Although product prices here are higher compared to other flea markets, the designer merchandise crafted by local and international designers is worth every penny spent!
Ashwem Beach Market is flocked all year by tourists and locals, making it one of the Best Places to visit in Goa.
Location- Ashwem Beach, Mandrem, Goa.
Things to Purchase- Designer apparel, accessories, footwear, etc.
12. CocoRoots
Are you looking for handmade antique jewelry to bring home from Goa? Well, we have got you covered! Situated in Anjuna, this store is renowned for its unique funky, traditionally designed jewelry comprising earrings, ear cuffs, necklaces, nose rings, hair accessories, etc. CocoRoots is considered as one of the great places of shopping in Goa. The admirable feature of CocoRoots products is that they use natural materials such as coconut, shells, feathers, animal bones, and horns for crafting its items. Boasting a vast collection of products etched with a unique touch, these are suitable to wear on all occasions. Gift yourself and your loved ones these gifts from Goa by shopping at CocoRoots.
Location- Anjuna, Goa
Things to purchase- Earrings, ear cuffs, necklaces, pendants, rings, hair accessories, etc.
13. Le Souk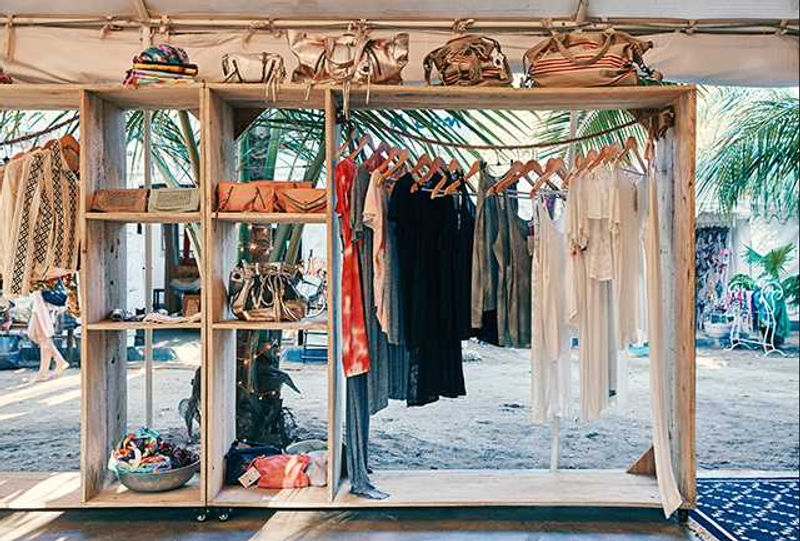 Among the best Bazaars & Markets in North Goa Le Souk is a famous market, this buzzing street market by Ashwem Beach is the first luxury shop established in Goa. Inspired by the Morrocan open-air bazaars of the middle east, you can find exclusive boutique items housed in lavish tented stores. Wide variety of products from eye-catching apparel, jewelry, and footwear from Moroccan Bazars to products from renowned brands like Jonas G, Bohemian Collection, and Shades of India- the list goes on! Imagine walking by the picturesque Ashwem Beach while enjoying shopping in Goa for branded high-quality products by strolling across the streets. And the best thing, this street market is open throughout the year, so you can easily visit whenever you plan your 3 days Goa trip with family.
Location- Ashwem Beach, Goa.
Things to purchase- Designer clothing, accessories, linen, etc.
14. MMC Market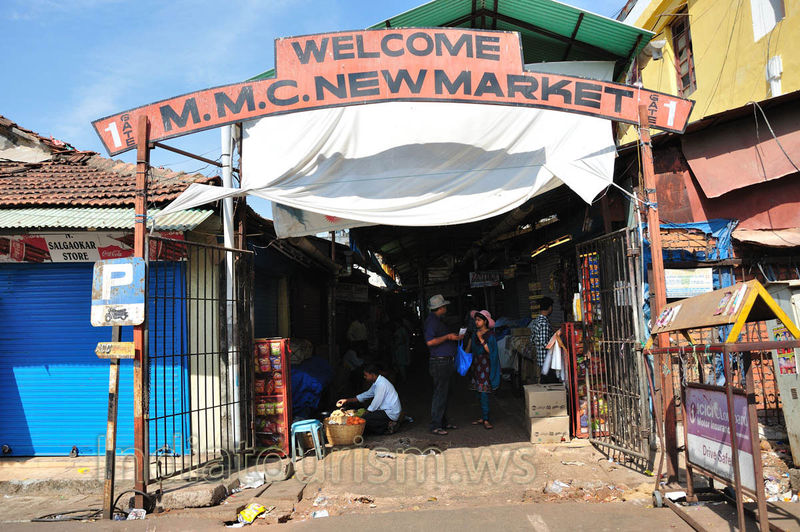 The MMC Market is a popular flea market, also known as the Gandhi Market, it is the go-to place for tourists if you desire to witness the traditional colors of local Goan markets. From fresh fruits and vegetables, dry fruits, meat, and bakery products to an indoor labyrinth of rich spices, groceries, apparel, shoes, cosmetics, bags, and stationeries, you can enjoy shopping here to your heart's content at very reasonable prices. Overall a cheerful place to enjoy shopping in Goa and interact with the locals to enhance your trip!
Location- Margao, Goa.
Things to purchase- Apparel, Fresh fruits, Meat items, bakery products, herbs, spices, Cashew, Electrical appliances, etc.
15. Mall De Goa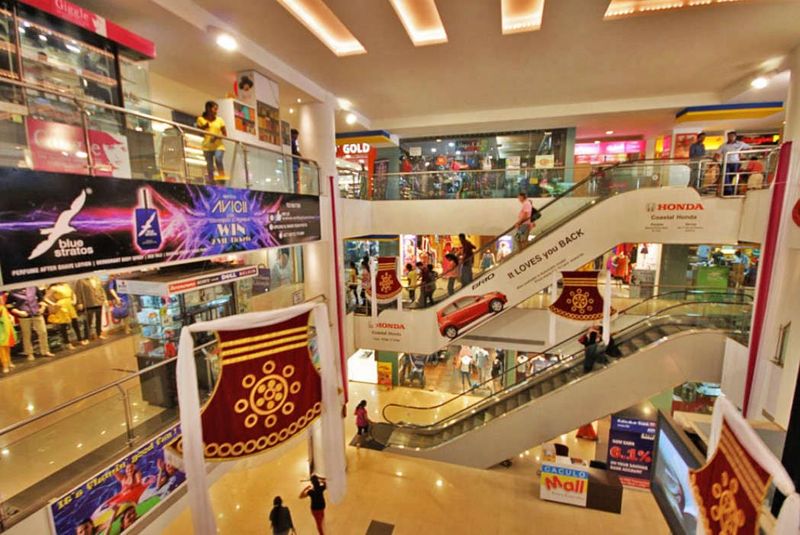 If you are into shopping for items exclusive to Goa, usually the flea markets and seaside stores are the best, but if you are looking for branded items or just an idle space to hang out with your pals, then Mall De Goa must be at the top of your Goa shopping list, the largest shopping complex in Goa. It houses many popular brand outlets, and you can find almost everything from beauty, lifestyle, electronics, and many more. There's also a food court and many entertainment options, including an INOX theatre and a children's play area. It is usually packed on weekends and is among the top places for shopping in Goa.
Location- Porvojim
Things to purchase- Clothes, branded accessories, skincare, gadgets, furniture, etc.
Conclusion
After endless beach parties, sunbathing, swimming, and eating mouth-watering meals in Goa, it's finally time to head for shopping in Goa. If shopping is your only love and you cannot afford to give it a miss especially when on a vacation in the pearl of orient just relax we have tailor made the list of the chic markets in Goa. Where you can shop your heart out.