It's little wonder that so many people choose the beaches in Goa to spend their vacations , which boasts 105 kilometres of spectacular coastline and an unending variety of gorgeous beach locations. When one thinks of Goa the word that crosses the mind are beautiful beaches that provide countless alternatives for anything from a relaxing vacation to never-ending partying.
While North Goa is all about hippie markets, trance music and nightlife, South Goa provides a tranquil and countryside setting. You can choose to have a luxury or a budget trip to Goa, as there are plenty of options to stay depending upon your convenience.
Just pack your bags and start your vacation as we have already prepared a list of 15 best beaches in Goa for families and tourists to make your trip the most memorable one!
1. Morjim Beach - Little Russia
Located south of Ashwem Beach, Morjim beach is counted as one of Goa's most serene beaches of north Goa. Because of the great number of Russians who visit this area and stay here for extended periods of time, Morjim Beach is also known as "Little Russia". The place is bustling with eateries serving traditional Russian food.
Olive Ridley Turtles, an endangered species, use the beach as a place to breed and the beach is off limits to the public during their breeding season in the month of September. The Morjim Beach offers a variety of activities, such as dolphin boat tours, tattoo parlours, and water sports. The picturesque views and the visual magnificence of the changing sky colours give the beach a fantasy-like appearance.
The beach and village of Morjim exude a genuine Goan charm. Compared to other beaches in the state, this beach has a wilder, more primitive vibe. It's a peaceful retreat with sun loungers and beach bungalows where you may unwind for hours. Also known as a paradise for bird lovers, one can easily spot kingfishers, cuckoos, bay-backed shrikes, and sand plovers.
Places to visit nearby: Chapora Fort & river, Shri Moraji Temple
Location: It is 28.2 kms from Panaji
2. Baga Beach -

The Hometown of Nightlife
Baga, located a little further south of Morjim, exhibits a completely distinct vibe from that of its neighbour. One of the must-visit destination on your 3 days Goa vacation. This beach is the epitome of nightlife which attracts thousands of partygoers every night. Baga beach is shortlisted as one of the top beaches of Goa nicknamed as "The Hometown of Nightlife", it is well-known for the late-night music celebrations, delectable food, upscale stores, and extreme sports.Shacks play foot-tapping music while serving fresh food and regional drinks
The Baga Creek drains into the Arabian Sea at the northern end and gives the beach its name. One can participate in water sports including parasailing, jet ski, paddleboarding surfing, and banana rides. There are many tattoo parlours as well as yoga, Pilates, Tai Chi, and meditation centres.
Taking a long, leisurely walk on the spotless golden-brown sand beach is another fantastic activity. A sizable number of fishermen in their traditional clothing can be spotted with their daily haul, particularly in the mornings and evenings. An indoor snow park with a play area, a sledding hill, and an ice bar are a few highlights of the Baga Beach.
Places to visit nearby: Dr. Salim Ali Bird Sanctuary, Ingo's Night Market at Arpora, Casa de Retiros
Location: It is 16 kms drive from Panaji
3. Candolim Beach - Paradise of Water Sports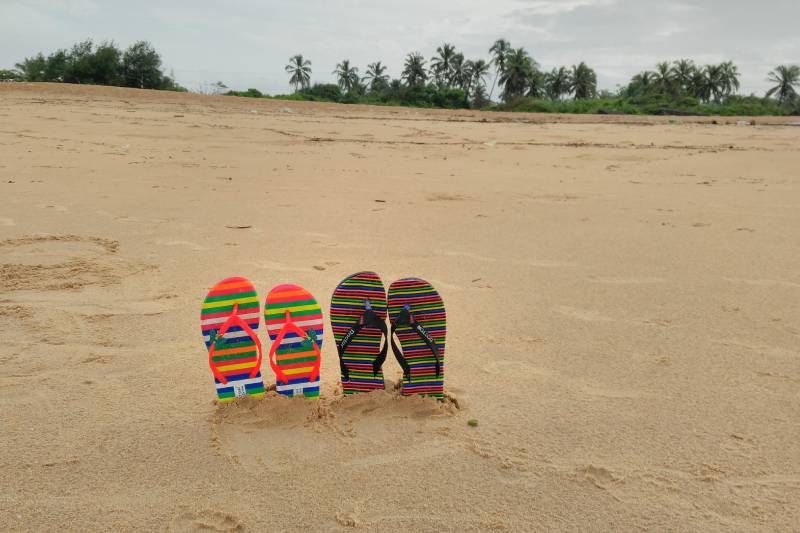 Located 15 kilometres to the north of Panaji, Candolim beach is ideal for living the authentic Goan experience. Since most visitors are attracted to the more famous Baga beach located nearby, Candolim Beach is refreshingly less crowded and breathtakingly gorgeous. Among the beaches in Goa , this beach is the first preference for the yoga lovers providing perfect atmosphere for yoga and meditation.
The Candolim village, the first village to convert to Christianity, is a famous landmark in this region. Travelers can enjoy exhilarating water sports like parasailing, snorkelling, scuba diving, jet skiing, and more. This beach is quite lovely and has a very relaxed vibe to it with dunes in the background.
The beach sees its peak season in the months of December and January when the annual Supersonic festival, ideal for fans of EDM music, takes place. There are numerous stores and eateries along the Candolim-Calangute Road where visitors can shop and relax. Candolim beach is also famous for its nightclubs and pubs in Goa where the celebrations last all night.
Places to visit nearby: Aguada Fort, Candolim Church, Chapel of St. Lawrence
Location: it is at a distance of 15 kms from Panaji
4. Calangute Beach -

Queen of Beaches
Calangute beach, considered as one of the best beaches in Goa for foreigners, serves as a retreat for nature lovers. It is often referred to as the "Queen of Beaches" in Goa because of its breath-taking beauty and tranquillity. Stretching from Candolim to Baga, Calangute Beach is located 15 kilometers from the state's capital, Panjim.
There is nothing more satisfying than spending a lazy day staring at the tranquil sea and having a wild time at Goa's exciting nightclubs. It is a popular tourist destination, drawing thousands of visitors from around the globe, especially in the months of November and December. Water sports like jet skiing, catamaran sailing, surfing, banana rides, bump rides, parasailing, and paragliding are among the best things to do here.
The nights at Calangute Beach are lively and full of energy, with countless clubs to choose from. The place offers numerous options for shopping and has stores that offer goods from Tibet, Kashmir, and Rajasthan. Calangute Beach offers magnificent views of the sun setting and rising. Amazing shacks that serve genuine Goan food and drinks line the street.
Places to visit nearby: Kerkar Art Complex, St. Alex Church
Location: it is around 15 kms from Panaji
5. Palolem Beach - For Dolphin sightseeing
Palolem beach is surrounded by the best rejuvenation facilities and is known as one of India's most well-known yoga resorts. It is the ideal vacation spot for you to unwind on the balmy summer evenings. One can indulge in water sports like kayaking and paddling or go on dolphin tours during winters. Palolem is a beautiful crescent-shaped beach in Goa that provides a variety of boat tours to enjoy the sea as well as numerous beach huts that serve drinks, food, and sunbeds for unwinding.
The beach is well renowned for its silent discos, where music is played while wearing headphones to maintain the serene atmosphere. The beach faces Canacona Island, famous for its resident monkeys, and is surrounded by palm trees and brightly painted wooden shacks. Ideal for a relaxing and quiet vacation, it is also one of the cleanest beaches in Goa.
Places to visit nearby: Monkey Island, Butterfly Beach, Saint Tereza of Jesus
Location: It is 11 kms from Canacona
6. Vagator Beach - Home to magnificient red cliffs
Vagator Beach is a section of a 30 km long beachfront that stretches from Fort Aguada to Chapora Beach and Fort on Goa's west coast along the Arabian Sea. Located in the northernmost part of Bardez Taluka, it is surrounded by magnificent red cliffs that offer breath-taking views of two freshwater springs. While unspoiled and beautiful, it also teems with excitement, music, and dance.
The red rocks that look fairly spectacular and overlook the mighty sea are what make the Vagator beach special. The place is well-known for its rave gatherings, the Saturday flea market and open-air clubs. The famous Sunburn Festival is held here every year in the month of December and is a favorite with EDM fans.
Situated 21 kilometres to the north of Panaji, the best time to visit the place is between November and January. The North Vagator Beach, also known as the Big Beach, and the Ozran Beach, also known as the Little Beach, are the two sections of this crescent-shaped beach with golden sand and sparkling water. Adventure lovers can try out water sports like parasailing, jet skiing, banana rides, and speed boats.
Places to visit nearby: Anjuna Beach, Flea market, Chapora Fort,
Location: It is located at 21 kms from Panaji and comes under Bardez district
7. Anjuna Beach - Reflection of Hippie culture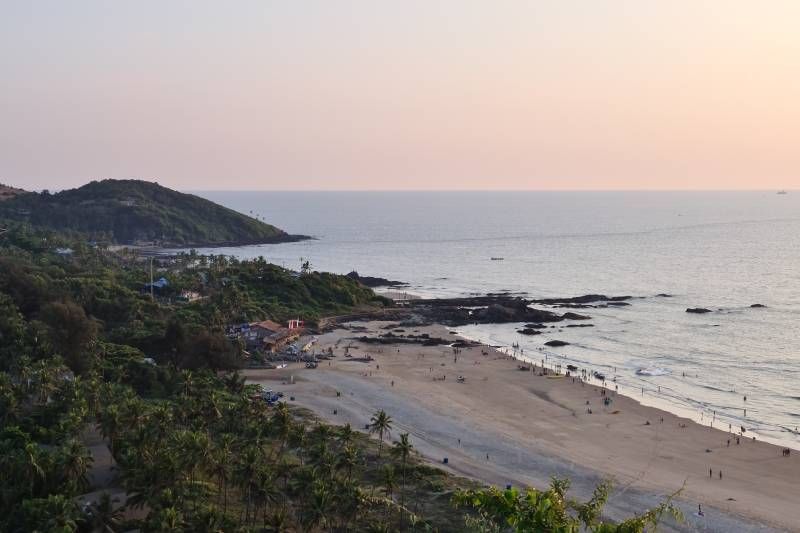 Anjuna beach has grown to be one of the most tourist friendly beaches in Goa thanks to its distinctive rock formations, delectable cuisine, and party atmosphere. It is the ideal haven for beach lovers everywhere, and is located 21 km from Panjim. Anjuna is also known as the "Freak Capital of the World" because of a long history of Hippie culture.
With a rich and illustrious bohemian culture in the past, the beach keeps the top spot with its renowned flea market. Spanned across 2 km, it is one of the best places ideal for adventure sports. It is mostly famous for its golden coastline, nightclubs, beach shacks, water sports, and full-moon celebrations.
Among the most popular activities are paragliding and jet skiing. Shop for mementos, artificially coloured jewellery, hip-hop clothing, and home décor goods at the flea market. The hip beach bars and live music venues are alive with the bohemian spirit of the place. The famed Anjuna Beach is known for its breath-taking natural beauty, which includes coconut trees and silky, white sand.
Places to visit nearby: Nyex Beach Club, Calangute Beach
Location: it is located 18 kms from Panaji
8. Butterfly Beach - Heaven for Butterflies
As the name suggests, you will be spellbound on seeing millions of butterflies soaring over the hilltop petals on the tiny semi-circular bay. It may not be simple to get to Butterfly Beach, but the effort is worthwhile. You can choose to take a boat from Agonda or Palolem Beach nearby, or you can hike through a few kilometres of dense jungle.
It is like a well-kept secret to the north of Palolem Beach and has no road access. Vehicles, not even bicycles, cannot travel through the forest since the road passes through brooks, difficult ascents, and fields. One might be lucky to spot sea urchins, sea cucumbers, and redfish early in the morning. Butterfly Beach is among the less- crowded beaches of Goa and is highly recommended for anyone seeking some peace and quiet away from the crowds. There aren't many restaurants or shops close by, hence it is good to bring supplies for your comfort.
A picture-perfect setting with palm trees, warm blue waters, a large number of butterflies, and the golden sands make this place the best picnic spot in Goa.
Places to visit nearby: Leopard Valley, Yoga Land, Conco island
Location: It is 16 kms drive from Canacona,
9. Arambol / Harmal Beach - Green beach of Goa
The Arambol beach gives an authentic Goan experience including live music performances, a wide variety of beach shacks, and a buzzing nightlife. It was originally a renowned hippy beach in Goa, which may be why it has a very Bohemian and relaxed vibe.
The streets are filled with quaint restaurants and street merchants selling a variety of goods. Gypsy bands predominate the local music scene. One can participate in the Tribal Dance Festival, or the Indian Juggling Convention. The best time to visit is between November and February, when you can experience the vibrant festivals and participate in activities like kiteboarding and paragliding.
The black rock hill and silvery sand give the beach a magnificent look. Arambol also has a little natural pool with soft clay near the hill. The place is divided into Harmal Beach and Arambol Beach as the northern and southern parts, respectively. Additionally, it is one of Goa's greenest beaches. The sweet-water Paliem Lake is one of the must-see lakes in Goa and is located at one end of the Arambol beach.
Places to visit nearby: Kalacha Beach, Paliem lake
Location: It is at 55 kms drive from the state's capital
10. Galgibaga Beach - The Turtle beach
Galgibaga, also known as Galjibag Beach, is one of Goa's cleanest beaches. This untravelled beach is a treasure of crystal-clear saltwater and caramel-colored sand. Situated about 50 kilometres from the city of Margao, it is located south of Rajbag Beach.
Due to the turtles that nest in this protected region, Galgibaga is sometimes typically known as "Turtle Beach". For the best chance of seeing Olive Ridley Sea Turtles, the second-smallest species of sea turtle in the world, schedule your trip between December and February. One of Goa's most serene spots, the Galgibaga beach provides an ideal setting for lone travellers.
It is one of South Goa's less busy beaches. There aren't any shacks on the beach, but there are plenty of places to discover peace and quiet. Galgibaga is best described as a tranquil beach, perfectly lined by casuarinas that attentively sway in the lazily blowing ocean wind. The beach receives extremely few visitors as a result of its location in the far south of Goa.
Places to visit nearby: Talpona beach, Xendrem beach
Location: It is 4.9 kms from Canacona
11. Dona Paula Beach - Lovers' Paradise
Dona Paula Beach is tucked away on the rocky headland's southernmost portion where the Mandovi and Zuari rivers flow into the Arabian Sea. It provides a stunning view of the Mormugao harbour and is situated 7 km from Panaji. Some of the wealthiest and famous Goan families reside here.
The gorgeous sandy cove renowned for its stunning rocks is a lovers' haven. One of the best beaches in Goa for honeymoon tourists The beach is said to be named after Dona Paula, a Portuguese Viceroy's daughter who allegedly leaped from a cliff after her family objected to her relationship with a Goan fisherman.
Except during the busy season, this white-sand beach is normally quiet. A whitewashed sculpture located in the area, created in 1969 by Baroness Yrse Von Leistner, is its most intriguing attraction. The sculpture is perched atop some rocks not far from the ferry jetty. There are a number of stores that sell antiques and jewellery near the beach.
It has quiet waves, bronze sand shaded by palm trees, and a tranquil atmosphere that urges you to stay till sunset. Water scooter rides, water skiing, parasailing, and kayaking are among the many sports available at Dona Paula Beach.
Places to visit nearby: Cabo Raj Niwas, National Oceanography Institute, Reis Magos Church
Location: Located around 7 kms from Panjim
12. Mandrem Beach - The white sandy beach
Mandrem is a well-maintained white sandy beach that is one of the best places to visit in Goa. Sitting on the bamboo bridges and enjoying the sunset with your feet in the lake is an experience you will never forget. The beach has numerous centres for yoga, meditation, and ayurveda where you can refresh your body and mind.
This tranquil beach is situated 21 kilometers north of Panaji. Spread between the Ashwem and Arambol beaches, the Mandrem beach has beautiful rock formations and is renowned for its breath-taking, multi-colored sunsets. One of Goa's most isolated and uncrowded beaches, it is a calm place where one may witness white-bellied fish eagles residing in casuarina trees. Mandrem Beach is particularly beautiful during high tide as the ocean rushes into the Mandrem Creek. The majority of the Mandrem locals reside in a small settlement close to the seashore.
Places to visit nearby: Oceanic Yoga and Meditation School, Shirr Purchevo Ravalnath Temple
Location: Located in the Pernem Taluka, this beach is 21 kms from Panjim
13. Colva Beach - Exotic Nightlife
Colva Beach stretches out to meet Cabo de Rama Beach to the south and Bogmalo Beach to the north. Being one of the oldest Goan beaches, it is home to many renowned and wealthy families. The 2.5 km long coastline of the beach is lined by coconut trees and the white sand makes it look even more heavenly. In comparison to other beaches, Colva beach's nightlife is exotic and spectacular. Restaurants and beachside shacks are open into the early hours of the morning.
Check out the Church of Our Lady of Mercy, established in 1630, housing a famous statue of baby Jesus that is said to have healing properties. The neighboring street markets in Colva, including Margoas Municipal Market, Nagoa Market, and Queen Nagar Market, are shoppers' delight. One can buy inexpensive local clothing, designer jewellery, jute goods, shoes, souvenirs, and even old books.
Places to visit nearby: The Colva Church, locally called Igreja de Nossa Senhora das Merces, Portugal buildings
Location: it is at a distance of 6.7 kms from Salcete
14. Ashwem Beach - Calm and serene
Ashwem is a rocky beach with silver sand and a palm tree coastline that was carved out by shellfish. The beach, situated about 35 kilometres north of Panaji, is well-known for its distinctive rock formations and is extremely crowded during the holiday season.
The beach does not provide any water activities; however, visitors can take a leisurely morning stroll along the 1.5-kilometer-long beach and explore the neighbourhood in the evening. Bordered by green coconut palms, the beach is located south of Arambol and has gorgeous ocean views. It is the perfect location for people who want to get away from the crowd while getting the most out of the sun, beach, and waves.
Surrounded by the beautiful beaches of Mandrem and Morjim, the place has a calm atmosphere and the quaint shacks provide traditional Goan specialties. The mangrove and palm tree-lined lagoon pours into the ocean on both sides. Shopping is a must among the things to do while visiting the beaches in Goa, and Saturday market at the Ashwem beach is a great place for that!
Places to visit nearby: Marbela Beach, Morjai Temple, Mapusa Market
Location: It is at 31.8 kms from Panaji
15. Betalbatim Beach - The sunset beach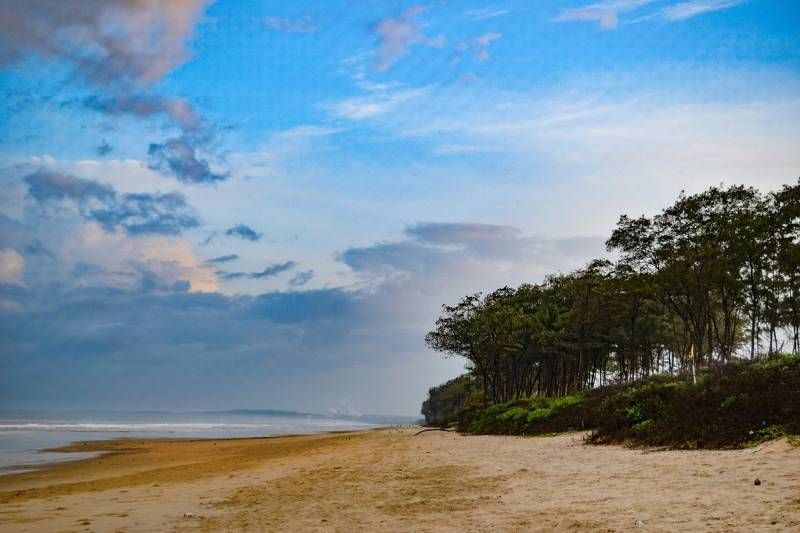 Located between the Colva and Majorda beaches, Betalbatim is relatively undeveloped and undiscovered by beachgoers. The clear sands and the most beautiful sunsets are the highlights of the beach, giving it the name of Sunset Beach. The beachfront is lined with a number of pine trees, in contrast to the majority of Goa's beaches, which are flanked by palm trees. You can even ask the neighbourhood fishermen to take you for dolphin-spotting.
The Betalbatim beach appears to shine in the dark due to the emission of light by microscopic organisms called phytoplanktons. The process is known as bioluminescence and it gives the beach a vivid blue tint. The tides carry this organism, living in water, to the coast. When they strike the shore, it changes the organism's flow causing light to be released.
Places to visit nearby: Church of St. Thomas, Our Lady of Remedios Church, Colva Beach
Location: Salcete, South Goa
Final Verdict
The best way to explore the place is to rent a two-wheeler. This way, you will be able to reach locations that are not easily accessible and make the best of your holiday. Apart from beaches, there are many churches and waterfalls in Goa that are worth visiting!
It is also recommended to check with your hotels in Goa about any safety tips that you should keep in mind while visiting unexplored areas.