Trekking to
Dudhsagar Falls or The Milky White Waterfalls ,Goa
Do you know thousands of hikers from around the world plan a visit to Dudhsagar falls in Goa, especially in the rainy season? Trekking to the magnificent Dudhsagar Falls in Goa is not a cakewalk. But still, it's fun, adventurous, and exciting to walk through small streams, and lush green forests.
Located on the Goa-Karnataka border, this four-tiered waterfall on the Mondovi river is one of the popular destinations for trekking in Goa. Explore the enchanting nature in Bhagwan Mahavir Wildlife Sanctuary. The scenic views of the Arabian sea and Western Ghats will leave you awestruck while trekking through the woods.
If you are planning a trip to Dudhsagar falls this rainy season, read this article to know about some interesting facts for a safe and happy journey.
Unfold the Magic of Dudhsagar falls, the Mesmerizing Waterfall in Goa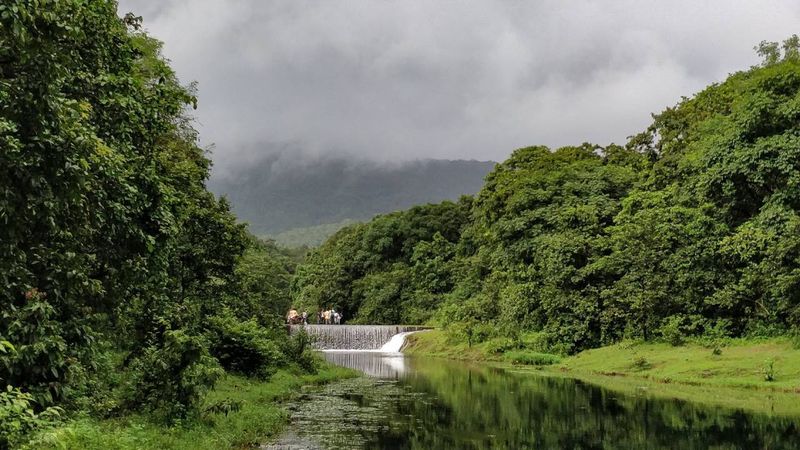 DudhSagar is an interesting name, isn't it? Dudh refers to milk whereas Sagar means ocean in the Hindi language. That's why it is also referred to as the Sea of Milk due to its pristine & crystal-clear white water. DudhSagar is located at an elevation of 1017 feet from the ground and is among India's tallest four-tiered waterfalls.
This stunningly flowing waterfall is situated inside Bhagwan Mahaveer Sanctuary and Mollem National Park within a 240 sq km protected area. It is 60km away from Panaji by road. The majestic fall on the Mondovi river is extremely popular. The enticing waterfall magnetizes tourists globally as well within India. You'll find lots of rush during weekdays and weekends.
Trust us, you'll love the heavenly view of falling clouds, and milky vapors from the sky. The lush green plants surrounding the splendid waterfalls give you some incredible vibes. The trekking experience is hard to describe in words. Several seaside resorts for families, couples, and trek groups are available at the location.
Interesting facts about

DudhSagar Falls
The majestic fall has also been referred to as Chennai express Waterfalls after the movie was filmed here.

The three streamed waterfall is one of the most favorite places to visit in Goa.

What makes this three streamed waterfall different from other falls in India is the aesthetic natural vibes. One can't resist admiring the beautiful waterfall.

The spectacular trekking routes almost takes 6-7 hours and is about 14 km long (one side) with railway tracks, dense forests, and spice plantations throughout the way.

The sparkling and silent vibes of the majestic fall with turquoise blue water are praiseworthy.
Trek Information:
Trek Trail: Jungle trail

Length: Approx. 14 km ( One side )

Best time to visit: June to December

Location Address: Near Kulem, Goa.

Difficulty: Easy to Moderate.

Endurance: Easy to Moderate.
What is the best time to visit DudhSagar falls?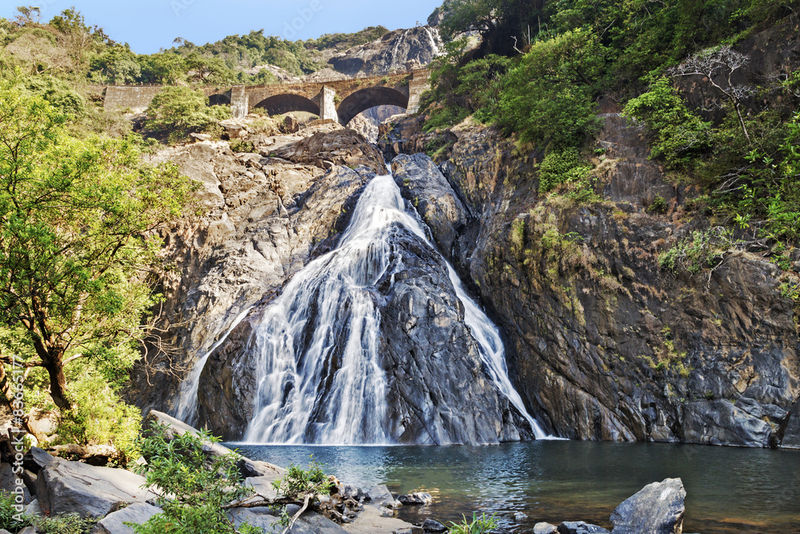 Generally, October to February is the best time to plan trips for the trekking enthusiasts at the roaring Dudhsagar falls i.e. just after the monsoon season. The trek is comparatively less risky, and the waterfall looks its best during this period. In summer, you won't be able to witness the serene beauty of the waterfall, it's dry.
Things to do at the fifth highest waterfall in India
Besides enjoying the glorious view of Dudhsagar Waterfalls, there are various adventurous things to do while trekking. Take a look!
The Tunnels in the pathway are quite scary and dark. But you'll enjoy walking through it.

Make sure to plan a road trip to castle rock railway station. This beautiful place is surrounded by scenic views, green lush forests, and small streams.

Mollem is an ideal place for Shopping in Goa where you can buy traditional things from Mollem.

Don't forget to enjoy the unique cutting tea and authentic cuisines of the localities.
Popular Day Tours For DudhSagar Falls
DudhSagar Falls Safari
This bumpy road on muddy roads includes pick-up, food, and a complimentary tour to Old Goa church and Spice Plantation. Jeep Safari starts from Kulem which is about 2 hrs drive through from Calangute or Baga. Unfortunately, Jeep Safari is not available in monsoons. Trekking is the one and only way to cover the distance and reach the waterfall.
Trek to Tambdi Surla Falls
This majestic 50 m-long waterfall flows in a zigzag shape. You can also take a dip in fresh cold water and enjoy the breathtaking views.
Spice Plantation Day Tour
Walk through the beautiful farms of chilies, nutmeg, cashews, betel nut, and many others. Use this opportunity to feel & connect with your mother nature.
Things you should Carry while

hiking trip to Dudhsagar Falls

:
An ID-proof and waterproof track pants.

Trekking pants, Full sleeve T-shirts, and Trekking Shoes with a steady grip are a must.

Hand Towel, Raincoat/ waterproof jacket/ windcheater, etc.

First aid kit & medicines for nausea, cold, fever, etc.

Water bottle of 2-3 liters.

Energy bars, dry fruits, snacks, Chikki & ready to eat foods like plum cakes, biscuits, juices, etc.

Portable Torch, and matchbox.
Optional Things:
Extra pair of clothes, innerwear, Facewash, toothbrush, paste, floaters, and an empty extra bag.

Sweaters as it will be a bit cold on the bus journey.

Sunglasses, A cap, Sunscreen, and sanitizer.

Electoral or Glucose D powder.

Earpods, Phone Chargers, etc.
Things to Consider Before Visiting Dudhsagar Falls:
Improve your physical stamina.

The eligible Age group for Trekking is 15 - 45 years.

Keep yourself hydrated while walking through the trek. Carry a 2L water bottle.

Pay a minimum of 50% in advance to confirm your booking.

Be careful, and follow the instructions as told by your guide.

Do not throw empty bottles, or cans in the area around Bhagwan Mahavir Wildlife Sanctuary, and fall. It's strictly prohibited.

Invest in good-quality trekking shoes to stay comfortable while hiking through routes.

Carry a backpack with essential trekking gear including a raincoat/poncho, umbrella, hat/cap, insect-repellent, and leech guard.
Why Hire a Trek Leader(Guide) for

Dudhsagar hike

?
They have a minimum of 6 years of experience in Dudhsagar Waterfall Trek.

They follow all the safety protocols to make sure you don't face any injury.

Each trek leader leads a group of 10 people, so you won't face any difficulty.
Final Words
Besides visiting the pristine Beaches in Goa, seafood, casinos, and nightclubs; Goa is also famous for spectacular hiking routes. So, plan a trip to Dudhsagar during the monsoon season to make the most of it. Your holiday trip to Goa is incomplete without trekking to Dudhsagar Falls.
You'll definitely enjoy hiking through evergreen lush forests, and authentic food made with freshly cultivated spices. If you are seeking adventure, do not miss visiting this amazing and one of the largest waterfalls in Goa. Take a break from your busy schedule, book a hotel in Goa, and visit this incredible sight. Get ready to fall in love with the calm breeze, fresh, and quiet surroundings.
FAQs about DudhSagar Waterfall Trek:
Where is the Dudhsagar falls located?
The beautiful 310 m high waterfall is located in the Mandovi river at a distance of 1017m near Kulem in Goa. You can easily reach waterfalls via the road through Panaji which is 40 km from the DudhSagar falls.
How far is Dudhsagar falls from Pune?
DudhSagar falls is located at a distance of approximately 440 km away from Pune.
How far is Dudhsagar waterfalls from Mumbai?
It is about 600 km away from Mumbai.
What is the difficulty level of the DudhSagar falls trek?
It is an easy to moderate level of the trek. It'll take about 4 to 6 hours by foot to reach DudhSagar falls.
Which is the best way to reach DudhSagar falls?
You can hire a jeep safari or other transportation means. But trekking altogether is probably the best way to have a unique life experience. No doubt you'll need a lot of energy to cross the hurdle, tight & steep slopes. But, it's all worth it to reach and see the magnetic DudhSagar falls.