Are you tired of your daily work life? Do you need a boost of refreshment? If yes, then Wonderla Bangalore is the place for you!
Spend some time here rewinding your childhood memories. Visit with old school friends or enjoy a family day out at this exciting theme park.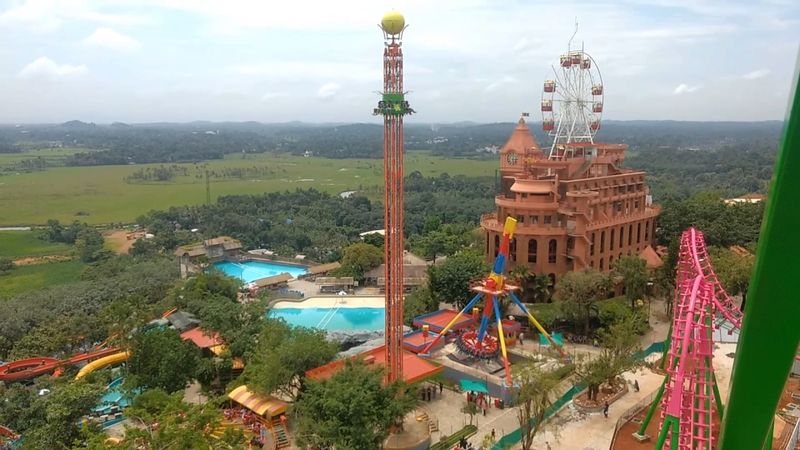 From fun, thrilling rides and a haunted house to rain dances and fountain shows- this place has so much to offer! You can enjoy various delicacies at their on-site restaurant or even book a stay at their resort. Wonderla Bangalore won't disappoint you ever!
Best Family Hotel in Bangalore
Hotel Emora And Su...
542, 60 Feet Rd, B...
₹ 2109.60/-
per night
Hotel Udupi
52/2, 52/3 Opp Pas
₹ 1598.40/-
per night
Hotel Bali Square
50, Sai Baba Templ
₹ 5400.00/-
per night
Hotel S Comfort In...
623 11TH main, 2nd...
₹ 2022.00/-
per night
Hotel Krishna Bout...
Next to Udupi Prak...
₹ 1665.60/-
per night
Hotel Astra
177/90, Velankani
₹ 1555.20/-
per night
Hotel Royal Orbit
3rd floor, 80, Sir
₹ 1533.60/-
per night
If you're already excited, let's talk about this fun amusement park in detail, so you can decide what to skip and what to not before your visit!
Wonderla Bangalore Location
Location - 28th Km, Mysore Road, Bengaluru 562109, Karnataka, India.
The Amusement Park is situated 30 km south of the capital city on the outskirts of Bangalore, on the Bangalore-Mysore Highway, running towards Mysore. The best transit options to reach the destination are BMTC buses from KR Market or Majestic. The nearest railway station is Bidadi.
Wonderla Bangalore Park Ticket Rates
Before the fun begins, here is the information you need to know regarding the Wonderla Booking system.
Wonderla Bangalore provides two ticketing options - The Regular and The Fastrack tickets. The Fastrack tickets charge a little extra than the Regular ones, yet they are handy on days when there are a lot of visitors and save up a lot of time. However, these Fastrack tickets are limited in number and sell out fast, thus suggested to book them early to avoid a last-minute rush.
The Amusement Park Tickets rate differs according to adults and children (not required for children below 85cm height) and according to weekdays or holidays. The prices are as mentioned-
Adults- Rs 1149 ( Standard) & Rs. 2298 (Fastrack).
Children- Rs 919 ( Standard) & Rs 1838 (Fastrack).
For Weekend and Holidays:
Adults - Rs 1399 ( Standard) & Rs. 2798 (Fastrack)
Children- Rs. 1119 ( Standard) & Rs. 2238 ( Fastrack)
These prices are inclusive of GST charges.
Wonderla Bangalore Land Rides.
Land Rides can be very exciting, especially for people who aren't a fan of getting wet. And thankfully, Wonderla Bangalore has some of the best land rides in their dry package.
Built with advanced technology, these rides ensure a safe and fun experience. Although some might give you an adrenaline rush, these usually aim to induce thrill and fun and are only for strong-hearted people.
The most exciting Wonderla Bangalore Rides in this category include:
Techno Jump, Termite Coaster and Train, Dungeon Ride, Pirate Ship, Hang Glider, and Techno Jump.
Among these, Techno Jump is a recent addition to the list. The ride has around 14 spokes, each connected to a capsule. Moreover, each capsule can fit three people. Now, as the ride whirls around in its position, each individual spoke also spins around, making the whole experience thrilling. Note that this ride isn't for the faint-hearted. So, if you claim to be the opposite, it's time for you to prove that at this amusement park!
Also, visitors with their families or ones not in the mood for thrilling rides can check out family entertainment spots. One such famous attraction zone is the Adventures of Chikku. Here, you can not only submerge in the cinematic sound experience but also be a part of the motions that will make you feel like you're inside the film.
The Dungeon Ride is another famous ride at Wonderla Bangalore. However, here you'll experience a lot of jump scares. So, be ready for shrieking sounds and unexpected occurrences inside the haunted house.
Besides, many visitors also enjoy their time at the Cinemagic 3D and the Musical Fountain with Laser Show.
Wonderla Bangalore Water Rides
Water Rides at Wonderla Bangalore are nothing less than a paradise for people who enjoy being in a pool. Especially during the summer season, the water zone serves as the perfect getaway from the scorching heat. So, what's stopping you? Let your inner child out and enjoy sliding through long tubes filled with water, splashing water in a large pool, dancing to heart-pounding music in artificial rain, or simply floating on a swimming ring in the twisting Lazy River.
Some of the most thrilling Wonderla Bangalore Rides in the water zone are Harakiri, Uphill Racers, Fun Racers, Boomerang, Twisters, Banded Kraits, and Water Pendulum. However, the Wavy and Vertical Fall still stands as the scariest one on the list. Imagine getting dropped from a six-story building in a pool because that's what this ride is. But yes, instead of dropping directly, you glide through a narrow slide to reach the pool.
Thanks to gravity, the whole thing happens in a blink of an eye, and you drop in the swimming pool before you even realize it. However, that doesn't make the ride any less intimidating.
Wonderla Bangalore High Thrill Rides
High Thrill Rides aren't for everyone, especially not for people who get nauseous while spinning fast. However, others who want to enjoy the time of their life at this amusement park should fasten their seatbelts for a rough and thrilling experience!
Let's start with one of the most common concepts, a Flash Tower. This ride is not just fun but also extremely daunting. First, it takes you to the top and then suddenly drops you in a free fall from 40 m above the ground! You can also check out Recoil, a reverse roller coaster that promises to give you an adrenaline rush and make you feel alive in every way!
Besides, you can also check other famous high thrill rides at this exciting amusement park. These include Mixer, Y-Scream, Wonderla Bamba, Hurricane, Mixer, Drop Zone, Insanity, and Maverick.
Wonderla Bangalore Children Rides-
Aside from adult thrill rides, the Amusement Park hosts several rides to ensure your little ones have a gala time.
From rides ranging from ant and honeybee-shaped carousels to colorful toy trains and pirate ships to miniature-version giant wheels, Wonderla Bangalore leaves no stone unturned to make their little guests have a happy, memorable trip. These children's rides give that taste of 'real thrill' rides, minus the scary part, safely and enjoyably.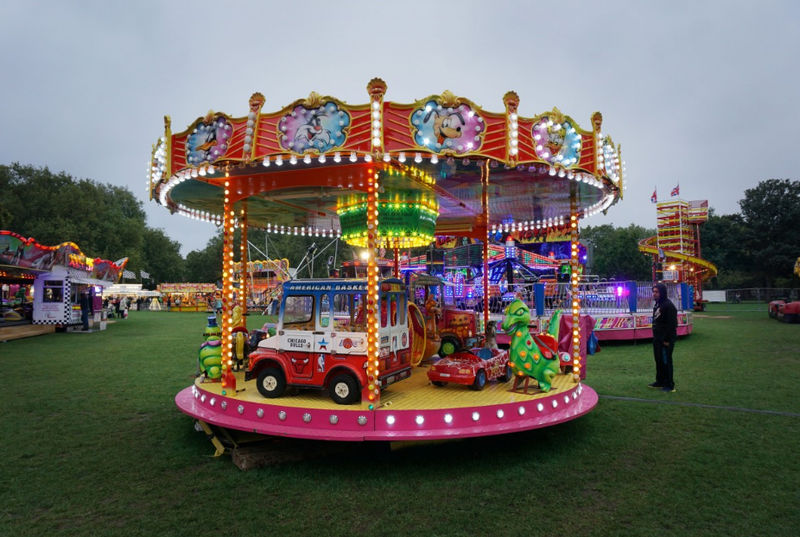 Featured rides at Wonderla Bangalore include- Magic Mushroom, Mini Pirate Ship, Mini Venice, Merry Ghost, Mini Express, Moon Walker, Kiddie's Wheel, Jumping Frog, Flying Jumbo, Funky Monkey, Convoy, etc. Furthermore, rides like Lion Swing can be enjoyed by the whole family, doubling the fun experience.
On-site Restaurants at Wonderla Bangalore
All the thrill and frolic from the rides call for a recharge, right? The solution obviously is a fulfilling meal. Worry not, because Wonderla does not shy away from providing visitors with a splendid array of delicious dishes. The Amusement Park features several multi-cuisine restaurants on-site to have your fill.
Tame your hunger pangs with the traditional spread of South Indian breakfast at Park View Restaurant, located at the main entrance gate.
If you opt for heavy meal options, Chillies Restaurant and Courtyard Restaurants are waiting to welcome you with a wide variety of exquisite, flavorful Indian and oriental cuisines.
If you happen to be a vegetarian and you must be wondering where to get your fill, Greens Restaurant has got you covered- Enjoy varied dishes ranging from Indian, and Chinese pure vegetarian meals to lip-smacking grilled sandwiches.
With beach vibes by the pool, the Waves Restaurant is the perfect place to relax and indulge in tempting North Indian combo meals, including biriyani.
For the pizza-lovers out there, in-house pizzeria Crazy Pizza is sure to sort your trip day with its variety of tasty pizzas.
On-site resort at Wonderla Bangalore
Wonderla Bangalore is the first of its kind to establish its unique luxury resort. Located 300m away from the park, the resort is the perfect spot to rewind and relax for the night after an entire day's event of high thrill rides and water games. A delightful holiday spot, the resort not only is a traveler's favorite but is also popularised as a business hotel.
The establishment features lavish Executive Rooms, Deluxe Rooms, and Suite Rooms equipped with LCD, complimentary wifi, laundry services, coffee maker, etc. The resort is also one of the best banquet venues in town, perfect for hosting grand occasions like weddings, parties, and business events. Property amenities like a lush green garden, outdoor games activities, the delightful multi-cuisine Woods Restaurant, the Red Ice bar, and a temperature-controlled pool ensure guests one of the most memorable stays, surrounded by the relaxed ambiance of the deluxe resort.
Wonderla Bangalore Timings
Operational timings at the Wonderla Bangalore differ slightly according to the seasons.
In Normal Season, the Amusement Park remains open from 11 AM to 6 PM on weekends. The ending hour is extended to 7 PM for weekends and holidays. Water Park during this season opens at 12:30 PM and closes at 5 PM on weekdays. During weekends, the timing runs from 12 PM to 6 PM.
In Peak season,, the park remains open from 11 AM to 7 PM, regardless if it's a weekday, weekend, or holiday. Also, Water Park Timing during this season at Wonderla Bangalore is from 12 PM to 6 PM.
Best Hotels in Bangalore
Hotel Emora And Su...
542, 60 Feet Rd, B...
₹ 2109.60/-
per night
Hotel Udupi
52/2, 52/3 Opp Pas
₹ 1598.40/-
per night
Hotel Bali Square
50, Sai Baba Templ
₹ 5400.00/-
per night
Hotel S Comfort In...
623 11TH main, 2nd...
₹ 2022.00/-
per night
Hotel Krishna Bout...
Next to Udupi Prak...
₹ 1665.60/-
per night
Hotel Astra
177/90, Velankani
₹ 1555.20/-
per night
Hotel Royal Orbit
3rd floor, 80, Sir
₹ 1533.60/-
per night
Things to keep in mind before visiting Wonderla Bangalore.
Before you begin your adventure at Wonderla Bangalore, some points are to keep in mind to ensure you a safe and most memorable experience.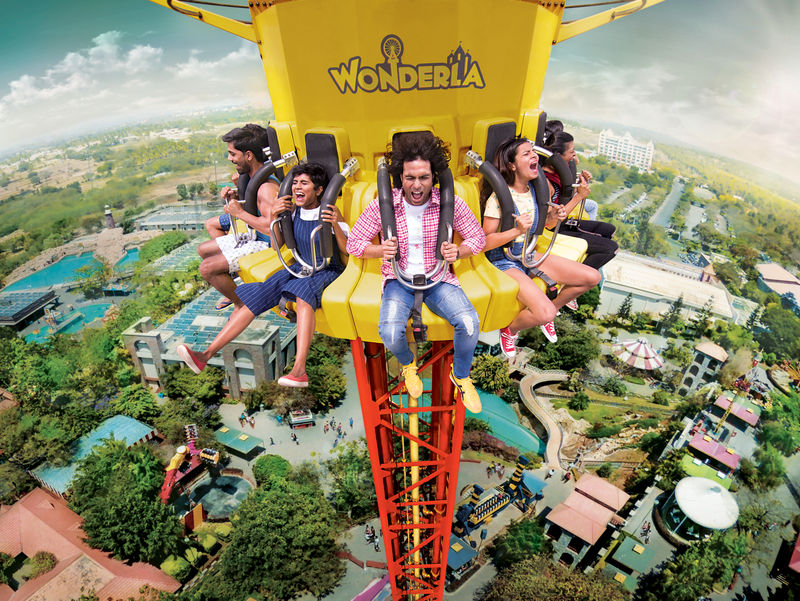 During the trip to Wonderla, visitors are to wear UV Protective sunglasses and sunscreen (SPF15 or higher) since the pools at the amusement park contain bleached water. Keep yourself hydrated at all times.

Pools at the Amusement Park are shallow, so do not attempt diving.

Maintain discipline while queuing up. Visitors with children are to be attentive and keep the kids under close watch to avoid mishaps in the crowded area.

Please refrain from wearing loose garments and stick to Nylon or synthetic apparel to avoid any potential risks during the high-motion rides.

Carry minimal accessories for ease.

Wonderla Bangalore

has stores on site where you could purchase Nylon/Synthetic clothes at a nominal price.

The fast or high thrill

Wonderla Bangalore Rides

are not recommended for pregnant women, heart and high blood pressure patients, or people who have undergone recent surgeries.
Lastly, the lifeguards, ride operators, and other staff members at the park are appointed to assist you during your trip. Follow their instructions, and you're off to the adventure of a lifetime at the Wonderla Bangalore Rides!
Conclusion
Wonderla Bangalore is a perfect escape from daily boring life for people of every age group. So, if you're in the city, this is your clue to get out of your house/hotel and head to this fun theme park today!
The best thing is that most hotels in Bangalore are within close proximity to this park. So, even tourists won't face any problem finding transport to its location.