Mumbai, the city that never sleeps, is a tourist destination that every tourist must visit at least once in their lifetime. With the most joyous time of the year approaching, this marks the perfect time for you to pack your bags and go on a voyage to this city of dreams. On top of having some of the most popular tourist attraction places in India, Mumbai has a lot to offer to the guests in terms of events, food, and nightlife, especially during Christmas! So, without further ado, let's take a deeper dive into the top 20 things that you can try on your visit to Mumbai this Christmas!
Our Best Recommended Hotels in Mumbai
Hotel Radana
PL.NO 125 SECTOR 1
₹ 1964.40/-
per night
Hotel Orange Suite...
Police Station, Ma...
₹ 1732.80/-
per night
Hotel Royal Inn
Andheri - Kurla Rd
₹ 2142.00/-
per night
Hotel Byaris Inter...
Bamanwada, Andheri...
₹ 1864.80/-
per night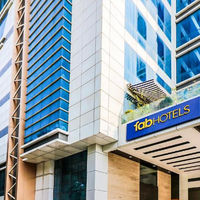 Hotel Aksa Interna...
Signal, 03-604, 6t...
₹ 1458.00/-
per night
Be a part of the midnight mass
One of the most famous churches to bless Mumbai city is Mount Mary's Basilica. The church celebrates the Mount Mary Fair every year during this season. The event starts at midnight on the eve of Christmas. The celebrations begin with a melodious round of Christmas carols which go on for hours, with people from across the city joining in!
Visit Saint Peter's Church of Bandra
The real essence of Christmas can only be felt at a church, and Saint Peter's Church in Bandra is the perfect place to start!
The Catholic church with its historical Romanesque vibe will surely drive home the real story behind Christmas. Add this to your bucket list to make this Christmas merrier than ever!
Have a Merry Christmas Party
What's a Christmas without parties? Christmas would be lackluster without a happening party to end your day with. Mumbai has an avid variety of nightclubs and bars.Trilogy and Exo are two of the famous ones.
They host outstanding Christmas Eve parties. With delicious food, a vibey crowd, festive drinks, and rocking music, you are bound to have the time of your life.
Get artsy at a Resin Art Workshop.
A resin art workshop is a wonderful event organized by Hobby Station in Mumbai. It can be your perfect getaway this Christmas.
Hotels Near Railway Station
Hotel Radana
PL.NO 125 SECTOR 1
₹ 1964.40/-
per night
Hotel Orange Suite...
Police Station, Ma...
₹ 1732.80/-
per night
Hotel Royal Inn
Andheri - Kurla Rd
₹ 2142.00/-
per night
Hotel Byaris Inter...
Bamanwada, Andheri...
₹ 1864.80/-
per night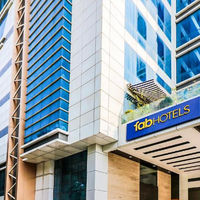 Hotel Aksa Interna...
Signal, 03-604, 6t...
₹ 1458.00/-
per night
The workshop will teach you how to make an array of artifacts from scratch using epoxy resin. Combine your creativity with some expertise this Christmas, and take home an art piece made out of your hard work and talent.
Shop the festivity away at the Inorbit Mall
Infamous for its lustrous Christmas celebrations, Inorbit Mall in Mumbai is one name among the numerous malls that are a must-visit this Christmas season.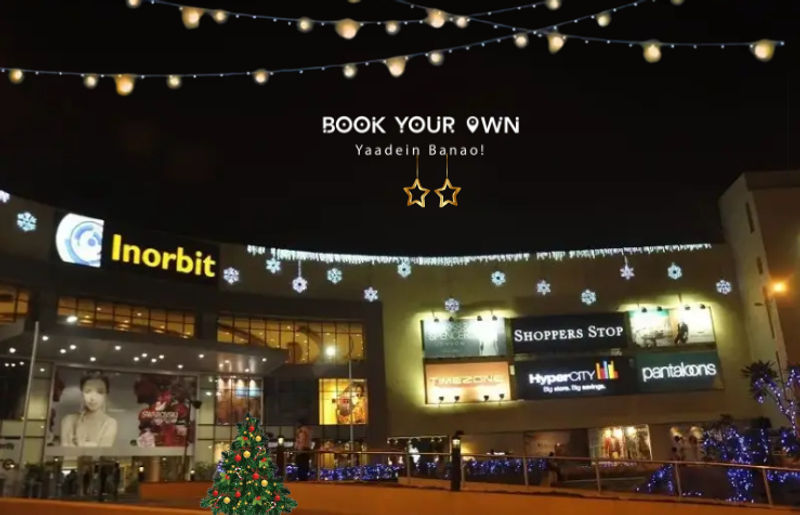 With Santa Claus roaming around to distribute candies, lit-up stores, and cozy decorations the mall will make your Christmas extra adorable.
A date night at SkyCinema.
The regular cinema cannot come close to the experience that the Sunset Cinema Club can provide via their iconic SkyCinema.
Get your partner and spend an eventful evening with just you two and an extraordinary cinematic experience in between.
Bring out your inner painter at the 'Christmas is Here' Canvas Painting Workshop
Who said Christmas is only about eating and partying? If you are on a Christmas vacation to Mumbai, a great chance to hone your painting skills awaits you.
The canvas painting workshop called 'Christmas is Here' by Bombay Drawing Room is perfect for anyone with even the slightest interest in painting. This will not just make your talent shine but also make this Christmas unique and unforgettable for you!
Get into the Christmas mood at Phoenix Mall
One of the largest malls in Mumbai, the Phoenix Mall is another joyous destination to get into the real Christmas mood.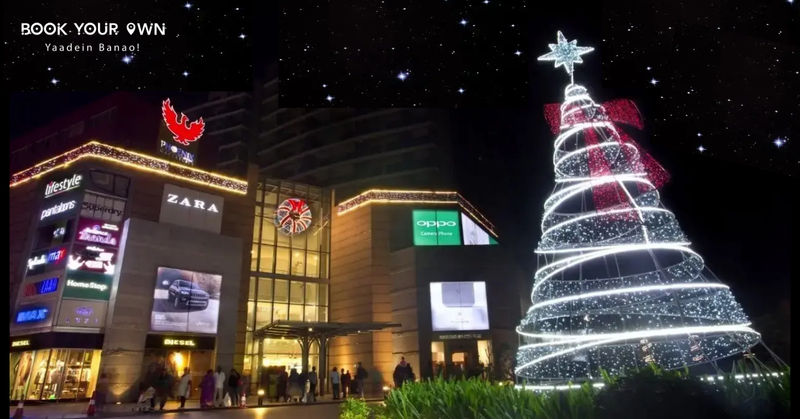 With gorgeous decoration, Santa Parades, and happy carol singing, the ambiance is sure to bring a smile to your face. The numerous competitions and fun events are a cherry on top!
Have a LEGO-filled Christmas!
LEGOs have been a part of everyone's childhood. However, LEGO fans span across all age groups. So banking on their immense popularity, Workwise Solutions Pvt. brings to you this fun, LEGO-filled event.
Anyone above seven years of age is free to participate. Let your creativity kick in, and build a tree, a house, or any model that you can! The event also includes many additional fun activities.
A calming outing with the Flamingos
These migratory birds bless our land from October to March.
For the tourists planning on visiting Mumbai, the flamingo boat safari is a must-visit place! Organized by Mumbai Musafir, the safari gives you the perfect opportunity to witness these lovely birds in their full glory. The trip is a great outing choice for families.
Get down on the Streets for some Christmas shopping
This is the time of the year when the streets of Mumbai witness a massive transformation full of bright lights, green trees, and red-clad humans roaming around!
The Colaba Causeway, Hill Road, and Crawford Market are a few of the many bustling street markets that will cater to all your Christmas needs. From decoration stuff to festive sweets and more, you'll be feted with everything you're looking for!
A quiet getaway to Alibag
Alibag is a picturesque location for a quiet getaway from the city's bustling life.
With cool beaches, ancient forts, and beautiful trees, the destination is a treat for tourists, especially during the winter season. A great option for those who don't wish to spend their Christmas the conventional way!
A stroll by the Marine Drive
Be it Christmas or any other season, once you're in Mumbai, the Marine Drive is a must-visit site.
The cool breeze, serene sunset, and the calming sea with sailing ferries, all come together to offer you a peaceful experience like never before. The delicious street food just adds to the fun!
A day at the Chowpatty beach
Juhu Chowpatty is a hugely popular destination with an array of things for you to try.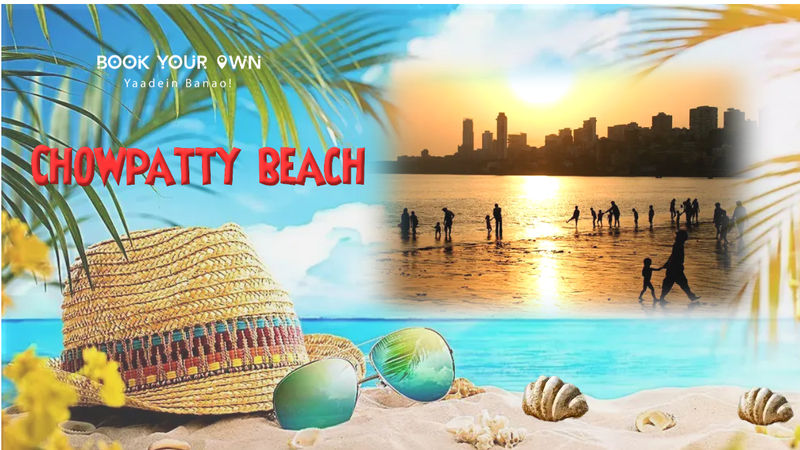 Starting with the divine street food to a variety of activities including horseback riding, and yoga, the beach has got a little something for everyone. Give your taste buds a salivatory experience while appreciating the ongoing events here, this Christmas.
Tune in for 'Christmas Melody'
The 'Christmas Melody' is an annual event organized by the Weather Craft Events.
With a roll call of up to 20,000 people, the event witnesses people from all walks of life. It is a small, local festival where locals and tourists all meet up and celebrate a melodious Christmas evening.
Gain a Kayaking experience
Our adventure junkies can use the coming Christmas as an opportunity to quench their thirst for adventure. Kayaking is the perfect adventure sport for you to try.
All you need is some swimming experience, and you're good to go! Paddling through the serene waters will not just calm your mind but also give you some time alone to spend with your family or partner.
Go on a cruise date with your special someone
Though it may fall on the pricier side, hiring a cruise for a nice dinner date during this holiday season might just be the most romantic thing for your partner.
With the cold breeze running, and nothing but the calm sea to witness your time together, the cruise will give you the perfect time to spend together with your lover.
Get inside and find your way out of the escape room
You must have heard of this cool activity in one of the popular television series! And if you're someone who'd like to make it a reality, this Christmas is your chance!
Skip the conventional Christmas celebration, get your friends together, and enter the infamous escape room in Mumbai and try finding your way out.
The once in a lifetime Bollywood tour
If you happen to visit Mumbai this Christmas, then a Bollywood tour has to be included in your bucket list.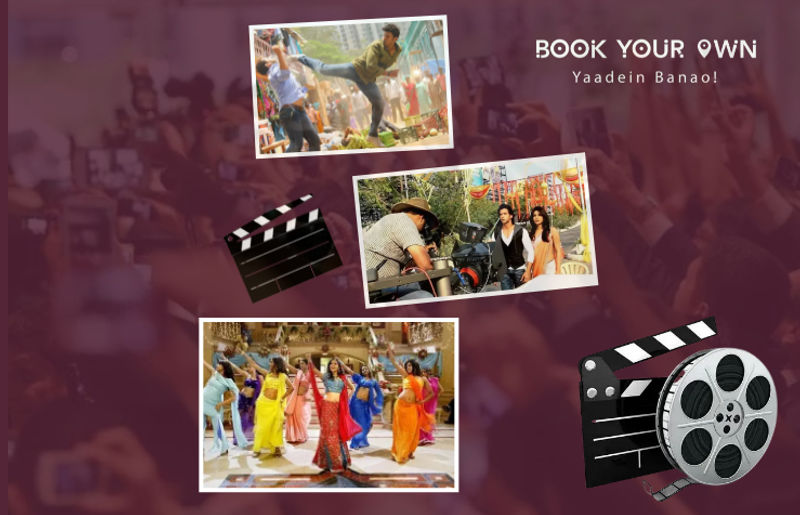 The tour will give you an insight into the behind-the-scenes of your favorite movies, information regarding what's new in the industry, and much more spicy news.
Join a Pub Crawling tour!
Pub Crawling is something that many of us haven't heard of before. This is a fun activity where a guide will take you on a tour through the bustling nightlife zone of Mumbai.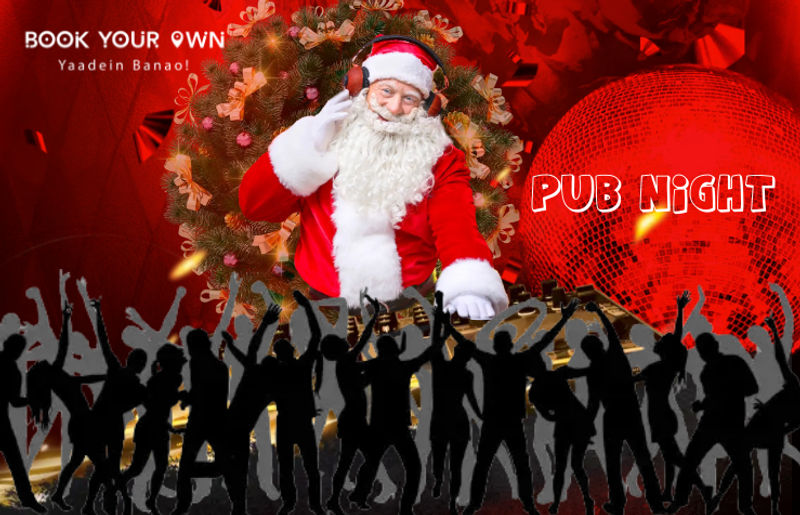 With a variety of club targets, you'll feel yourself getting energized and in love with the friendly crowd. With a fun host and a fun-loving crowd, you are bound to have one of the best, if not the best times of your life!
Conclusion
That's a wrap of our finely curated list of different things that anyone visiting Mumbai can try. Hope you can pick your favorite, and get the Christmas experience that's unique and worthy of your time and money! With this many things to do, looking for a good hotel that fits your budget is a hassle that you can trust us with. Just Visit the BYO Website and pick from an assortment of hotels ranging from luxury villas to budget lodgings available. Get the best holiday experience at budget-friendly Mumbai hotels and enjoy a Christmas that's merrier and cozier than ever!